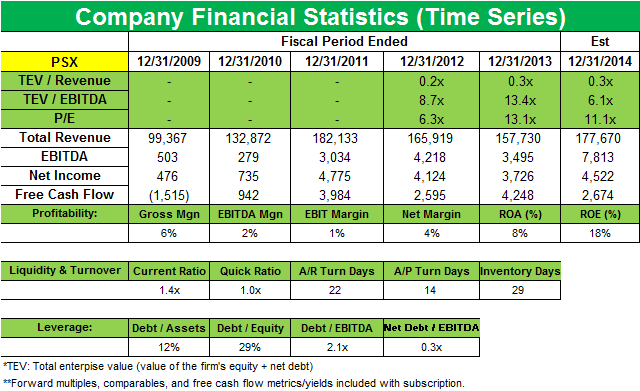 Why Berkshire Hathaway gains from reducing its Phillips 66 stake
Berkshire Hathaway and Phillips 66
Warren Buffett's Berkshire Hathaway started a new position in Verizon Communications (VZ) and upped its holdings in Liberty Global Plc-Series C (LBTYK), Wal-Mart Stores Inc. (WMT), International Business Machines Corp. (IBM), and DaVita Healthcare Partners (DVA). The positions the fund trimmed included Phillips 66 (PSX) and General Motors Co. (GM).
Berkshire Hathaway's position in Phillips 66 (PSX) that now accounts for 0.71% of the fund's 1Q 2014 portfolio was reduced from 2.00% in 4Q 2013. Phillips 66 is an energy manufacturing and logistics company with midstream, chemicals, refining, marketing, and specialties businesses.
Article continues below advertisement
The fund's stake reduction in Phillips 66 is part of a deal from December of last year under which Berkshire Hathaway agreed to acquire Phillips Specialty Products Inc. (PSPI), a flow improver business, from Phillips 66 for about $1.4 billion. The release on the deal said Phillips 66 received its own shares held by Berkshire Hathaway in exchange for the share capital of PSPI. Phillips Specialty Products leads the science of drag reduction and specializes in developing polymers to maximize the flow potential of pipelines. This transaction was part of Phillips 66's ongoing portfolio management. News reports noted that the "cash-rich split-off" helped Berkshire save taxes.
Phillips 66 comprised the downstream assets of ConocoPhillips that were spun out in 2012. The stake in Phillips 66 was part of Buffett's 2008 investment in ConocoPhillips, which he has considered a "major mistake of commission." In 2008, when oil and gas prices were near their peak, Buffett bought 84,896,273 shares or a 5.7% stake in ConocoPhillips, for around $7 billion. However, the value of this holding plunged around 37% during the financial crisis. Buffet noted in his 2008 shareholder letter, "The terrible timing of my purchase has cost Berkshire several billion dollars."
Since November, Berkshire has also trimmed its 24 million shares in ConocoPhillips to hold about 11 million shares in 1Q 2014.
Revenues miss consensus
Article continues below advertisement
Phillips 66 announced first-quarter 2014 earnings of $1.6 billion or $2.67 per share and adjusted earnings of $866 million, excluding $706 million primarily related to the realized gain on the Phillips Specialty Products Inc. (PSPI) exchange. Revenues fell 3% to $41.10 billion from $42.27 billion in first-quarter 2013 and missed consensus. Phillips 66 said sales and other operating revenues and purchased crude oil and products for the first quarter of 2014 both decreased 2%, primarily due to lower petroleum product and crude oil prices, respectively.
Phillips 66's Midstream business recorded $188 million of earnings during the first quarter of 2014—$67 million higher than the prior quarter. The Chemicals segment reflects Phillips 66's equity investment in the joint venture Chevron Phillips Chemical Company LLC (CPChem). First-quarter 2014 Chemicals earnings were $316 million, an increase of $55 million from the prior quarter. Refining earnings declined to $306 million from $418 million in 1Q 2013 due to lower volumes, driven by planned turnaround and maintenance activities, as well as weaker realized refining margins. Despite higher worldwide market crack spreads, realized margins decreased mostly due to tightening crude spreads, lower clean product realizations, and negative inventory impacts, Phillips 66 said in its 10Q filing.
Phillips 66 raises dividends by 28%
During the quarter, Phillips 66 paid $229 million in dividends and repurchased 8.4 million shares of common stock for $640 million. In 2013, it formed an MLP named Phillips 66 Partners, which increased quarterly distribution by 22% to $0.2743 per unit in April. Together with the general partner distributions, the total distribution will be $21.1 million. In 2013, Phillips 66 paid $807 million in dividends and repurchased 36.5 million shares of common stock, totaling $2.2 billion.
Phillips 66 recently declared a quarterly dividend of $0.50 per share on Phillips 66 common stock, representing an increase of approximately 28% from the prior quarter.