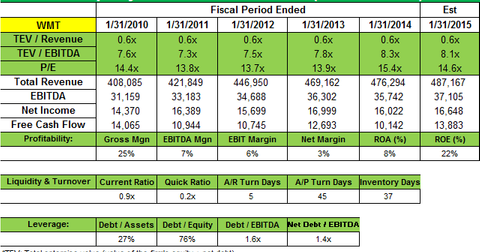 Warren Buffett's Berkshire Hathaway ups its position in Walmart
By Samantha Nielson

Updated
Berkshire Hathaway and Walmart
Warren Buffett's Berkshire Hathaway started a new position in Verizon Communications (VZ) and upped its holdings in Liberty Global Plc-Series C (LBTYK), Wal-Mart Stores Inc. (WMT), International Business Machines Corp. (IBM), and DaVita Healthcare Partners (DVA). The positions the fund trimmed included Phillips 66 (PSX) and General Motors Co. (GM).
Berkshire Hathaway upped its position in Wal-Mart Stores Inc. (WMT), which now accounts for 4.19% of the fund's 1Q 2014 portfolio, from 3.71% in 4Q 2013. In fiscal 2014, Wal-Mart generated total revenues of $476 billion.
Article continues below advertisement
The retail giant's operations comprise three reportable business segments: Walmart U.S., Walmart International, and Sam's Club. Walmart U.S. generated approximately 59% of the company's net sales in fiscal 2014. Walmart International consists of the company's operations in 26 countries outside of the U.S. and its operations include numerous formats of retail stores, wholesale clubs, including Sam's Clubs, restaurants, banks, and various retail websites. Sam's Club consists of warehouse membership clubs and operates in 48 states in the U.S. and in Puerto Rico, as well as its online operations, samsclub.com. The retail company has an everyday low prices (or EDLP) pricing approach.
1Q 2015 results missed estimates on revenue and earnings
Walmart missed earnings and revenue estimates as diluted EPS decreased 3.5% to $1.10 from last year's $1.14. The company said severe weather in the U.S. businesses negatively impacted EPS by approximately $0.03. Consolidated net sales rose approximately $0.9 billion, or 0.8%, to $114.2 billion with the negative impact of currency exchange rate fluctuations. Walmart U.S. comp sales were relatively flat, down 8 basis points for the 13-week period ended May 2, 2014. The comp sales were impacted by the severe winter weather by approximately 20 basis points. Walmart U.S. net sales increased 2%. Walmart International's net sales on a reported basis decreased 1.4% to $32.4 billion. Sam's Club comp sales, without fuel, decreased approximately 0.5% during the 13-week period ended May 2, 2014.
Article continues below advertisement
In the previously reported fiscal 2014, total U.S. comparable store and club sales decreased 0.5%. The retail giant saw a negative impact from lower consumer spending primarily due to the slow recovery in general economic conditions, a 2% increase in the 2013 payroll tax rate, food stamp cuts, and severe winter storms that occurred during the fourth quarter. Consolidated net sales for the year were $473.1 billion, an increase of 1.6% over fiscal year 2013, primarily due to 3.1% year-over-year growth in retail square feet, higher e-commerce sales, the impact of fiscal 2013 acquisitions, which accounted for $730 million of the net sales increase, and a positive comparable club sales at Sam's Club.
Walmart faces increasing competition from online retailers such as Amazon.com (AMZN) and eBay (EBAY), traditional brick-and-mortar retailers such as Costco (COST) and Target (TGT), and dollar stores Dollar General (DG) and Dollar Tree (DLTR).
E-commerce and Neighborhood Market stores are growth drivers
Walmart's global e-commerce sales grew to more than $10 billion in FY2014, up 30% from the year before, and approximately 27% during 1Q 2015. Comp sales for the Neighborhood Market format rose approximately 5% in both FY 4Q 2014 and 1Q 2015. The company said it will increase capital expenditures for fiscal 2015 to accelerate the rollout of small-format stores, both Neighborhood Market and Walmart Express. Plus, it will continue to expand its e-commerce capabilities.
Walmart said in fiscal 2015 that it expects to invest approximately $12.4 billion to $13.4 billion in physical and digital assets to better serve customers worldwide. It also expects to add between 35 million and 39 million net new retail square feet. Global eCommerce gross merchandise value, which includes digital sales of Walmart goods and third-party sales through its sites, is expected to exceed $13 billion in FY 2015.
Increased shareholder value
The retail giant said in its annual report that it returned $12.8 billion to shareholders through dividends and share repurchases last year, bringing the five-year total to nearly $68 billion. In February, the company announced its 41st consecutive annual dividend increase to $1.92 per share.