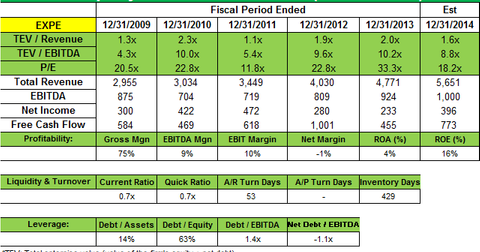 David Tepper's Appaloosa Management buys a new stake in Expedia
By Samantha Nielson

May. 22 2014, Published 8:00 a.m. ET
Appaloosa Management and Expedia
David Tepper's Appaloosa Management started new positions in OTAs (online travel agencies) The Priceline Group (PCLN) and Expedia Inc. (EXPE) and social networking service Facebook Inc. (FB) last quarter. Notable position increases were Halliburton Co. (HAL) and American Airlines Group Inc. (AAL). Top selloffs were Fluor Corp. (FLR) and Hartford Financial Services (HIG).
Appaloosa Management initiated a new position in Expedia Inc. (EXPE) last quarter that accounts for 0.56% of Appaloosa's total 1Q portfolio.
Expedia (EXPE), based in Bellevue, Washington, is an online travel company seeking to grow its business through its broad portfolio of travel brands, including Hotels.com, Hotwire.com, Egencia, the China-based eLong (LONG), Venere, and trivago.
Article continues below advertisement
Expedia's 1Q 2014 results beat Street estimates. Revenue increased 19% year-over-year to $1.2 billion for the first quarter of 2014, driven by growth in hotel, advertising and media as well as air ticket revenue. The company's losses narrowed to $14.3 million, or $0.11 a share, from a loss of $104.2 million, or $0.77 a share. For the first quarter of 2014, gross bookings increased 29% (29% excluding foreign exchange) to $12.6 billion, primarily driven by air ticket and room night growth. Air ticket growth was driven by the Expedia brand, including the Travelocity-branded U.S. website. Room night growth was driven by the Expedia brand, Hotels.com, and eLong.
Domestic gross bookings increased 35% and international gross bookings increased 21%. However, international gross bookings as a percentage of total books declined year-over-year, primarily due to the inclusion of the Travelocity-branded U.S. website, which bolstered domestic gross bookings. Hotel revenue increased 12% for the first quarter of 2014, driven by a 24% increase in room nights stayed due to the Expedia brand and Hotels.com. But revenue per room night decreased 10%, primarily due to efforts to expand the size and availability of the global hotel supply portfolio, including contracts signed as part of the Expedia Traveler Preference (ETP) program, promotional activities such as loyalty programs and couponing, and a continued hotel mix shift to Asia-Pacific. Advertising and media revenue increased 116% for the first quarter of 2014, due primarily to the addition of metaserch service trivago. Air revenue increased 28% for the first quarter of 2014 due to a 30% increase in air tickets sold.
Guidance came in below Street expectations, with Expedia reiterating full-year adjusted EBITDA to grow in the range of 13% to 16%.
For more on Expedia's business, please see Expedia: A must-know overview and key takeaways for investors.