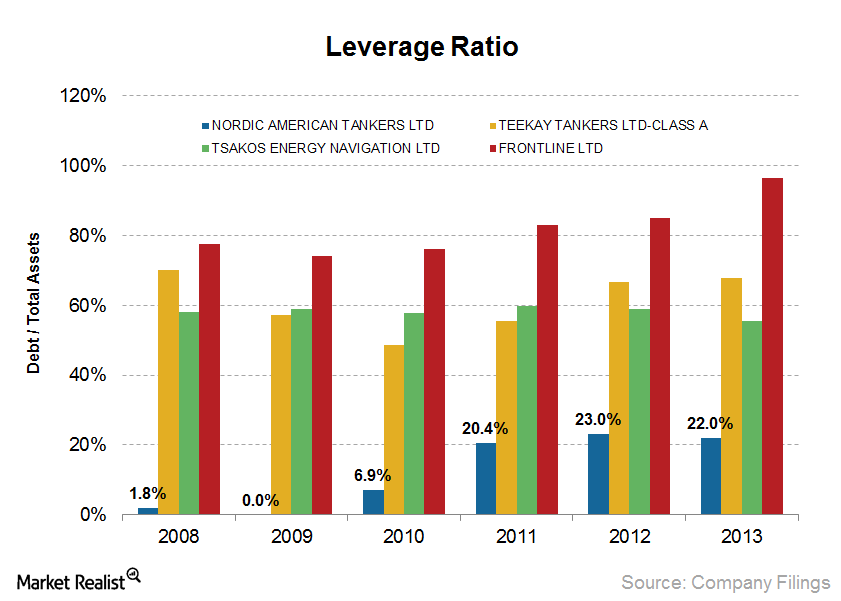 Why did Nordic decide to raise capital instead of debt?
By Xun Yao Chen

Oct. 30 2019, Updated 11:39 a.m. ET
Why raise capital?
According to Nordic American Tanker Ltd. (NAT), the company will use the net proceeds from the follow-on offering to primarily finance the acquisition of two to four vessels, depending on the vessel age, and general corporate purposes. Raising new capital in the market is one way for companies to expand.
As secondhand vessel prices are near historical lows and the oil shipping industry could see a recovery in rates and profitability over the next few quarters and years, you might say this is the right time to be investing in newbuilds and possibly the Guggenheim Shipping ETF (SEA).
Low leverage
Article continues below advertisement
Given Nordic American Tanker Ltd.'s (NAT) low leverage (its debt-to-asset ratio) relative to its peers such as Frontline Ltd. (FRO), Teekay Tanker Ltd. (TNK), and Tsakos Energy Navigation Ltd. (TNP), it's possible for the company to increase leverage. Debt is also cheaper than equity because it has a priority claim if the company went bankrupt.
The company had $430 million of available credit for vessel acquisitions and general corporate purposes, of which Nordic currently uses $250 million. Still, the company has historically practiced using relatively low debt compared to its peers, which is perhaps a reason the company chose to raise more capital.
A risky move in a pessimistic case
Increasing leverage might sound like a risky move too, considering that NAT was burned roughly $47 million in cash flow from operations in 2013. On top of that, the company paid out dividends worth $42 million, or $0.64 a share. With cash and near-cash items of $65.7 million at the end of 2014, it wouldn't have been enough for Nordic American Tanker Ltd. (NAT) to pay constant dividends and run operations without inflow of capital, based on a pessimistic scenario where rates don't improve substantially from 2013.
The optimistic case
However, if NAT is able to generate analysts' estimated EBITDA (earnings before interest, tax, depreciation, and amortization) of $60.3 million in 2014, the story is different. Operating cash could be used to fund dividends, and the cash amount of $65.7 million could be used for vessel acquisitions.
Note: Buying individual companies comes with risks unrelated to industry fundamentals. Investors who don't understand such risks might want to consider the Guggenheim Shipping ETF (SEA), which invests in large shipping companies worldwide.