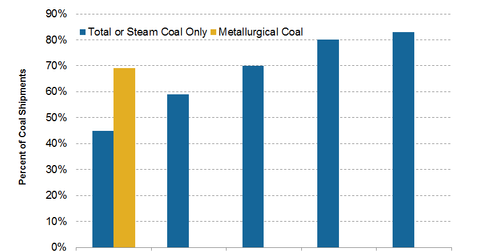 Why are long-term contracts so important in the coal industry?
By Xun Yao Chen

Apr. 30 2014, Published 8:00 a.m. ET
Long-term agreements
In part, Appalachia coal is still sold to power generators located in areas where Powder River Basin coal might be more economical (see previous article), because t's common practice for coal producers and buyers to enter fixed price and volume long-term supply contracts to ensure stability and predictability. These long-term contracts typically last for more than a year.
For example, 45% of Alpha Natural Resources' (ANR) steam coal, ~59% of Arch Coal's (ACI), and ~70% of Consol Energy's (CNX) total coal shipments were delivered pursuant to long-term contracts in 2013. In contrast, the majority of shipments from Interior and Powder River Basin mines are based on long-term contracts. In 2013, 83% and ~80% of Cloud Peak's (CLD) PRB mines, and Peabody Energy's (BTU) worldwide coal shipments were on long-term contracts.
Features and benefits
Article continues below advertisement
Utility firms are more likely to enter longer duration and long-term contracts, if they believe coal prices will remain elevated or rise, or there are few alternative sources available. Over the years, Appalachia coal has become less competitive to midwestern and western coal, and to natural gas, prompting utility firms to buy coal in the more volatile spot market.
For coal companies, long-term contracts provide price, volume, and earnings stability. Historically, coal prices agreed upon on long-term contracts have traded at a premium to spot prices, because it insures utility companies will have supply. But when there's less need for utility companies to engage in long-term contracts, the premium falls.
Share prices
It's important to note that long-term agreements may not shield coal companies' share prices from adjusting to movements in spot market coal prices. The terms of coal supply agreements vary significantly from contract to contract and customer to customer, but there are features such as price reopener terms and price adjustments that allow coal companies to become more subject to fluctuations in the spot market. Plus, the market may interpret fluctuations in spot prices as changes in long-term fundamentals.