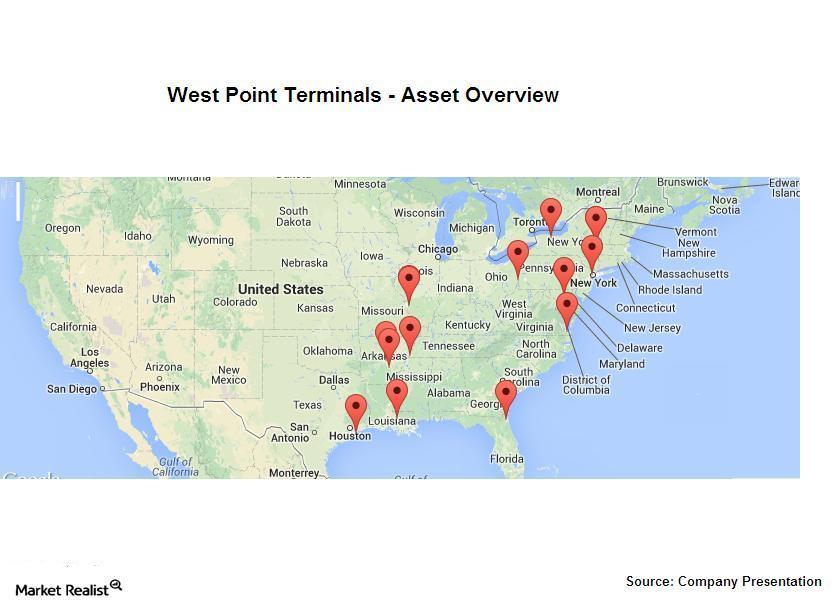 Why World Point Terminals' 4Q13 earnings are a positive
By Alex Chamberlin

Apr. 3 2014, Updated 3:55 a.m. ET
World Point Terminals
On March 26, 2014, World Point Terminals LP (WPT) declared its results for the fourth quarter and full year of 2013. Here are the key points from the latest results.
| | | | |
| --- | --- | --- | --- |
| (All figures in $, thousands) | 4Q13 | 3Q13 | % Change |
| Revenue | 22,930.0 | 20,986.0 | 9.2% |
| Operating Expenses | 6,000.0 | 5,162.0 | 16.2% |
| SG&A | 232.0 | 2,595.0 | (91.0%) |
| D&A | 5,327.0 | 4,537.0 | 17.4% |
| Distributable Cash Flow | 14.4 | 13.5 | 7.3% |
| Adjusted EBITDA | 14,675 | 14,414 | 1.8% |
Revenues increased 26.1% in 4Q13, to $22.9 million compared to the $20.9 million recorded in 3Q13. Revenues from Base Storage Service, contributing ~75% of total revenues for the reported quarter, increased 1.3% in 4Q13 compared to the previous quarter. The improvement was primarily due to additional contracted capacity at the Galveston terminal, additional capacity at the Jacksonville terminal, and the addition of a long-term contract at the Weirton terminal.
Article continues below advertisement
Revenues from storage service fees, which contributed ~4.0% of total revenues for the reported quarter, nearly tripled to $0.9 million from $0.3 million a quarter back on account of increased throughput at the Newark and North Little Rock terminals as well as expanded operations at the Jacksonville terminal. The performance of this segment was negatively affected by decreased throughput at the Chesapeake terminal.
Revenues from ancillary service fees also improved significantly. They increased 34.7% from $2.8 million in 3Q13 to $3.8 million in 4Q13. This segment contributed to ~17% of the reported quarter's revenues. Additive service fees increased by 17.4%, from $0.7 million to $0.8 million. This segment contributed to ~3.7% of the latest quarter's revenues. The improvement in ancillary and additive services fees resulted from expanded operations at the Galveston and Jacksonville terminals and increased volumes throughput at the Newark, Baltimore West, Baton Rouge, and Chesapeake terminals.
Article continues below advertisement
Operating expenses increased 16.2%, to $6.0 million in 4Q13 from $5.1 million in 3Q13, due to increased labor costs at the Jacksonville terminal as a result of expanded operations and costs related to Hurricane Sandy at the Newark terminal. Selling, general, and administrative expenses decreased to $0.2 million for the fourth quarter of 2013 compared to $2.5 million for the previous quarter. For 3Q13, SG&A expenses increased significantly due to $3.6 million in costs and fees related to WPT's initial public offering. On August 14, 2013, WPT completed its initial public offering of 8,750,000 common units. Depreciation and amortization expenses increased 17.4%, to $5.3 million in 4Q2013 from $4.5 million in 3Q13, due to construction at the Weirton and Galveston terminals and the acquisition of additional terminal assets adjacent to the Jacksonville terminal. Interest expenses increased 64.0%, to $0.2 million in 4Q13 from $0.1 million in 3Q13 due to an increase in commitment fees and amortization of loan fees associated with revolving credit facility. For full-year 2013, WPT received an income tax benefit due to the reversal of deferred tax liabilities associated with the partnership converting from a corporation to a limited liability company.
For the last quarter of 2013, income tax benefits reduced by $0.05 million. Net income increased 34.7% in 4Q13 to $8.8 million from $6.5 million in 3Q13. Earnings per common unit were $0.27 in 4Q13, compared to $0.15 for 3Q13. EBITDA for 4Q13 increased 1.8%, to $14.6 million from the $14.4 million recorded in the previous year.
World Point Terminals (WPT) is a limited partnership that owns, operates, develops, and acquires terminals and other assets relating to the storage of petroleum products. WPT and other major companies that operate in the same sector—like Targa Resource Partners (NGLS), Enterprise Products Partners (EPD), and Genesis Energy (GEL)—are components of the Alerian MLP ETF (AMLP).