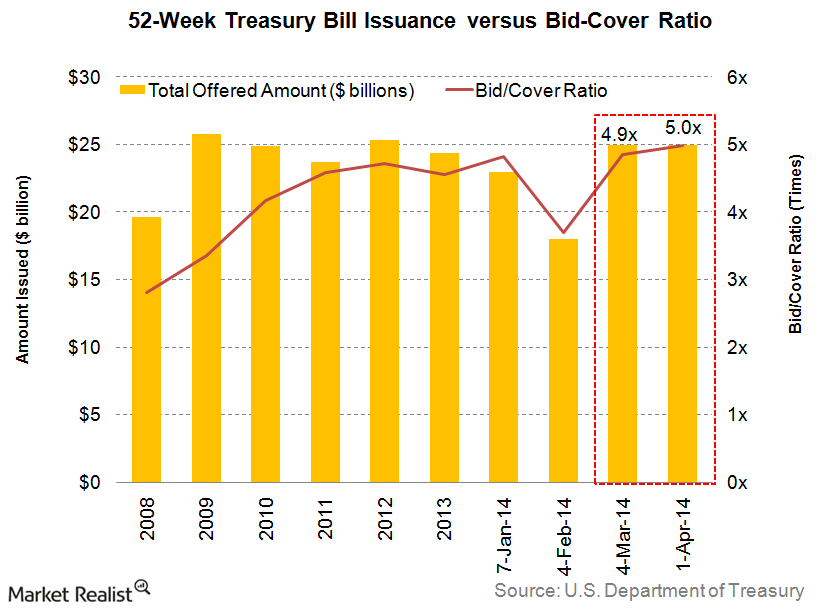 Why the weekly auction for the 52-week T-bill was strong last week
By Sandra Nathanson

Nov. 22 2019, Updated 5:55 a.m. ET
The 52-week T-bill
Last week, the U.S. Treasury department issued 52-week fixed rate T-bills. The 52-week bills are also known as the 12-month bills and are announced on Thursday for auction the following Monday and issued (settled) on Thursday. If Monday is a banking holiday, the bills are auctioned on Tuesday.
The $25 billion of 52-week (SHY) T-bills were issued last week. The issuance bid-cover ratio of 4.99x was higher than the previous month's bid-cover of 4.85x, indicating strong investors demand. The 52-week T-bill was issued at a discount of 0.125%—up from the last month's discount of 0.120%. The bill is expected to mature on April 2, 2015.
Article continues below advertisement
The yield on the 52-week Treasury bill is typically somewhat higher than the Federal funds rate except when markets expect upward or downward changes in monetary policy through the Fed funds rate. Now, both the effective Fed funds rate and the 52-week T-bill are just barely above zero. The Fed is currently buying long-term Treasuries (TLT) and mortgage backed securities (VMBS) at a pace of $55 billion a month. Also, the Fed, in its recent FOMC statements and minutes, indicated that the effective Fed funds rate would likely remain low for an extended period through late 2014, which uplifted the demand for the security, as investors relaxed on the decline in the relative value of the bond with the rise in the interest rates.
Since, interest rates in the market are driven by the Fed's funds rate, during the time of economic expansion, the yields rise with a rise in the Fed funds rate and fall during economic slowdowns.
Furthermore, with the Federal budget deficit for the month of February lower than expected at negative $193 billion, the market may see more supply of Treasury notes (ITE) and bonds (TLH) in the coming weeks and months. This may put a downward pressure on the bond prices considering high supply for the securities. However, with notes and bonds, lower prices are equated with higher yields, so in this example, the government borrows money at higher interest rates.