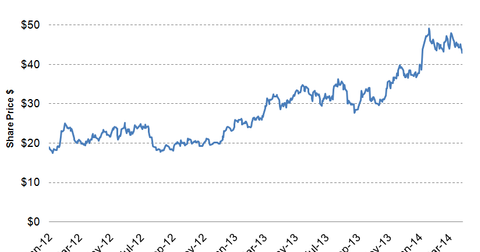 United Airlines launches a $949 million equipment trust certificate
By Sandra Nathanson

Updated
United Airlines 
United Airlines (UAL), a leading passenger airline company in North America with a market capitalization of $15.9 billion, issued a $949.5 million enhanced equipment trust certificate (or EETC) last week. This was the company's first aircraft-backed public bond of 2014.
An equipment trust certificate (or EETC) is a financial security used in aircraft finance, most commonly to take advantage of tax benefits in North America. In a typical EETC transaction, a "trust certificate" is sold to investors in order to finance the purchase of an aircraft by a trust managed on the investor's behalf. The trust then leases the aircraft to the airline, and the trustee routes payments through the trust to investors. Upon the maturity of the note, the airline receives the title to the aircraft.
UAL tapped the investment-grade bond market (LQD) to finance purchases of new aircraft, including three new Boeing 787-8 and 18 new Boeing 737-900ER aircraft.
The deal is the first EETC to finance a Boeing 787-9, and also the first EETC to include Embraer Jets (E-Jets) as collateral since 2007. The deal is split between a 12-year $736.6 million A tranche and a $212.8 million eight-year B tranche. The A tranche is rated A- by S&P and A by Fitch.
Article continues below advertisement
The $736.6 million A tranche is priced at 4.0%—slightly better than UAL's August 4.3% print. The B tranche is priced at $213 million and 4.7%. U.S. carriers raised $5.9 billion via aircraft-backed debt in 2013. The recent issue is a strong indication of investor appetite, given the size and 4% coupon, which is the lowest since Treasury rates increased in May 2013.
Debt profile
At present, the company has a total debt outstanding of $12.4 billion—representing the trailing 12 months' total debt-to-EBITDA[1. EBITDA stands for "earnings before interest, tax, depreciation, and amortization.] ratio of 3.59x—the highest among its peer group. The airline industry average for trailing 12 months' debt-to-EBITDA is 1.76x. Major peers, including JetBlue Airways Corporation (JBLU) at 3.52x, Delta Air Lines Inc. (DAL) at 2.08x, and Southwest Airlines Company (LUV) at 1.26x, have much lower debt-to-EBITDA ratios than United Airlines (UAL).
Plus, the company has a low total EBITDA-to-interest coverage ratio at 4.71—an important metric used by market analysts, lenders, and even investors in capital-intensive industries to assess a company's ability to pay interest on outstanding debt. Higher EBITDA-to-interest coverage ratios imply less risk for lenders, while lower EBITDA-to-interest coverage indicates high risk in the company's ability to service its debt.
United Airlines (UAL) has a trailing 12-month cash balance of $3.2 billion—significantly lower than the company's current debt profile. However, the company's ability to service the debt largely depends on its revenue generation capacity and free cash flows. The company recently reported its fourth-quarter 2013 earnings results, indicating 7.2% growth in total revenue at $9.3 billion. Major indicators, including passenger revenue, increased 5.9%, to $8.0 billion, compared to the same period in 2012. Ancillary revenue per passenger increased 15% year-over-year, to nearly $21 per passenger, and cargo revenue decreased. The company plans to expand its ancillary revenue by 7% compounded annual growth by 2017, to $3.5 billion.
United Airlines (UAL), owned by United Continental Holdings Inc., is an airline holding company. The company owns and operates airlines that transport people, property, and mail throughout the U.S. and abroad.