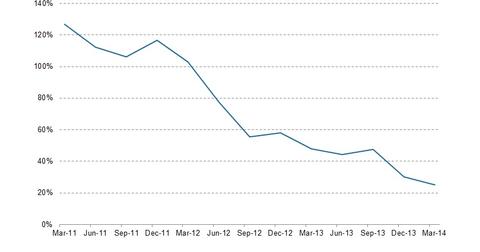 Why did Twitter's stock just plunge to $37.66 per share?
By Ingrid Pan

Updated
Twitter beat guidance and Wall Street estimates…
On April 29, 2014, after market close, Twitter (TWTR) reported 1Q14 earnings. Despite posting earnings above guidance and Wall Street consensus, the stock dropped sharply lower, at $37.66 per share compared to the prior day's close of $42.62 per share. Read on to see why Twitter's stock was hit.
Twitter beat its previously announced 1Q14 guidance on revenue and EBITDA. Management commented that part of the results was driven by strong ad sales from live events such as the Oscars, Grammys, and Super Bowl.
Twitter's revenue was $250 million, up from 4Q13 revenue of $243 million. The company beat prior guidance for revenue of $230 to $240 million for 1Q14. Wall Street consensus was at $241 million.
Article continues below advertisement
Adjusted EBITDA was $37 million, down from 4Q13 adjusted EBITDA $45 million. The company beat prior guidance for 1Q14 EBITDA of $10 million to $16 million. Wall Street consensus was at $19 million. Twitter had commented on its prior earnings call that fourth quarter represents seasonal highs in its earnings due to increased advertising around the holidays.
Adjusted EPS were $0.00 for the quarter compared to analysts' consensus of ($0.03). Capex during the quarter was $67 million ($50 million in cash and $17 million in capital leases), representing continued investment in data centers and office facilities.
…But user growth decelerated
Twitter reported average monthly active users (or MAUs) of 255 million as of March 31, 2014. For reference, MAUs were 241 million at December 31, 2013, and 232 million at September 30, 2013. The U.S. had 3 million in net MAU additions, while international markets had 11 million in net MAU additions. Growth in MAUs has decelerated, as the below chart shows.
Meanwhile, timeline views increased to 157 billion in 1Q14 versus 148 billion in 4Q13. Timeline views per user remained stable over the quarter. Management commented that this implies that new user engagement is on par with existing user engagement.
Twitter noted that interactions per timeline view were up, with favorites and retweets up 26% in Q1.
Ad revenue per 1,000 timeline views reached $1.44 in 1Q14, down from $1.49 in 4Q13, due to seasonality around the 4Q holiday period.
Twitter (TWTR) is a social media company, with similarities to other social media companies such as Weibo (WB), Facebook (FB), and LinkedIn (LNKD). Twitter is a minor component of certain tech and Internet ETFs, such as the Vanguard Information Technology ETF (VGT) and the First Trust DJ Internet Index Fund (FDN).
Continue to the next part of this series to find out about Twitter's major guidance changes.