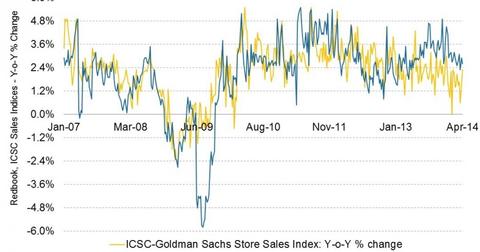 The spring thaw hasn't warmed up the ICSC-Goldman Store Sales yet
By Surbhi Jain

Updated
The ICSC-Goldman Store Sales Index
Consumer spending accounts for more than two-thirds of the economy. The ICSC-Goldman Index is one of the more timely indicators of consumer spending, since it is reported every week. It gets extra attention around the holiday season when retailers make most of their profits. This weekly measure of comparable store sales at major retail chains, published by the International Council of Shopping Centers and Goldman Sachs (GS), is related to the general merchandise portion of retail sales. It accounts for roughly 10% of total retail sales.
Article continues below advertisement
The more cold the weather, the more sluggish are the retail store sales, as store footfalls take a dip. The unseasonable cold winter spell hurt the sales of seasonal goods in the latest week, as evidenced in the ICSC-Goldman's same-store sales tally, which remained depressed at 0.4% in the April 19 week, while the year-on-year rate dipped by 0.4% to 1.9%. The spring thaw hasn't been able to give the desired lift to the ICSC-Goldman's same-store sales tally just yet.
Investors' takeaway
The pattern in consumer spending is often the foremost influence on stock and bond markets. Consumer spending at major retail chains did slow down in tandem with the equity market in 2000 and during the 2001 recession. Sales weakened again in 2008 and 2009 due to the credit crunch and recession. So, any change in retail sales has a direct bearing on the financial markets.
Stock investors vouch for strong economic growth, which translates to healthy corporate profits and higher stock prices. For bond investors, the focus is on whether economic growth goes overboard and leads to inflation. Steep movements in consumer spending, as indicated by retail sales indicators such as the ICSC-Goldman Index, are the manifestation of increased economic activity.
The Consumer Discretionary Select Sector SPDR Fund (XLY), which includes companies like McDonald's Corporation (MCD) and Nike, Inc. (NKE) in its portfolio, and the SPDR S&P Retail ETF (XRT), are popular ETFs in the consumer discretionary equities ETFs category. Changes in consumer spending are reflected in the performance of these ETFs.
Along with the sag in the ICSC-Goldman Store Sales in April, the Redbook sales figures were also hit, though less severely. The next part of this series elaborates on the topic.