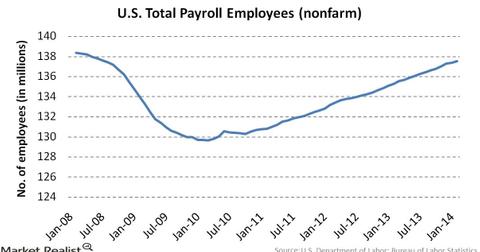 Was the snowy winter weather a deterrent to economic growth?
By Surbhi Jain

Updated
The FOMC meeting
The Federal Open Market Committee (or FOMC) meeting, held in the offices of the Board of Governors of the Federal Reserve System in Washington, D.C., on Tuesday, March 18, 2014, and continued on Wednesday, March 19, 2014, had many important takeaways.
The meeting was chaired by Janet Yellen, the current Chairwoman, and a successor to Ben Bernanke. The Vice Chairman of the Federal Reserve System, William C. Dudley, and the seven governors of the Federal Reserve Board, were among the other key attendees who contributed to the deliberations of the meeting.
SOMA
The meeting began with the a report on the developments in domestic and foreign financial markets as well as the System open market operations since the last FOMC meeting, presented by the manager of the System Open Market Account (or SOMA). The report was ratified by the Committee members.
Staff Review of the Economic Situation
The review indicated that economic growth slowed early this year, in part because of the cold and snowy winter weather, as indicated by:
Total payroll employment expanded further
The unemployment rate held steady
Consumer price inflation continued to run below the 2% goal
Article continues below advertisement
For investors in ETFs, the performances of popular exchange-traded funds (or ETFs) like the SPDR S&P 500 ETF (SPY), the iShares Core S&P 500 ETF (IVV), and the iShares S&P 100 ETF (OEF), which track large-cap equities of companies like Apple Inc. (AAPL) and Exxon Mobil Corporation (XOM), serve as good indicators of the course the U.S. economy is taking.
Employment
For the period under review, total non-farm payroll rose with the labor participation rate as well as the employment-population ratio. However, the rate of job openings stepped down, while the initial jobless claims held steady. All in all, the employment situation did bring a positive vibe, despite the cold weather acting as a deterrent.
Wages
Increases in nominal wages remained subdued. Compensation per hour in the nonfarm business sector increased slightly, and, with some gains in labor productivity, unit labor costs declined a little.
The economic situation review goes on to throw light on the state of housing, spending, and other macro variables in the U.S., which is discussed in the next part of this series.