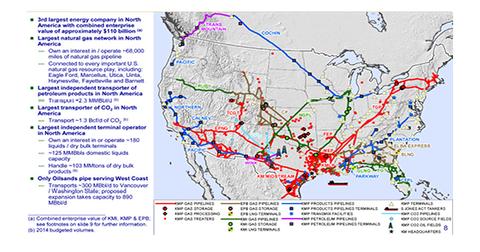 Kinder Morgan Energy Partners is one of the largest components of AMLP
By Keisha Bandz

Updated
Kinder Morgan Energy Partners (KMP)
Kinder Morgan Energy Partners LP (KMP) is the largest pipeline transportation and energy storage company in North America. Its pipelines transport natural gas, gasoline, crude oil, CO2, and other products, and its terminals store petroleum products and chemicals and handle such products as ethanol, coal, petroleum coke, and steel. It operates out of five major segments: refined petroleum pipelines, natural gas pipelines, CO2 pipelines, and the terminals segment.
Article continues below advertisement
The petroleum pipeline segment delivers gasoline, diesel fuel, jet fuel, and natural gas liquids to various markets through approximately 8,600 miles of petroleum pipelines. The natural gas pipelines segment gathers, transports, stores, treats, processes, and sells natural gas through approximately 33,000 miles of natural gas pipelines and gathering lines, and also has natural gas storage, treating, and processing facilities. The CO2 segment produces, markets, and transports carbon dioxide through approximately 1,500 miles of pipelines to oil fields. This segment also owns and operates seven oil fields and a 450-mile crude oil pipeline system in west Texas. The company's terminals segment transloads, stores, and delivers bulk, petroleum, petrochemical, and other liquids products through approximately 113 liquids and bulk terminal facilities.
Kinder Morgan Inc. owns the general partner interest of Kinder Morgan Energy Partners (KMP) and El Paso Pipeline Partners (EPB), along with limited partner interests in KMP and EPB and shares in Kinder Morgan Management (KMR).
As of April 7, 2014, the company had a market cap of ~$34 billion and an enterprise value of ~$55 billion. KMP's revenue for LTM (the last 12 months) as of December 31, 2013, totaled $12.5 billion. Adjusted EBITDA over the same period was $4.6 billion and distributable cash flow amounted to $2 billion. At a current unit price of $77.58, and given the latest quarterly distribution of $1.36 per unit, KMP has a current yield of 7%.
KMP as a component of AMLP
Kinder Morgan Energy Partners LP (KMP) is one of the largest energy master limited partnerships and a significant component of the Alerian MLP ETF (AMLP) and is weighted at 9.4%. So factors affecting KMP Would significantly affect the AMLP as well.
Positive growth drivers
Article continues below advertisement
The shale oil revolution makes KMP a long-term growth opportunity. Pipeline operators like KMP, Williams Partners LP (WPZ), Enterprise Product Partners (EPD), Plains All American Pipeline LP (PAA), and Energy Transfer Partners LP (ETP) have stable business models that depend more on product volume. Over half of KMP's EBITDA comes from the natural gas pipeline segment, which is stable fee-based revenue. Also, a portfolio of irreplaceable assets gives KMP an edge over its competitors, as it's connected to every important U.S. natural gas resource play, including the Eagle Ford, Barnett, Utica, Marcellus, and Haynesville. The company is stated to invest over $14 billion as a part of its growth projects, and it has several strategic acquisitions lined up that will contribute to a strong growth performance.
Negative growth drivers and risks
Downside risks include uncertainty around the timing or terms of potential asset drop-downs to KMP from KMI and a complicated ownership structure leading to investor and analyst confusion. Recent negative press on KMP this summer has also put pressure on the stock along with a recent Federal Energy Regulatory Commission (or FERC) rate revision. FERC lowered the toll on one of its big pipeline systems, slowing growth in 2014. Other negative factors include macroeconomic risks of increasing interest rates, given KMP's need to externally finance growth initiatives, which includes ~$14 billion of projects to be completed through the next five years.
Guidance
Per the guidance, strong growth is expected throughout the Kinder Morgan family of companies, wherein $14.8 billion worth of projects have been identified for expansion and joint ventures. EBITDA guidance for 2014 is approximately $6 billion versus the consensus estimate of $6.4 billion. KMP expects to declare cash distributions of $5.58 per unit for 2014—an approximate 6% increase over its 2013 budget target of $5.28 per unit and an approximate 5% increase above its current expectation of $5.33. KMI sees growth opportunities across all of KMP's business segments, including the need for more midstream infrastructure to move and store oil, gas, and liquids from the prolific shale plays in the U.S. and the oil sands in Alberta, along with increasing demand for CO2.
To find out about other major components of AMLP, read on to the next part of this series.