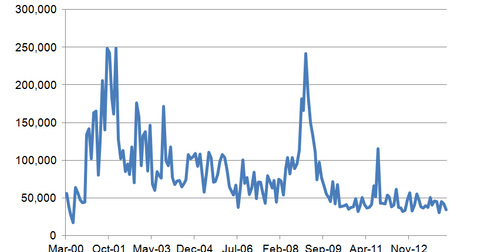 Why we saw the fewest 1st quarter job cuts in 20 years
By Brent Nyitray, CFA, MBA

Apr. 7 2014, Published 10:02 a.m. ET
Challenger, Gray & Christmas keep tabs on announced job cuts as a way to predict future employment numbers
Challenger, Gray & Christmas is a Chicago-based outplacement firm that keeps track of announced job cuts. This means that when a company announces it will lay off workers, that announcement goes into the index. Often, these cuts never happen. That said, announcements of mass layoffs do affect consumer confidence, which drives new home sales.
Article continues below advertisement
Analysts will use the Challenger, Gray & Christmas data in a number of different ways. First, these announcements tell analysts which industries are experiencing growth and which are experiencing declines. Second, analysts can look at the geographic concentration of job cuts and know which areas are likely to experience lower demand and increasing credit losses.
The Challenger, Gray & Christmas report isn't really a market-mover, but it's a good data point for investors to use and can also help generate trade ideas.
Highlights of the report
Planned job cuts decreased 30% in March year-over-year, and were down 18% from February. December 2013's number was the lowest in years. Generally, announced cuts have been trending downward as the economy improves. The real estate sector (especially homebuilders) is on an upswing, which is increasing demand for workers. In fact, KB Home (KBH) and Lennar (LEN) both mentioned on their fourth quarter earnings conference calls that they were having a difficult time finding skilled labor. On the other hand, the financial sector has been cutting jobs, since the refinance boom has largely run its course as mortgage rates have increased. In January, finance and retail bore the brunt of the job cuts.
Article continues below advertisement
Similarly, the healthcare sector has been cutting jobs as a result of Obamacare—shrinking Medicaid reimbursements are causing healthcare providers to cut costs. The report postulates that this will be a recurring theme. Companies will cut healthcare costs one way or another, and healthcare employment will remain under pressure. The government will also feel the pinch, with government spending at post–World War II highs as a percent of GDP since 2009. This government growth has boosted Washington, DC, real estate. Watch for that trend to unwind.
Implications for homebuilders
Homebuilders like Lennar (LEN), PulteGroup (PHM), D.R. Horton (DHI), and Toll Brothers (TOL) are highly sensitive to the labor market and consumer confidence. KB Home, on its latest earnings release, even said consumer confidence is a bigger driver of its business than interest rates. Food for thought. An alternative to buying single stocks would be to buy the S&P SPDR Homebuilder ETF (XHB).
So far, we've seen the consumer confidence numbers remain resilient in the face of higher interest rates, although the Bloomberg Consumer Comfort index has been declining. The single biggest thing that can turn consumer confidence south is another round of corporate cost cutting through layoffs. We're already seeing the financial services sector lay people off as the refinance boom comes to an end.
To learn more about important releases that drive homebuilder stocks, see the Market Realist series Key takeaways for March's Institute for Supply Management release.