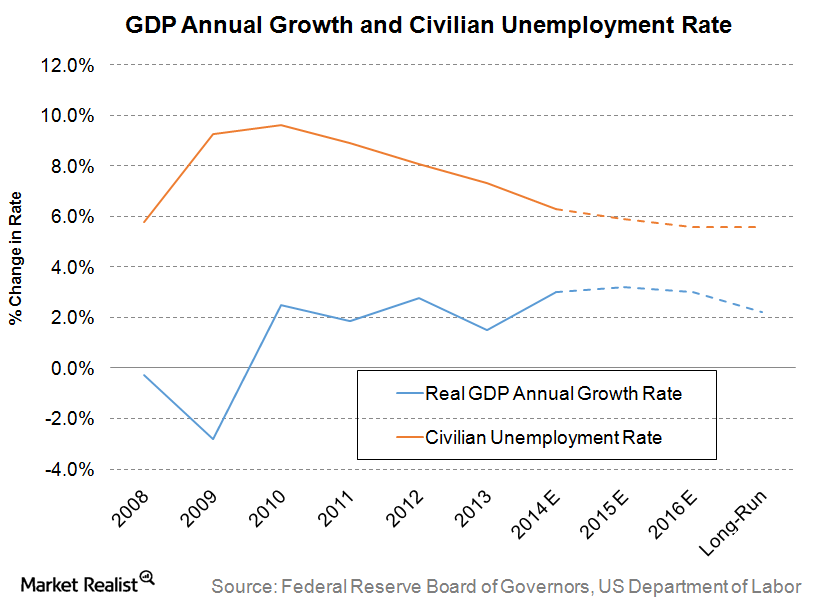 Why does Sandra Pianalto think the economic progress to be slow?
By Sandra Nathanson

Nov. 20 2020, Updated 1:32 p.m. ET
GDP's past and present
"Studies have shown that both of our unconventional tools—forward guidance and asset purchases—have helped to significantly lower long-term interest rates, just as we intended," said Pianalto.
Although GDP grew at a little under 3.5% in the second half of 2013, up from an average rate of 2% in the past three years, inflation remains at ~1% level, well below the Fed's long-term target of 2%. Furthermore, the winter took a toll on the outlook for GDP growth in 2014 year's first quarter. Though economists projected the U.S. economy to expand by 2.4% in 1Q 2014, Pianalto said, "With appropriate monetary policy, I see the economy expanding at a slightly stronger rate this year than last. I expect GDP growth this year to be around 3%."
The "advance" GDP estimates is scheduled to release on April 30, 2014 by the U.S. Bureau of Economic Analysis (BEA).
On unemployment
Article continues below advertisement
In support of her stand for an accommodative monetary policy, Pianalto also said, "I expect the unemployment rate to fall to 6.2% by the end of the year." Currently, the unemployment rate in the U.S. is at 6.7%, which has been revised downward in the recent FOMC meeting (March 18-19) to 6.3% for the year end 2014 and 5.9% for 2015. In the long-run, the FOMC committee expects the unemployment rate to remain at 5.6% according to the economic projections released during the recent FOMC meeting of March 18-19, 2014.
On inflation
Pianalto expects inflation to rise from the current levels of 1.1% on the backdrop of accommodative monetary policy, which aims at purchasing long-term Treasuries (TLH) and agency-backed securities (VMBS) at a pace of $55 billion in April, 2014. However, timing on the rise in inflation rate remained unclear. In her speech, she said, "I project that accommodative monetary policy, a strengthening economy, and stable inflation expectations will bring inflation back to our 2% objective over time, but I expect that progress to be slow."
Implications to investors
Since bond prices rise when interest rates fall and vice versa, stable interest rates at least over the short-term, can keep rates low at the short end of the yield curve. However, due to the Fed gradually reducing purchases for fixed income securities like longer-term Treasuries (TLT) and agency-backed securities (VMBS), this may impact demand for these securities and impact their prices. Bond prices move inversely to interest rates. One way of profiting from rising interest rates is to invest in inverse bond funds like the ProShares Short 20+ Year Treasury Fund (TBF) and the Barclays iPath US Treasury 10-Year Bear ETN (DTYS). Inverse bond ETFs provide the inverse return of the underlying benchmark index.