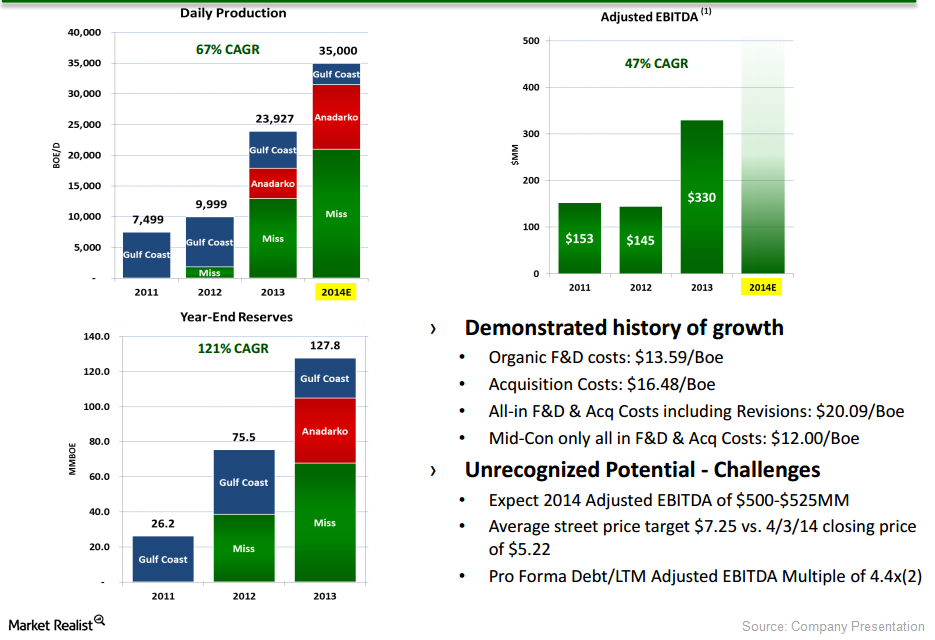 Cohen's Point72 Asset Management buys Midstates Petroleum share
By Samantha Nielson

Nov. 20 2020, Updated 10:42 a.m. ET
Point72 Asset Management and Midstates Petroleum
Point72 Asset Management, the new name for SAC Capital Advisors, initiated a new position in Midstates Petroleum Company (MPO) last month, according to a 13G filing. The filing revealed that the fund owned 3,551,447 shares, representing a 5% stake in the company. The stake was slightly raised, to 5.3%, or by 3,750,000 shares this month.
Midstates Petroleum is an independent exploration and production company focused on the application of modern drilling and completion techniques to oil-prone resources. Its revenues derive from oil and natural gas production, as well as the sale of NGLs that are extracted from its high-Btu-content natural gas. The company's oil and gas operations comprise Gulf Coast assets in Louisiana, Mississippian assets in Oklahoma and Anadarko Basin assets in Texas. Midstates is backed by First Reserve and Riverstone, energy-focused private equity firms.
Article continues below advertisement
The Mississippian Lime liquids play in Oklahoma and Anadarko Basin assets in Texas were integrated via acquisitions over the last two years, and Midstates accumulated a lot of debt. With the addition of the Anadarko assets and increased activity in the Mississippian, the company said it has shifted capital to those assets and dropped rigs in Louisiana.
The Houston-based E&P Midstates last month reported the departure of CEO John Crum. The release stated that the resignation was "in order to allow the company to pursue new leadership and strategic direction." The release further added, "Going forward, the focus will be on capital efficiency and executing on developing the deep inventory in the company's existing portfolio."
The company missed on revenue but beat on EPS in its 4Q results. It saw a GAAP net loss of $315.8 million (before preferred dividends) for the fourth quarter of 2013, which includes a full cost ceiling impairment of $453.3 million, compared to a net loss of $2.4 million for the fourth quarter of 2012 and a net loss of $23.6 million in the third quarter of 2013. Midstates posted diluted EPS of -$4.89 on revenue of $160.97 million.
Article continues below advertisement
Midstates also disclosed that it has executed a Purchase and Sale Agreement (PSA) for the sale of the Pine Prairie portion of its Gulf Coast assets and secured commitments for a new revised lending structure that together will provide sufficient funds for all needs through 2015 without further capital raises. Management said the sale is a milestone event in its ongoing efforts to reposition its portfolio and focus resources on its highest returning drilling inventory in the Mississippian Lime and Anadarko Basin. It said it will continue to look at additional property sales, joint ventures, and other options.
In an operational update in January, Midstates said winter weather conditions continue to impact first quarter 2014 production volumes as well as drilling and completion activity. For the first quarter of 2014, Midstates estimates its production will average 30,000 to 31,000 Boe per day, with 55% to 60% from its Mississippian Lime program, 25% to 30% from its Anadarko Basin program, and the balance from its Gulf Coast assets. The first quarter production range has been reduced by about 1,000 Boe per day due to weather-related interruptions already experienced, production curtailment resulting from facility and power upgrades, and third-party gathering and processing interruptions.
Last year, news reports said Royal Dutch Shell (RDS) sold its Mississippian Lime position. Reports noted that Chesapeake Energy (CHK), Encana (ECA), and Apache (APA) have also departed, as the Mississippian Lime Play wasn't lucrative enough. Sandridge Energy (SD) has been active in the Mississippian Lime play.