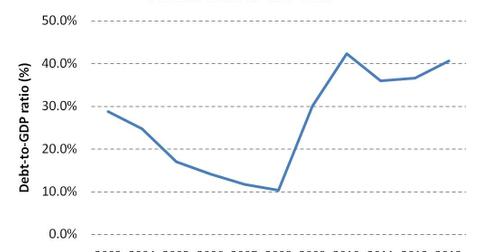 Russia invades Eastern Ukraine: Will a war affect equity ETFs?
By Surbhi Jain

Updated
Russia invades Eastern Ukraine
After the annexation of Crimea, it now seems that Russia is on the lookout to invade and claim other regions in mainland Ukraine, beginning on the eastern front. Over the past several days, masked, heavily armed militants have seized strategic locations in eastern Ukraine.
Observers believe Russia has staged tanks, fighter jets, and an estimated 40,000 troops on its border with Ukraine. The Ukrainian government is trying to establish control over the east, where pro-Russian militants have seized government buildings in at least nine cities.
Article continues below advertisement
In Kharkiv, pro-Russian armed forces have occupied City Hall. Kharkiv, or Kharkov, is the second largest city of Ukraine, located in the northeast of the country. In Luhansk, the administrative center of Luhansk Oblast in easternmost Ukraine, these forces have taken the compound of the state security agency. In Donetsk, they've taken control of the regional legislature building and the interior ministry. In the City of Kramatorsk, in the Donetsk region, armed militants shot their way into police headquarters. Cell phone towers are being toppled through the area, apparently with an aim to silence nonmilitary communications.
All this seems like a sort of slow-motion invasion from within, raising questions about whether Russia will charge across and start a full-fledged war with Ukraine. However, since Russia is already achieving what it wants just by creating chaos in the area, this may not be the case. Russia has already annexed the Crimean peninsula from Ukraine. Russian President Vladimir Putin's goal now is to further destabilize the country, making it impossible to govern and scaring Ukraine from pursuing closer ties with the West.
The prices of ETFs like the VanEck Vectors Russia ETF (RSX) and the iShares MSCI Emerging Markets Eastern Europe ETF (ESR), which intend to give investors exposure to Russian securities, declined substantially on account of the political turmoil between Russia and Ukraine. The situation in Ukraine and Russia has had repercussions even on developed markets. The iShares S&P 100 Index Fund (OEF), whose underlying index tracks the top 100 companies in the U.S., including Apple Inc. (AAPL) and Exxon Mobil Corporation (XOM), also weakened in terms of price performance.
Read the next part of this series to learn about the Ukrainian and Russian governments' reactions to the recent invasions in Eastern Ukraine.