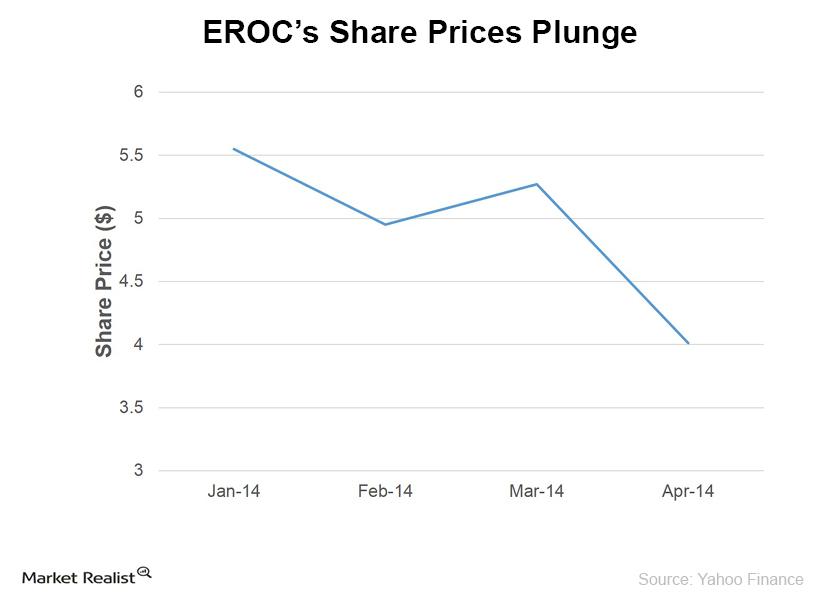 Why Regency is an important deal for Eagle Rock Energy Partners
By Keisha Bandz

Nov. 20 2020, Updated 4:02 p.m. ET
Eagle Rock Energy Partners
Eagle Rock Energy Partners LP (EROC) is a master limited partnership with both upstream and midstream businesses. The upstream business includes exploring, developing, and producing oil and natural gas. At the midstream level, EROC undertakes gathering, compressing, treating, processing, fractionating, and transporting natural gas and natural gas liquids (or NGLs).
In late December 2013, Eagle Rock entered into an agreement with Regency Energy Partners (RGP), announcing that it will sell its midstream business to RGP for $1.3 billion.
Article continues below advertisement
However, on February 23, Eagle Rock Energy Partners LP (EROC) and Regency Energy Partners LP (RGP) received a request for additional information and documents from the Federal Trade Commission (the FTC) in connection with the deal. The FTC request extends the waiting period to 30 days and requires both companies to comply with the FTC in the interim period. So the FTC inquiry has delayed the process and extended the original timeframe in which EROC would have likely closed the deal. Both EROC and RGP are master limited partnerships. The ETFs that track these companies are the Global X Junior MLP ETF (MLPJ) and the Alerian MLP ETF (AMLP), respectively.
Following the delay, EROC announced on April 23, that it will suspend its distribution until after the close of its planned divestiture of its midstream business to Regency. Management stated that as a result of the delay, the company's liquidity has become critical and so to preserve this liquidity, the suspension was necessary. Since most investors buy MLPs for their distributions, the suspension is a negative for EROC. The proceeds from the sale would have enabled EROC to pay distributions to its unitholders. However, EROC expects to resume quarterly distributions following the deal's close, which would alleviate the company's liquidity position.
Negative market reaction
The markets reacted negatively to this news. EROC shares traded at $4.07 following the announcement, down ~17% in just one day and down 27% since January 2014.
The prospect of a long delay in distribution payouts could further impact the unit price.
Article continues below advertisement
EROC has already endured a distribution cut in November last year, in which distributions reduced from $0.22 per share per quarter to $0.15 per share per quarter—a 32% decrease. However, the news that followed just a month later regarding EROC's intention to sell its midstream assets to Regency met with a positive response. The sale would give EROC some breathing room and the cash revenue resulting from the sale would help EROC reduce its long–term debt of ~1.3 billion, which had been garnering some concern off late, and also improve its liquidity. The company anticipates its leverage ratio to be under 1.75x, while it was 4.9x in Q32013.
Readers should note that leverage ratios evaluate a company's debt levels and measure how leveraged a company is. A higher leverage ratio implies that a company has more debt than it can carry and is probably not generating enough cash to fulfil its debt obligations. As RGP picks up EROC's midstream bonds, driving down the leverage ratio, Eagle Rock Energy Partners will have sufficient capital to compete against its pure-play production peers such as BreitBurn Energy Partners (BBEP) for oil and gas assets. Both BBEP and EROC are part of the Global X Junior MLP ETF (MLPJ)
The Regency deal is crucial for EROC's growth
Article continues below advertisement
EROC's poor performance these past few months has been mostly because of high volumes of debt and commodity price exposure at its midstream business, which made cash flows from this segment uncertain. Both these reasons played a major role in the distribution cut last year. Firstly, the company hadn't been earning enough to cover its cash outflow to unitholders. Secondly, debt had been piling up and the distribution cut was necessary to redirect the cash toward debt repayment.
However, following the deal, both these aspects of high debt volumes and commodity price risk would pass on to RGP. (For implications on RGP's business, see What you should know about Regency's acquisition of Eagle Rock's midstream operations). The debt levels for EROC would decrease and the company would only be operating a single business line as an upstream operator, thereby eliminating commodity price exposure.
A lot depends on if the deal goes through. The coming few weeks would be tense as investors as well as the companies concerned (EROC and RGP) looked forward to the deal closing.
Regency Energy Partners LP is a midstream operator of natural gas pipelines, gathering systems, and processing facilities. Energy Transfer Equity (ETE) is the general partner of Regency Energy (RGP) and it also holds about ~9% of the LP units. Regency is one of the top ten holdings of the Alerian MLP ETF (AMLP). To read about AMLP in detail, refer the Market Realist series Must-know: An investor's guide to the Alerian MLP ETF (AMLP).
To learn more about important news and releases in the MLP space, check out Market Realist's Master Limited Partnerships page.