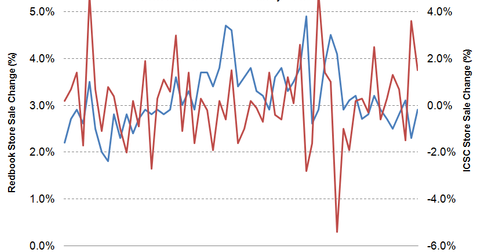 The Redbook and ICSC-Goldman Sachs Retail Indices remain volatile
By Sandra Nathanson

Nov. 22 2019, Updated 5:52 a.m. ET
The weekly snapshot of retail sales
Weekly data is a very powerful indicator of short-term volatility in retail sales. For the analysts in the fixed income market, weekly reports are an early indication of where the economy is headed. A substantial portion of retail sales is driven by the consumer spending, which constitutes more than two-thirds of the U.S. gross domestic product. Hence, changes in the consumer spending have a major impact on the overall growth of the economy. For the bond market (BND), the focus is on whether economic growth leads to inflation. When the economic growth slows down, investors move into the bond markets (AGG). However, when the economy accelerates, investors move from bonds to the equity market to gain better risk-adjusted returns. The liaison between the economy and bond market can be well understood by tracking the ETFs such as iShares Barclays 20+ Year Treasury Bond (TLT) and Vanguard Total Bond Market ETF (BND).
Article continues below advertisement
The weekly snapshot of retail sales compiled by the industry trade groups—the ICSC-Goldman Sachs Index and Redbook Index—indicated that consumer spending was moderate throughout for the first week of the month, ended April 5, 2014. The Redbook Same-store Index rebounded by 60 basis point to 2.9% from the previous weeks' growth of 2.3%. However, the ICSC-Goldman Sachs (GS) Index—one of the timeliest indicators of consumer spending—was weak with a mere rise of 1.5% in the same-store sales, after hitting a growth of 3.6% in the previous week.
While, the weekly Redbook and ICSC-Goldman Sachs Indices provide an early indication on the retail spending trend, for the purpose of stock picking, the more reliable data is the monthly and/or a yearly index. Have a closer look on the long-term change in the index to understand the absolute change in the industry and the relevant ETFs such as SPDR S&P Retail ETF (XRT). Plus, read the background on the Redbook Index and ICSC-Goldman Sachs Indices to know the differences in the next part of the series.