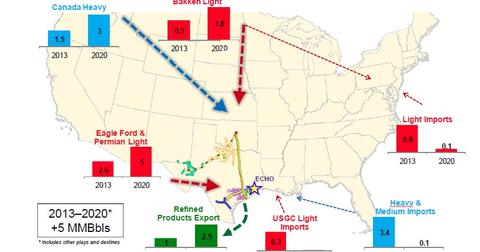 How Enterprise plans to capitalize on growing US crude production
By Alex Chamberlin

Updated
Enterprise Products Partners' strategy
Enterprise Products Partners (EPD) is one of the largest midstream energy master limited partnerships (or MLPs) and a major part of the Alerian MLP ETF (AMLP). In its recent comprehensive analyst day presentation, the company noted that it expects North American crude oil production to continue to grow, driven by the Eagle Ford (South Texas), Permian (West Texas), Bakken (North Dakota), and Canadian heavy crude. The company outlined several ways it plans to take advantage of these crude oil trends.
Seaway Crude Pipeline expansion
Article continues below advertisement
Enterprise Products (EPD) and Enbridge (ENB) are joint venture partners in the Seaway pipeline. This asset formerly carried crude oil from the Gulf Coast to Cushing, Oklahoma, a major inland crude oil hub. The companies worked together to reverse the pipeline, which began service in early 2012. The reason for the reversal was that much more crude oil had started to be produced in inland U.S. markets such as the Bakken in North Dakota, certain Mid-Continent regions (like Oklahoma), and Canadian crude. Much of this crude oil had been flowing into the crude hub of Cushing, but takeaway capacity from Cushing to demand markets such as refiners on the Gulf Coast had been limited. The Seaway reversal helped to add this needed takeaway capacity. Enterprise and Enbridge had completed a major expansion to the pipeline in January of 2013, with another expansion expected to be in service in late 2Q14 to get total capacity up to roughly 850,000 barrels per day. EPD notes that most of the capacity has already been committed to by customers wishing to transport crude along the pipeline.
Enterprise Crude Houston (or ECHO) 
The Enterprise Crude Houston (or ECHO) storage terminal on the Texas Gulf Coast is intended to provide storage and terminaling for growing oil production coming from Canada, the Mid-Continent, the Gulf of Mexico, waterborne imports heading for Gulf Coast refineries, and waterborne markets, which represent ~8 million barrels per day of demand (according to EPD). Currently, three tanks are in service, with 0.9 million barrels of crude oil storage capacity. An additional 1.1 million barrels of storage capacity is expected to be placed in service at the terminal during the first and second quarters of 2014. The company plans to increase capacity to approximately 6.5 million barrels of storage capacity by the second quarter of 2015. The ECHO system is at the nexus of multiple Gulf Coast refineries operated by major companies such as ExxonMobil (XOM), Valero (VLO), and Phillips 66 (PSX). Plus, crude at ECHO will be well connected to docks, where the crude can be transported by barge.
Permian crude oil system
EPD expects that the Permian in West Texas will be a major source of U.S. crude oil production growth, with production projected to reach 2.7 million barrels per day in 2020, an increase of ~1 million barrels per day from current levels. EPD notes that it currently has 1.4 million barrels of storage capacity at its Midland terminal but could expand the capacity to nearly 10 million barrels.
Read on to the next part of this series to find out about Enterprise Products' forecast for offshore crude activity in the Gulf of Mexico, and what the company has in store to capitalize.