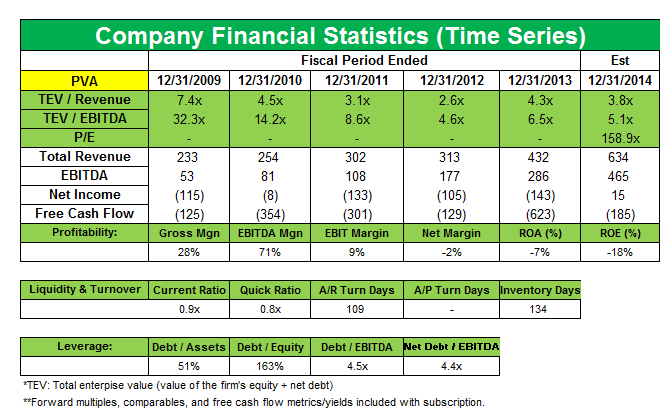 Penn Virginia sees an activist push from George Soros' fund
By Samantha Nielson

Apr. 1 2014, Updated 9:00 a.m. ET
Soros Fund Management and Penn Virginia
Soros Fund Management revealed a 9.18% ownership stake in Penn Virginia Corporation (PVA), with 6,003,509 shares, via a 13D filing on March 18. The stake was increased from the 5,829,845 shares that were disclosed in Soros' 13F filing last month. Penn Virginia accounted for a 0.47% position in the fund's fourth quarter portfolio. Penn Virginia is an independent oil and gas company engaged in the exploration, development, and production of crude oil, NGLs, and natural gas in various onshore regions of the United States.
Article continues below advertisement
Penn Virginia is based in Radnor, Pennsylvania. The company's stock surged 15.6% after Soros disclosed the position and stated that the company represented an attractive investment opportunity, adding that the stock is undervalued at current market prices. Soros added that the fund has engaged in discussions with the company's management "regarding, among other things, the company's business, assets, prospects and strategic alternatives and direction."
The filing also said the fund believes Penn Virginia "should explore strategic alternatives as a means to enhance or maximize shareholder value." Soros said it plans to continue to discuss with the company's management—and possibly the company's board, other shareholders, other industry participants, potential acquirers, and other interested parties—and that it may take other steps to increase shareholder value.
Article continues below advertisement
In mid-2010, Penn Virginia shifted its investment and production focus away from natural gas and toward higher-margin oil and NGLs. Over the course of three years, the company transformed itself from a predominantly natural gas producer to a predominantly oil and NGL producer. Since 2010, it has increased its acreage position in the Eagle Ford Shale from approximately 7,500 net acres to approximately 78,000 net acres through the end of 2013 and, in 2013, crude oil and NGLs accounted for approximately 65% of total production and 88% of product revenues. The company's current operations consist of drilling unconventional horizontal development wells primarily concentrated in the Eagle Ford Shale in South Texas. In 2013, Penn Virginia's production totaled 6.8 MMBOE. Its total production comprised crude oil (50%), NGLs (15%), and natural gas (35%).
Penn Virginia's fourth quarter 2013 earnings and revenue both came in below analyst expectations. Net loss narrowed to $4.07 million or $0.06 per share from $56.13 million or $1.05 per share in the same quarter the prior year. Total revenues for the quarter increased to $117.0 million from $78.19 million in the same quarter last year. Revenues fell 4% from the third quarter due to 10% lower oil prices, partially offset by the 7% increase in oil production. Management commented, "While our production during the fourth quarter was consistent with previous guidance, we had a number of wells brought on line later than anticipated (likely due to harsh weather) and these wells did not contribute as much to the fourth quarter results as we had expected."
Article continues below advertisement
Plus, Penn Virginia's non-operated partner suspended its drilling program, and in response, the company increased its operated drilling rig count to six rigs. To help fund this additional operated rig and its capital program, PVA said it has retained Scotia Waterous as its exclusive financial and technical advisor in the potential sale of its operations in the Granite Wash in the Mid-Continent and Mississippi (Selma Chalk) assets. The assets include proved reserves of approximately 26 million barrels of oil equivalent and daily production of approximately 4,200 barrels of oil equivalent.
In December, Penn Virginia sold substantially all of its Eagle Ford Shale natural gas midstream assets to American Midstream Partners LP (AMID) for gross cash proceeds of $100 million. It expects to use the proceeds of approximately $94 million to help fund its 2014 capital expenditures plan.
Penn Virginia's management said on the company's earnings call that the primary driver of increased production in 2014 is a drilling program in Eagle Ford focused on gas-based wells, multi-well pad drilling, and "zipper fracs" in areas that the company expects to see "excellent" results. Oil production is expected to be 5.7 million to 6.1 million barrels of oil, an increase of 66% to 78% over 2013 oil production.
Article continues below advertisement
In 2013, Penn Virginia grew its Eagle Ford position to 80,000 net acres. In April of last year, the company agreed to acquire Magnum Hunter Resources' (MHR) Eagle Ford properties in Gonzales and Lavaca counties for $401 million. The deal consisted of approximately 40,600 gross (17,700 net) acres, with 46 gross (22.1 net) wells producing approximately 2,700 boe/d (barrels of oil equivalent per day) net in March of 2013. The company said it expects to achieve its near-term goal of a minimum 100,000 net acres in a field through leasing acquisitions.
Penn Virginia's peer EOG Reseources (EOG) posted strong fourth quarter results on the back of crude oil production growth in 2013 in its "mammoth" South Texas Eagle Ford play. With plans to drill approximately 520 net wells across its Eagle Ford acreage during 2014, EOG expects the play's extremely robust production will again lead the company's overall crude oil growth. Another peer, Chesapeake Energy (CHK), missed earnings estimates and reported an 8% sequential decrease in production at Eagle Ford. Fourth quarter production was adversely affected by weather impacts as well as a planned inventory reduction that occurred during the second and third quarters of 2013. Chesapeake's earnings release stated that production growth is expected to accelerate in the Eagle Ford during the 2014 second quarter as the company substantially increases its rig count and well connections.
To learn more about investing in this space, see the Market Realist series Winter's cold end affects energy prices and stocks like Chesapeake.