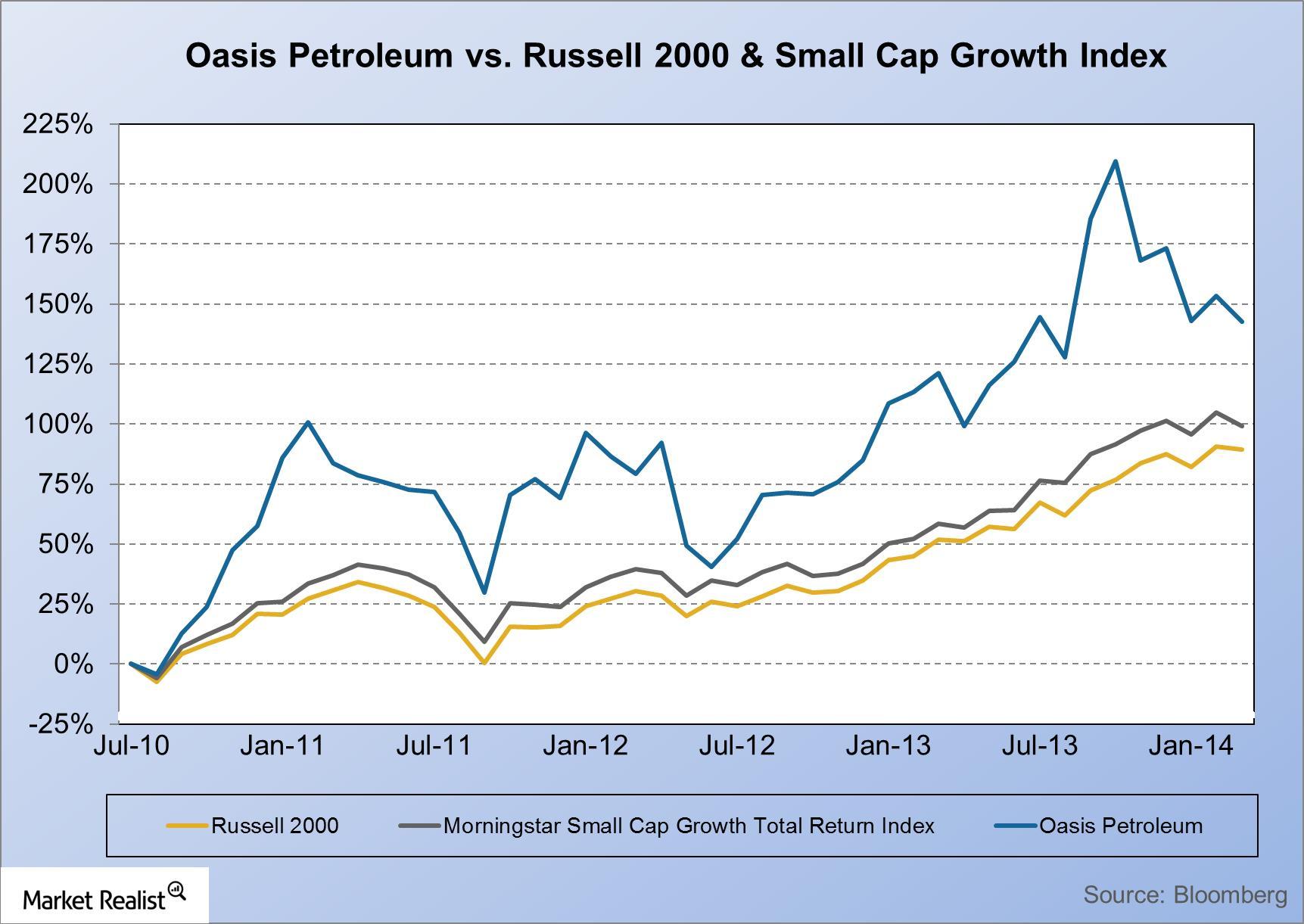 Oasis Petroleum—small cap growth investors' oasis?
By Marc Wiersum, MBA

Nov. 20 2020, Updated 5:11 p.m. ET
A cash flow oasis
The below graph reflects the strong performance of Oasis Petroleum, Inc. (OAS), versus the Russell 2000 and the Morningstar small cap growth index. Oasis Petroleum has performed well as it has expanded its growth in the Bakken shale boom. This article considers the prospects for small cap growth shares such as OAS within the context of the Fed's dovish March 31 commentary, which has continued to support the equity market.
For a similar analysis of how the Fed announcement has affected large cap stocks, read Will the Fed take a bite out of Apple? And for mid caps, see read The Fed tapers–will mid cap value hold up better then mid cap growth in Q2?
Banks throw money at Oasis
Article continues below advertisement
While Yellen was making dovish comments last week on March 31, Oasis announced that it would stand pat on its current $1.5 billion dollar revolving debt facility vis-a-vis its consortium of lenders. Apparently, the lenders offered an additional $250 million, though Oasis passed on the offer, with the apparent option to grow the debt facility to the offered $1.75 billion in the future. Given an earnings before interest and taxes, an EBITDA of $777 million in 2013, a very lucky number indeed, Oasis is really kicking off the cash and has the capacity to borrow a lot more for future investment.
Conservative finances?
Investors should be pleased that Oasis Petroleum is not borrowing every penny it can get its hands on and investing in overpriced opportunities. As noted in the previous article in this series, Boardwalk Pipeline Partners (BWP) got in a lot of trouble when it learned that its properties were poorly situated relative to its competitors in a changing landscape. Boardwalk learned the three important lessons in pipeline strategy: location, location, and location. Corporate strategy is extremely important in any industry, and cool heads can get lost during apparent investment bubbles, or in high growth periods, such as the U.S. energy infrastructure renaissance.
Good to shareholders
Article continues below advertisement
The fact that Oasis seems to be engaged in strategic growth should enforce current investor's convictions in the management team as Oasis. As investment capital, to include bank credit, plows headlong into the energy space, it is encouraging to see a firm like Oasis maintaining a low level of debt in an environment of high growth. With a market cap of $4.30 billion, Oasis is now one billion in market cap greater than Boardwalk Pipeline Partners, when just a month ago Oasis was less than half the market cap of BWP.
This change in fortune should remind investors of how important strategy and tactics—and fiscal prudence—will play a major role in driving their investment returns in the energy sector. The story is not new, and as BWP just proved, being in the wrong place at the wrong time—or doing the wrong deal at the wrong price—can take you out in a hurry. Based on historical performance, it would seem that OAS has been doing the right deals at the right price, and has the liquidity to sustain adverse conditions should things change. Turning down incremental debt is a good indication that management is focused on superior equity returns and not simply blind growth.
Small cap growth—not the hottest sector, although OAS a hot stock
Article continues below advertisement
As pointed out earlier in this series, the Fed's March 31 commentary seems to have fueled a rotation from high flying growth to value shares since early March. While value rallied, growth remained flat. While this may suggest that small cap value could have more momentum than small cap growth in the near term, OAS, as reflected above, is a significant out performer of its index, and seems well positioned to outperform its small cap growth index in the future. Its simply breaking away from the herd given its strong growth story.
Equity outlook
Constructive macro view
Despite problems in Ukraine and China, and despite the modest consumption data in the U.S., the U.S. labor market appears to be recovering—with the exception of the long-term unemployment. From this perspective, it would appear that the U.S. is probably the most attractive major investment market at the moment. While the fixed investment environment of the U.S. is still showing a modest recovery, corporate profits and household net worth have hit record levels. Hopefully, all of this wealth and liquidity can find a way into a new wave of profitable investment opportunities, and significantly augment the improvement in the current economic recovery. For investors who see a virtuous cycle of employment, consumption, and investment in the works, the recent out performance of value stocks over growth stocks could become the prevailing trend, favoring iShares Russell 1000 Growth Index (IWF) and growth oriented companies such as Google (GOOG) or Apple (AAPL).
Cautious macro view
Given the China and Russia-related uncertainties, investors may wish to consider limiting excessive exposure to broad equity markets, as reflected in the iShares Russell 2000 Index (IWM), State Street Global Advisors S&P 500 SPDR (SPY) and Dow Jones SPDRs (DIA), and iShares S&P 500 (IVV). Accordingly, long-term investors may wish to consider shifting equity exposure to more defensive consumer staples-related shares, as reflected in the iShares Russell 1000 Value Index (IWD) including companies like Wallmart (WMT).