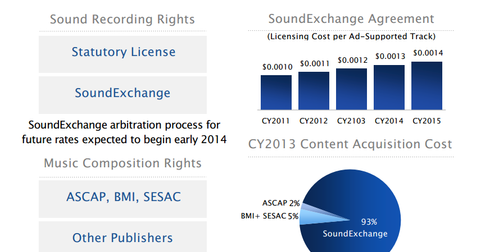 Pandora's rising content acquisition costs may impact its profits
By Samantha Nielson

Updated
Monetizing on listener hours
Pandora (P) said content acquisition costs, as a percentage of revenue, decreased for the calendar year 2013 due to its ability to monetize listener hours. Content acquisition costs principally consist of royalties paid for streaming music or other content to Pandora's listeners. Royalties are currently calculated using negotiated rates documented in agreements and are based on both percentage of revenue and listening metrics.
Article continues below advertisement
Pandora believes that as the volume of music streamed to listeners in the U.S. increases, its content acquisition costs will also increase, regardless of whether the company is able to generate more revenue. Moreover, the company expects to make huge investments in its operations for future growth. To increase ad revenue by attracting advertisers, the company is focused on adding, retaining, and engaging listeners to build market share and grow listener hours. Pandora said in its filing that as the business matures, the growth rate in listener hours will decline relative to an increased ability to monetize listener hours.
Pandora's monthly audience metrics for March showed a year-over-year growth in its key metrics. Listener hours for March grew 14% to 1.71 billion from 1.49 billion during the same period last year. Market Realist reported last month that according to Pandora's audience metrics for February, the number of listener hours declined from 1.58 billion in January this year to 1.51 billion in February. Active listeners grew 8% year-over-year to 75.3 million but the growth was flat, sequentially. Mobile listening accounted for 79% of Pandora's listener hours, with desktop listening accounting for the remaining.
Pandora's royalty disputes hit a sour note
Article continues below advertisement
Pandora has obtained public performance licenses from, and pays license fees to, the three major performing rights organizations in the U.S., the American Society of Composers, Authors and Publishers (ASCAP), Broadcast Music, Inc. (or BMI), and SESAC, Inc. (or SESAC). It pays these royalties to the non-profit organization SoundExchange for the streaming of sound recordings calculated using a per performance rate.
Pandora founder Tim Westergren highlighted in the company blog that Pandora currently pays about $1,370 for a for a million "spins," based on 2013 data and agreements. Each spin on Pandora reaches a single person, compared to a "play" on FM radio that reaches potentially millions of people. Royalties paid by Pandora in 2012 amounted to about $250 million while content acquisition costs were around $343 million in 2013.
Article continues below advertisement
A federal judge recently refused to change the royalty rate that Pandora pays songwriters, ruling that for each year from 2011 to 2015, Pandora must pay 1.85% of its revenue to the American Society of Composers, Authors and Publishers (or ASCAP) for the use of its members' music. ASCAP wanted a gradual increase in the rate to 3%, while Pandora was seeking a rate of 1.7%. Pandora had filed the lawsuit in November 2012, asking the court to set "reasonable" fees for a licensing agreement with ASCAP through 2015, according to a Bloomberg report. Pandora lost a similar lawsuit with BMI in December last year.
Westergren has been vocal about the passage of the Internet Radio Fairness Act (IRFA) as satellite radio peers such as Sirius XM pay 9.5% of their total subscription fees back to record companies as song royalties while Pandora claimed it pays 50% of its revenue in licensing fees. Terrestrial radio providers pay no royalties for their use of sound recordings. Media reports at the end of last year said Pandora has abandoned efforts for reducing rates via IRFA and expects the Copyright Royalty Board to lobby for changes beginning in 2016, after the current licensing agreements expire in 2015.
Article continues below advertisement
Last year, Pandora purchased one of South Dakota's terrestrial radio stations, KXMZ-FM to benefit from the lower royalty rates usually paid by terrestrial stations having a web presence. The purchase would help it to gain rights similar to competitors such as iHeart Radio owned by Clear Channel Communications, Inc. (CCMO), and radio stations owned by CBS Corporation (CBS) and Cumulus Media, Inc. (CMLS). However, the acquisition is yet to be processed by the Federal Communications Commission because Pandora has failed to show that 75% of its shareholders are American. BMI filed a lawsuit against Pandora over the acquisition, saying, "Pandora's stunt makes a mockery of the performing rights licenses and the rate court process."
Rival Spotify said last year, it pays 70% of its gross revenue in royalties to artists. The Wall Street Journal reported in June of last year that Apple (APPL) is paying higher royalties than Pandora for iTunes Radio. The report noted that iTunes Radio pays $0.14 cents per play and 19% of net ad revenue. Unconfirmed reports also suggested that Apple has struck independent deals with both larger recording labels and publishers.
On the latest earnings call, the management said it expects to keep content costs down by increasing engagement with the music and radio industry, including artists, labels, and competitors, "staying abreast of all key developments in the rapidly changing royalty environment."