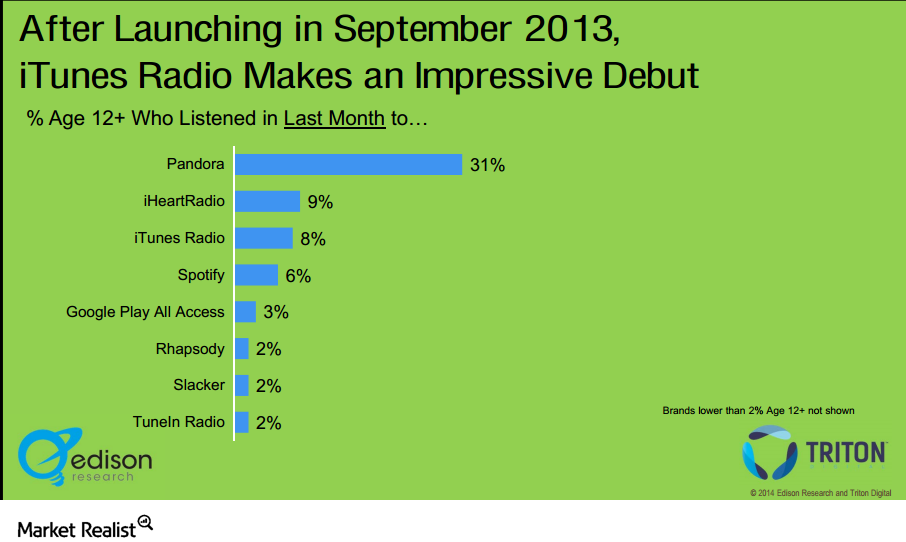 Pandora Media manages to withstand competition from iTunes Radio
By Samantha Nielson

Nov. 20 2020, Updated 3:01 p.m. ET
Market share growth
Pandora's (P) market share of the total U.S. radio listening grew to 9.11% in March and was able to withstand competition from Apple's (AAPL) iTunes Radio, which launched last year and was billed as "Pandora Killer." As per the 2014 edition of Edison Research's annual audio report titled The Infinite Dial, Pandora remains the most popular music streaming service in the U.S. Pandora's share in the Internet radio market is 31%, followed by Clear Channel's (CCMO) iHeartRadio, with a share of 9%. iTunes Radio, which launched in September of last year, has already gained about an 8% market share. Spotify has a 6% share, and Google's (GOOG) Play Music All Access has a 3% share. Pandora believes it has a loyal user base, and its proprietary Music Genome Project is its biggest advantage.
Article continues below advertisement
Pandora's listener hours in October grew 9% from September, the month iTunes was launched. Similar to Pandora's Music Genome Project, Apple uses its Genius music-recommendation software that can customize user's music preferences. Pandora's chief financial officer Michael Herring said at a conference back then, "October data was in line with our expectations and showed the resilience of our business." Pandora saw a slight impact as active users fell in October to 70.9 million from 72.7 million in September, while Apple said more than 11 million users tried iTunes Radio in the initial days post its launch. Apple said iTunes Radio saw 20 million customers listening to one billion hours of music in the first month. News reports cited a recent ruling from Pandora's royalty dispute and said that while Apple is viewed as a major competitor, about 40% of Pandora listeners use Apple devices.
A recent report in Billboard said that iTunes Radio, which was Apple's attempt to keep users within its iOS ecosystem, has failed to stem a decline in music downloads. iTunes Radio has only seen around 1%-2% of listeners actually buying music. The Billboard report added that Apple is contemplating an overhaul of its iTunes music store, and its options include an on-demand streaming service and an iTunes app for Google's (GOOG) Android. Apple is also looking to expand the service to other countries such as Australia, Canada, the United Kingdom, and New Zealand. An Android app will expand iTunes Radio's market share and could spell trouble for Pandora.
Pandora versus on demand music services
Pandora also competes with on-demand music or interactive services such as Spotify, Google Play Music All Access, Slacker, and Rdio. As compared to Pandora's small library, Spotify, Rdio, and Play Music All Access have a 20 million song catalog.
Article continues below advertisement
For a monthly fee of $9.99, Google's All Access provides users with unlimited music streaming, personalized radio stations, and smart recommendations based on users' individual tastes. Slacker is an internet radio service available in Canada and the U.S. that provides three service tiers to its 23 million registered users, or 4.5 million monthly users. The services range from basic radio, a free ad-supported service, and a full on-demand service at $9.99 a month.
Sweden-based Spotify, which was the first major on-demand music service, is reportedly eying an IPO in the fall of 2014 after receiving a $200 million credit facility. Spotify, which launched a free ad supported mobile service in December, said in a blog post last year that it paid $500 million in royalties in 2013. As of March 2013, Spotify, which launched its U.S. service in July 2011, had over 24 million global users, of which 18 million were using the free ad supported service. Spotify said at that time, more than 6 million users were paying a $9.99 per month for its premium service. In December 2013, Spotify launched in over 20 new markets, taking the total count to 55. It plans to continue the rapid expansion in 2014.
Article continues below advertisement
Digital music service Rdio saw an investment from pure-play radio company Cumulus Media (CMLS) last year, which involves a content, promotion, and advertising partnership. Under this partnership, Rdio will leverage the Cumulus sales infrastructure to monetize its upcoming ad-supported free products, including music on-demand, custom playlists, and exclusive content curated by Cumulus. Launched in August 2010, streaming music service Rdio is headquartered in San Francisco and was founded by Janus Friis, the co-creator of Skype, and is currently available in 31 countries. Cumulus also acquired WestwoodOne, Inc. for $260 million to expand its offerings in sports, news, talk, music, and programming services brands.
Other competitors include Rhapsody, Google's YouTube, Hulu, and VEVO who are benefiting from the growing music streaming space. Beats Music and Samsung Milk Music for Galaxy are new entrants in the space. E-commerce giant Amazon is also looking to expand its Prime service with music streaming.
Revenues from streaming music services grew 39% to hit $1.4 billion, according to data released in March 2014, by the Recording Industry Association of America (RIAA). This growth pushed streaming's share of the total U.S. music industry revenues to 21%, compared with 15% in 2012. Digital music sales rose 7.7% to $4.4 billion, or 64% of the overall U.S. music market. Streaming accounted for about 31.8% of that total. Paid subscription services grew the fastest of the digital formats, up 57% to $628 million in 2013, RIAA reported.
According to the International Federation of the Phonographic Industry's (IFPI) Digital Music Report for 2013, global revenues from subscription and streaming services rose 51% in 2013, and crossed the $1 billion mark for the first time. The report said streaming services account for 27% of all global digital revenues, and estimated around 28 million people globally pay for subscription, an increase from 20 million in 2012. The data points toward a growth in the subscription and streaming services, and will benefit the companies operating in the space.