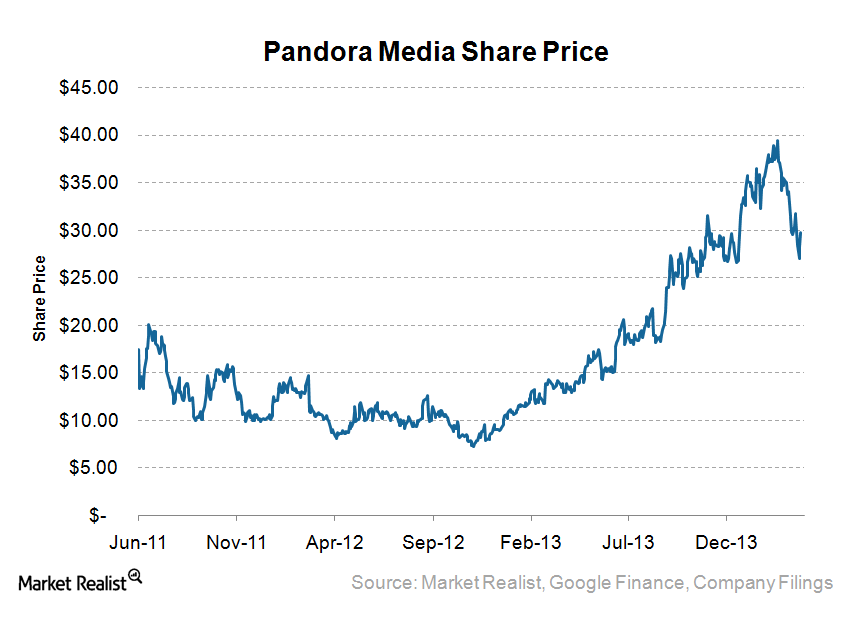 Pandora Media's must-know business overview for the investors
By Samantha Nielson

Apr. 11 2014, Published 9:41 a.m. ET
Pandora Media
Pandora Media (P) provides Internet radio services in the U.S., offering a personalized experience for each of its listeners on a wide range of smartphones, tablets, traditional computers, car audio systems, and a range of other internet-connected devices. Pandora is facing investor concerns that its core business is slowing down on the basis of audience metrics, and that its current valuation is not justified. The competitive landscape is also broadening with Apple (AAPL), which launched iTunes Radio last year, Sirius XM (SIRI), Google's (GOOG) YouTube and Play Music All Access, Clear Channel's (CCMO) iHeartRadio, music-streaming company Spotify, Microsoft's (MSFT) Xbox Music, and newer entrants such as Beats Music.
Article continues below advertisement
As of March 31, 2014, Pandora had 75.3 million active listeners, and it recently announced that it has crossed the milestone of 250 million registered users in the U.S. The company's share of total U.S. radio listening in March 2014, was 9.11%, an increase from 8.05% at the same time last year.
Oakland, California-based Pandora's service is offered through two models:
Free service: The free service is ad-supported and allows listeners access to music and comedy catalogs and personalized playlist generating system across all of Pandora's delivery platforms.
Pandora One: Pandora One is provided to paying subscribers without any external advertising. Pandora One allows listeners to have more daily skips and enjoy higher quality audio on supported devices.
Pandora's origins
Pandora, which means "all gifted" in Greek, sees its origins in a company named Savage Beast Technologies, founded by Tim Westergren, Will Glaser, and Jon Kraft that was focused on offering music recommendation services to businesses like Best Buy and AOL. After an initial struggle, the company saw a $9 million Series B funding from Walden Venture Capital's Larry Marcus in 2004. It was renamed Pandora Media with Westergren as CEO and Pandora Radio was launched on July 21, 2005. Pandora went public in June 2011, with an IPO price of $16, raising nearly $235 million. Although Pandora was initially available worldwide when it first launched, it's currently only available in the U.S., Australia, and New Zealand due to copyright and licensing-related roadblocks.
The Music Genome Project
At the heart of Pandora's service is a set of proprietary personalization technologies, including the Music Genome Project and its playlist generating algorithms. Pandora's unique selling proposition is the Music Genome Project, which has made the company stand out among its peers. Pandora also had a first mover advantage in the music streaming industry that has supported an expansion in its user base and listening hours.
Article continues below advertisement
The Music Genome Project is a database of over 1,000,000 uniquely analyzed songs from over 100,000 artists, spanning over 500 genres and sub-genres, which Pandora develops one song at a time by evaluating and cataloging each song's particular attributes. Once a music is selected to become part of the catalog, Pandora's music analysts genotype the music by examining up to 450 attributes including objectively observable metrics such as tone and tempo, as well as subjective characteristics, such as lyrics, vocal texture, and emotional intensity. When a listener enters a single song, artist, or genre to start a station, the Pandora service instantly generates a station that plays music it thinks the listener will enjoy. Based on the listener's reactions to the songs, it further tailors the station to match the listener's preferences in real time. Unlike traditional radio stations that broadcast the same content at the same time to all of their listeners, Pandora enables each of its listeners to create up to 100 personalized stations.
Similarly, Pandora has developed Comedy Genome Project and its collection includes content from more than 1,500 comedians with more than 25,000 tracks. The company has developed an automotive protocol to facilitate increased availability of the Pandora service in automobiles. It also has technologies to stream music via connected devices and on next generation TV, game console, and set top box architectures.