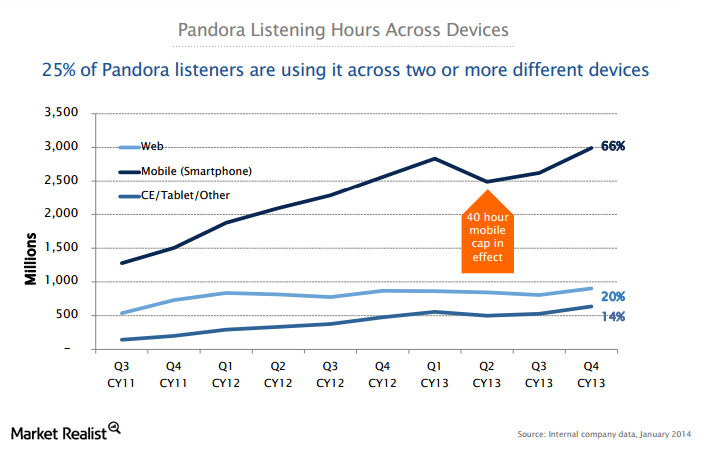 Pandora Media hikes subscription rates because of increasing costs
By Samantha Nielson

Dec. 4 2020, Updated 10:52 a.m. ET
Pandora One
Besides advertising, Pandora also generates revenue from subscription to Pandora One that accounted for 18% of total revenue for the 11 months ended December 31, 2013. Pandora (P) said non-GAAP subscriptions and other revenues for the calendar year 2013 were up 135% year-over-year to $126.3 million, including a $9.6 million in revenue relating to its subscription return reserve. The Pandora One service has 3.3 million subscribers and includes advertisement-free access, better audio quality, and reduced timeouts, and offers listeners with additional skips. The subscriber base expanded last year after the company implemented a 40 hour per month listening limit for its advertising supported service on certain mobile and other connected devices. Listeners who reached this limit had the option of switching to a paid option.
Article continues below advertisement
Pandora One was offered at a price of $36 per year since its debut in 2009 and later with the introduction of a monthly subscription for $3.99 per month. The rates were recently revised to to $4.99 per month starting in May for new subscribers. The annual subscription option has been discontinued and existing annual subscribers will be migrated to a discounted loyalty price of $3.99 per month at their next renewal. Pandora said the rates were revised due to higher costs, especially royalty rates paid via SoundExchange for subscription listening that have increased 53% in the last five years, and will increase another 9% in 2015.
The revision saw increased speculation that Pandora subscribers will move to alternatives such as Apple's (AAPL) iTunes Radio. The ad free version of iTunes Radio is priced at $24.99 per year via a subscription to iTunes Match, which stores all of one's music on iCloud. Peer Sirius XM (SIRI), which broadcasts its music, sports, news, talk, entertainment, traffic, and weather channels in the U.S., implemented a new pricing starting January under which its Sirius Select or XM Select subscribers will pay an additional $0.50 a month. Sirius XM ended 2013 with 25.56 million subscribers. Despite the increase, Pandora's rates appear cheaper than peers such as Google's (GOOG) Play Music All Access, and Microsoft's (MSFT) Xbox music.
Article continues below advertisement
Analysts believe that the increase in subscription rate could favor Pandora even if users switch to the ad-supported free version. A Needham & Company analyst said Pandora makes more money from an ad-based listener as compared to money per-song from a subscriber. A Goldman Sachs analyst, Heath P. Terry estimated, "Assuming no churn, the higher subscription fee would yield an incremental $12 per annual subscriber per year (as these subscribers will be migrated from a $36 per year billing structure to $3.99/month). Assuming 50% of the current 3.3 million Pandora One subscribers are annual payers, this would yield roughly ~$20 million per year in incremental revenue."
According to App Annie, an analytics company that monitors app rankings, Pandora led the growth in music applications. The App Annie Index 2013 Retrospective report recaps the top trends of 2013 with insights to the top-growing countries, categories, app stores, and more. Globally, the internet radio service was also the second biggest generator of revenue in the app universe, with the exception of games. The App Annie data mainly measures revenue from downloading a paid app and in-app purchases. Pandora is free to download, so the data could imply the company's revenue from subscriptions.