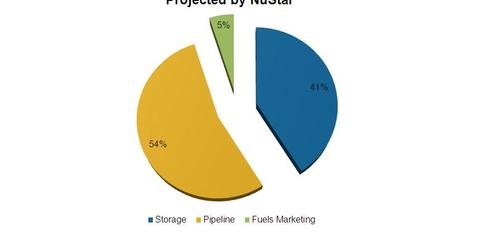 NuStar Energy's new trends: A track refocused on core competence
By Alex Chamberlin

Updated
Refocus on core competence
Since 2012, NS has chartered on a track refocus on its core, fee-based businesses of storage and pipelines and to reduce earnings volatility. The restructuring also aimed at pruning the excessive working capital requirements of the fuels marketing segment. Since then, NuStar made significant progress on a number of internal growth projects, as well as the TexStar asset acquisition in December 2012. In 2013, inventories decreased $32.0 million from 2012, primarily as a result of a new bunker fuel supply agreement that reduced the inventory carried in the St. Eustatius bunker fuel operations. It was also able to reduce its accounts payable by $58.7 million by end of 2013 due to timing of payments for crude oil purchases related to asphalt JV, which corresponds with the decrease in the receivables from related parties. We will discuss the growth projects separately in the next parts of this series.
Article continues below advertisement
By selling a 50% ownership interest in NuStar Asphalt LLC in September 2012, NuStar deconsolidated the results of its remaining interest in those operations, selling the San Antonio Refinery in January 2013 and divesting the remaining 50% ownership interest in asphalt JV in February 2014. NuStar felt that it was unprofitable to stay invested in the asphalt business because the asphalt JV was not sufficient to finance its activities without additional subordinated support. As a result of the 2012 transaction, the company recorded ~$266.5 million asset impairment related to the asphalt operations. On February 26, 2014, NS sold its remaining 50% ownership interest in asphalt JV to Lindsay Goldberg. As a result of the sale, a $190 million revolving credit facility was converted to a term loan.
Subsequently, the term loan will be reduced to $150.0 million by September 2015. The excess cash from asphalt JV will be used to repay the term loan, while the company's obligation to provide credit support will be reduced in two years. Investors may note that unlike revolving credit facilities, term loans have fixed repayment period and interest rate. As of March 31, 2014, NS has long-term debt of $2.7 billion, which is ~2% higher than long-term debt balance recorded by end of 2013. So, NuStar is looking to gradually reduce its debt. It also expects higher level of cash flow once the growth projects starts to kick in to support the higher debt repayment level. Even after the conversion of credit facilities to term loans, NuStar would still have $830 million credit facilities which it can make use of for working capital requirements or other purposes, if needed.
Article continues below advertisement
Brad Barron, the President & CEO of NS, had the following to comment on the asphalt sale, "On our last earnings call, we announced that we had taken significant steps in completing the strategic redirection of the company by signing an agreement to sell our remaining 50% interests in the asphalt JV to our partner Lindsay Goldberg. I'm pleased to say that during the quarter, we closed the transaction. This means that our earnings will no longer be burdened by the volatility and losses associated with that business and that our exposure to the asphalt business from a credit perspective has been greatly reduced. The divestiture of the asphalt business has freed us up to focus on our number one goal for 2014 returning to one-to-one coverage ratio."
In December 2012, NS acquired the TexStar Crude Oil Assets. The assets consisted of approximately 140 miles of crude oil pipelines and gathering lines, and five terminals and storage facilities providing 0.6 million barrels of storage capacity. Also in January 2013, NS sold-off the San Antonio Refinery and related assets, which included an inventory, a terminal in Elmendorf, Texas, and a pipeline connecting the terminal and refinery for approximately $117.0 million. The company's consolidation of operations with a view toward core competence and its large and diverse asset footprint supporting energy infrastructure, both in the U.S. and internationally, are expected to result in more stable cash flows, going forward.
NuStar Energy (NS) is a master limited partnerships operating in the midstream energy space. Other major companies operating in the same sector as NS include Boardwalk Energy Partners (BWP), Plains All American Pipeline (PAA), and Energy Products Partners (EPD). Most of these companies are components of the Alerian MLP ETF (AMLP) and MLP ETF (MLPA). NS is part of the Multi Asset Income ETF (CVY).