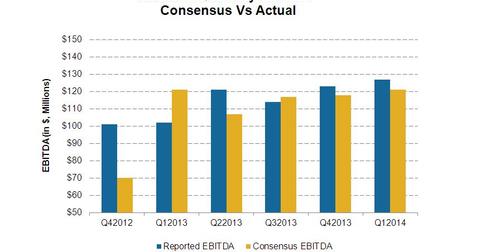 NuStar Energy's 1Q14 earnings' analysis: Higher revenues recorded
By Alex Chamberlin

Updated
Higher revenues for NuStar
NuStar Energy (NS) released its financial information for 1Q14 on April 24, 2014. The company recorded total revenues of $849.2 million, or 8.1% higher than $785.3 million the company recorded in 4Q13. NS improved its bottom-line quite remarkably during the latest quarter. Income from operations was $81.1 million in 1Q14 against a loss of $275.5 million during 4Q14.
Interest expense increased by ~26% from $27.0 million in 4Q13 to $$34.4 million in 1Q14. Net income attributable to limited partners increased to $28.1 million from a net loss of $375.2 million recorded a quarter ago.
Article continues below advertisement
During 2013, NS recorded a $407.0 million of non-cash goodwill and asset impairment charges, most of which was recorded during 4Q13. Of this around $304.1 million related to the write-down of the carrying value of goodwill associated with the St. Eustatius and Point Tupper terminal operations. The goodwill impairment charge resulted from changes in demand for storage at the St. Eustatius and Point Tupper terminal locations. Point Tupper is located at Nova Scotia, a Canada province and St. Eustatius is located at the Caribbean Island.
Increased supply from various shale formations within the U.S. has reduced the need for storage at these locations, which historically functioned as the bulk facilities for light crude moving from foreign sources into the U.S. Plus, during the end of 2013, NS experienced backwardation of the forward pricing curve. A backwardation happens when spot price becomes higher than forward price, making the need for storing of oil less profitable. These changes reduced demand at these terminals, which in effect, caused the assets to be impaired. At the same time, a customer at the St. Eustatius terminal vacated a significant portion of its storage in the fourth quarter of 2013.
Article continues below advertisement
In 1Q14, operating income from the pipeline segment decreased by 10.4%. The Pipeline segment accounted for more than 60% of the operating income for 1Q14. Total throughput of the segment decreased 2.3% to 832.4 thousand barrels per day. Although crude oil throughput at the Eagle Ford pipeline segment increased, it was more than offset by lower crude oil and refined products pipeline throughputs on some of the other systems.
Total throughput at the storage segment increased 5% to 821.3 thousand barrels per day. Operating income from this segment improved dramatically from a net loss of $258.6 million in 4Q13 to a net income of $42.0 million in 1Q14. In the segment, throughput volume and throughput revenues were up due to increased activity at the Corpus Christi North Beach terminal and NuStar's other crude storage facilities. Its Corpus North Beach terminal benefited from the increased Eagle Ford crude volumes shipped on the pipeline system in the first quarter of 2014. During the last quarter of the previous year and for the full year, crude storage facility throughputs were negatively impacted by refinery turnarounds in three of the company's facilities.
Article continues below advertisement
Distributable cash flow from continuing operations available to limited partners was $77.9 million in 1Q14 compared to $84 million in 4Q13. Distribution coverage for 1Q14 was 0.91. Earnings before interest, taxes, depreciation and amortization (EBITDA) from continuing operations were $126.7 million for 1Q14 compared to the EBITDA of $102.1 million for 4Q13.
For the past three quarters, NuStar's EBIDA has reportedly outperformed the consensus EBITDA.
Guidance
In 2014, NuStar expects its pipeline segment EBITDA to be $40 million to $60 million higher than 2013 and the storage segment adjusted EBITDA to be comparable to or marginally higher than 2013 (that is, $277 million). The company also expects its fuels marketing segment to generate EBITDA in the range of $10 million to $30 million. NuStar expects to spend $350 million to $370 million on internal growth projects during 2014; the pipeline segment would account for the majority of the capital spending budget.
NuStar Energy (NS) is a master limited partnership operating in the midstream energy space. Other major companies operating in the same sector as NS include Boardwalk Energy Partners (BWP), Plains All American Pipeline (PAA), and Energy Products Partners (EPD). Most of these companies are components of the Alerian MLP ETF (AMLP) and MLP ETF (MLPA). NS is part of the Multi Asset Income ETF (CVY).