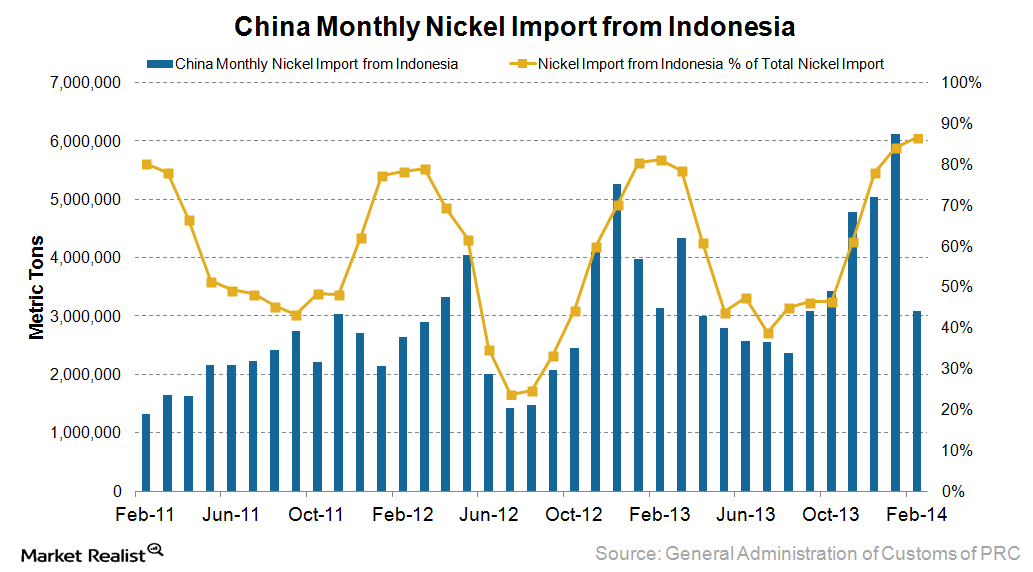 China's nickel imports show the gravity of Indonesia's export ban
China: The top nickel importer
China is Indonesia's second largest trade partner. Laterite nickel, the mineral most affected by Indonesia's ban on dry bulk shipping companies, is used to produce nickel pig iron, which in turn is used to produce stainless steel at cheaper costs than pure nickel. But regardless of whether the ban would have been imposed or not, China imported a large amount of nickel from Indonesia in 2013 in anticipation of a ban.
Article continues below advertisement
China's General Administration of Customs said China imported 6.12 million metric tonnes of nickel in January. But this activity dropped to just 3.1 million metric tonnes in February. The year-over-year growth of China's nickel imports from Indonesia in February was -1.38%, compared to 53.51% in January. February's year-over-year drop would have been more extreme if China didn't celebrate its Lunar New Year festivities in February 2013.
High stockpile: A short-term negative
A survey by Bloomberg pointed out that traders and factories in China held about 29 million metric tonnes of nickel stockpiled at ports. According to traders' and analysts' consensus in January, when the ban first came out, this level of inventory was able to sustain production of nickel pig iron for five months. High stockpiles meant dry bulk shipping companies such as DryShips Inc. (DRYS), Diana Shipping Inc. (DSX), Navios Maritime Holdings Inc. (NM), and Safe Bulkers Inc. (SB) were negatively affected.
Still, China will have to find alternative sources of nickel ore as its inventory falls. Given that about two and a half months have already passed since the ban was implemented, China is going to experience a tightened supply of nickel ore soon—assuming the five months also include safety stock.
Can the Philippines replace Indonesia?
Article continues below advertisement
Among all of China's choices, the Philippines seems to be the best alternative at this point, since the major nickel producer is much closer to China than countries like Australia, Russia, and Canada. The Phillippines is also a key supplier of low-grade nickel ore to China, extracted from lateritic nickel ore deposits. However, its ore typically has lower nickel and higher iron content compared to ore in Indonesia, so switching feeds isn't a simple or economic process.
Whether production will necessarily increase to meet higher inquiries is also another point to consider. As Dennis Zomara, senior vice president of Nickel Asia (a Philippine nickel ore producer), told Reuters in February, "We already have too much demand as it is and we're not taking new orders… I think we'll see the effect in price, not in volume." Besides, Indonesia produced about 72,000 metric tonnes a month of nickel ore and concentrates in 2013, while the Philippines only produces 27,700 metric tonnes a month.