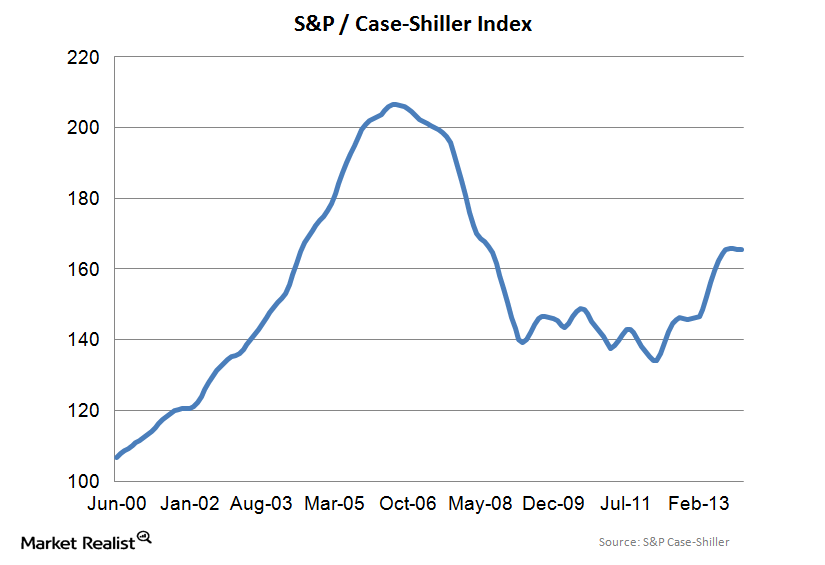 Must-know: Low inventory affects the REITs in different ways
By Brent Nyitray, CFA, MBA

Apr. 16 2014, Published 12:32 p.m. ET
Available-for-sale inventory is already light and this will make it even worse
Prognosticators who expected a deluge of foreclosed property in response to the housing crisis were disappointed. Many hedge funds who remembered the S&L crisis thought the regulators would force banks to sell their bad assets into the market. Instead, the regulators allowed them to hold on to their underwater mortgages (that is, extend and pretend). Of course house prices fell anyway since buyers don't only focus on actual supply, they focus on expected supply, so those in Washington that thought removing inventory would somehow levitate home prices were mistaken. That said, now we have professional investors like Blackstone (BX) and Fortress (FIG).
What a reduced inventory means for home prices
Article continues below advertisement
Part of the reason for the rebound in home prices has been due to restricted supply on the market. As prices began to rebound, sellers started removing their properties from the market in anticipation of higher prices going forward. In spite of a situation that should favor buyers, the months of inventory have been tilted more toward sellers than buyers. As a result, existing home sales have been lower than usual. Most markets usually bottom on some sort of big volume wash-out, where inventory is dumped from weak hands into strong hands. That didn't happen here.
Low inventory has pushed home prices higher
The lack of inventory has pushed home prices higher, as you can see from the chart of the Case-Shiller Index. Prices have risen rapidly, especially on the West Coast, where a combination of restricted inventory and investor demand has pushed prices higher. On the East Coast, where foreclosures are handled by a judge, the effect has been less pronounced.
Implications for mortgage REITs
Higher home prices are good news for the non-agency REITs like Two Harbors (TWO), Newcastle Investment Trust (NCT), and Annaly Capital (NLY). However, the drop in salable inventory means bad news for REITs that have an origination business like PennyMac (PMT) or Redwood Trust (RWT). So increasing home prices can be a mixed bag for the REITs.