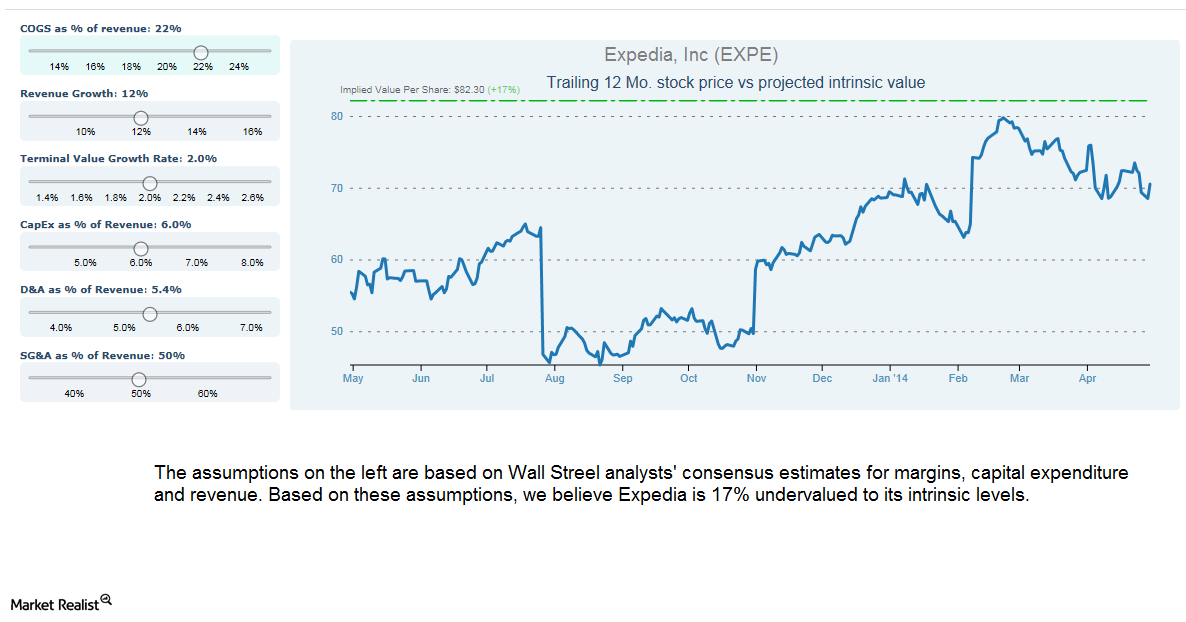 Online travel giant Expedia's must-know overview for investors
By Samantha Nielson

Nov. 20 2020, Updated 11:59 a.m. ET
Expedia: An overview
Expedia (EXPE), the Bellevue, Washington-based online travel company, seeks to grow its business through its broad portfolio of travel brands including Hotels.com, Hotwire.com, Egencia, China-based eLong, Venere, and trivago among others. The company's recent quarterly earnings beat Wall Street estimates, and it posted fiscal 2013 adjusted earnings of $3.22 per share on revenues of $4.8 billion. Gross bookings for the full year grew 16%. Despite the growth in earnings and revenue, Expedia has been unable to match up to its larger peer Priceline (PCLN), which has shown consistent growth in profits and margin.
If you would like a copy of the full excel model of the graph shown above, please contact models@marketrealist.com.
Article continues below advertisement
Expedia offers travel products and services via its supply portfolio which includes more than 260,000 hotels in 200 countries, 400 airlines, packages, rental cars, cruises, as well as destination services and activities. The online travel giant said approximately 60 million unique visitors visit its sites on a monthly basis and through December 31, 2013, there were over 90 million global downloads of its mobile applications across its numerous brands.
According to market research company Euromonitor International, Expedia was the top online travel agency globally with gross bookings for $39.4 billion in 2013, followed by Priceline at $39.2 billion in the same year. Chinese and Indian players such as Ctrip (CTRP) and MakeMyTrip are also growing rapidly in the OTA space. Euromonitor said that in this constantly changing environment, a new generation of companies coming from the mobile and peer-to-peer sectors and from emerging economies may become the future giants of the travel industry.
Article continues below advertisement
Growth will be driven by investment in new technologies allowing a more sophisticated user targeting and more customized service. Online travel consumers are constantly evolving as they increasingly embrace mobile internet devices, request more personalised real-time services, and enjoy sharing travel reviews and services with their peers.
PhoCusWright estimates global travel spending at over $1 trillion, with an increasing share booked through online channels each year. Expedia believes there is a significant growth opportunity as its gross bookings represent only about 4% of this spending. Its primary growth drivers are technology and product innovation, global expansion, and new channel penetration.
Like its peers in the OTA space such as Priceline (PCLN) and Orbitz Worldwide (OWW), Expedia targets a broad range of travelers, travel suppliers, and advertisers via its multi-brand strategy through a variety of channels, including internet search and metasearch sites. Its brands (given below) tailor their product offerings and websites to particular traveler demographics.
The Expedia-branded websites, including Expedia.com in the U.S., make a large variety of travel products and services available directly to travelers through full-service websites in 31 countries across the globe. Travelers can search for, compare information about (including pricing, availability, and traveler reviews), and book travel products and services on Expedia-branded websites, including airline tickets, lodging, car rentals, cruises, and many destination services on both a stand-alone and package basis.
Article continues below advertisement
Brand Expedia also has a joint venture with low-cost airline AirAsia (AIABF) in Asia Pacific that allows Expedia sites to be the only official third party online distribution channel for AirAsia content. As part of an exclusive, long-term strategic marketing agreement with Travelocity signed during the third quarter of 2013, Brand Expedia launched hotel and air products on the Travelocity-branded websites for the U.S. and expects to complete the majority of the migration of the remaining products and the Canada website during the first half of 2014.
Hotels.com is focused entirely on marketing and distributing hotel rooms. Because of its single product offering, Hotels.com is often Expedia's first entry point into a region allowing the company to evaluate the market opportunity prior to adding additional brands and product offerings. Welcome Rewards, the Hotels.com loyalty program, established in 2008, offers travelers the ability to earn one free night for every ten nights stayed.
Article continues below advertisement
The Hotwire Group offers "opaque" deals where the brand of the travel supplier is not revealed until after the customer books. Hotwire travelers may enjoy significant discounts by electing to book travel services without knowing certain itinerary details such as brand and exact hotel location, while suppliers create value from excess availability without diluting their core brand-loyal traveler base. Hotwire also operates CarRentals.com, an online car rental marketing and retail firm offering a diverse selection of car rentals direct to consumers.
Expedia Affiliate Network (EAN) makes travel products and services available to travelers through third-party company-branded websites, including some of the leading regional online travel companies. Expedia generally compensates participants in co-branded and private label programs on a revenue or gross profit-share basis. It also leverages private label platforms to make Expedia and Hotels.com-branded sites available in certain international points of sale.
Article continues below advertisement
Egencia offers travel products and services to corporations and corporate travelers. It maintains a global presence in more than 60 countries across North America, Europe, and Asia Pacific. Egencia provides, among other things, centralized booking tools for employees of its corporate customers, unique supply targeted at business travelers, and consolidated reporting for global, large, and "SME" (small and medium size enterprise) business segments.
eLong (LONG) based in Beijing, China and majority-owned by Expedia, specializes in travel products and services in China with a particular focus on driving online hotel bookings.
Venere lists hotel properties in hundreds of locations around the world on its website and provides hotel partners with geographically diverse sources of demand. Venere primarily uses direct agency-based relationships with hotels worldwide ensuring it can offer customers best-value rates.
trivago is a hotel metasearch company, based in Dusseldorf, Germany, featuring price comparison from more than 750,000 hotels on over 200 booking sites worldwide. Officially launched in 2005, trivago is one of the best known travel brands in Europe operating in 40 different countries serving more than 45 million visitors each month. trivago competes with KAYAK, which is owned by Priceline (PCLN), and metasearch services offered by TripAdvisor (TRIP) and Qunar (QUNR), majority-owned by Chinese Internet giant Baidu (BIDU).
Classic Vacations offers individually tailored vacations primarily through a national network of third-party retail travel agents. Classic delivers a full line of premium vacation packages—air, hotels, car rentals, activities, and private transportation—to create customized luxury vacations in Hawaii, the Caribbean, Mexico, Costa Rica, Europe, Australia, New Zealand, Fiji, and Tahiti.
Expedia Local Expert network offers online and face-to-face personalized recommendations and assistance in booking events, activities, tours, attractions, and other services that travelers seek in their destinations. With access to a rich portfolio of thousands of tours and adventures, LX can be found on 27 Expedia-branded websites and operates more than 100 concierge and activity desks in major resort destinations.
Expedia CruiseShipCenters is a leading seller of cruises and vacations. The franchise company has 180 retail locations across North America, a team of nearly 4,000 professionally-trained vacation consultants, and a searchable online database of more than 50,000 staterooms.