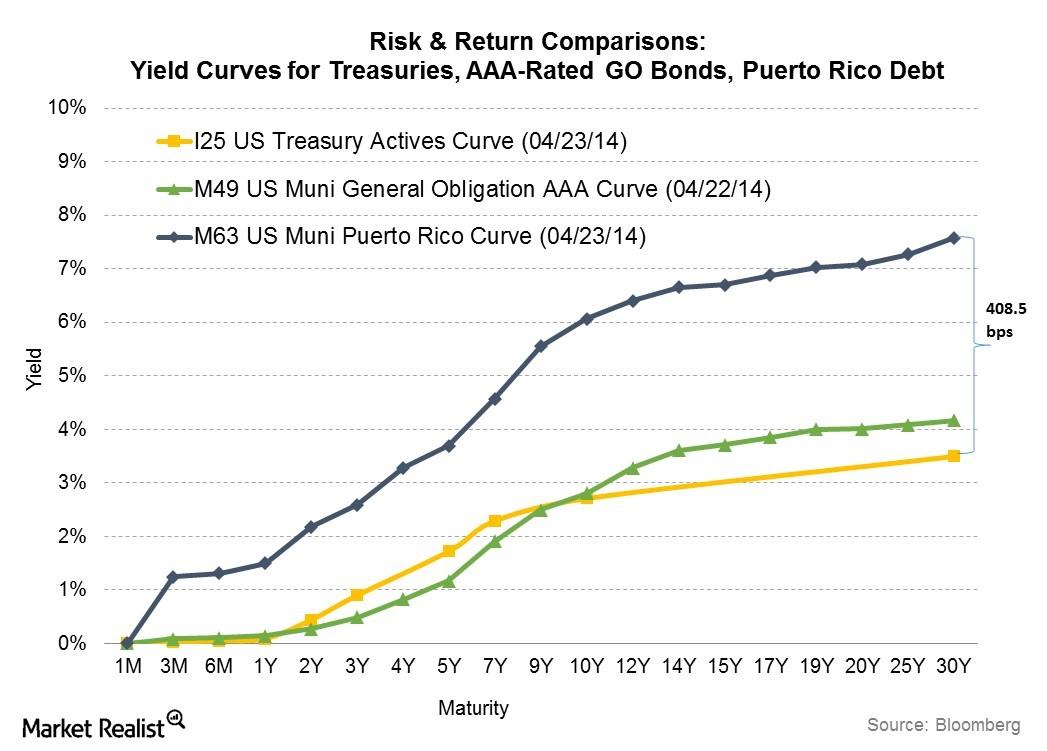 Municipal bonds in 2014: General obligation bonds down but not out
By Phalguni Soni

Nov. 20 2020, Updated 1:20 p.m. ET
Issuance declines
Total municipal bond (MUB) issuance in the first quarter of 2014, was $62.6 billion, down ~26% from the $84.3 billion issued in the first quarter of 2013. Issuance in February was just $15.6 billion, a 14-year low. Increasing interest rates were largely responsible for the declining trend in issuance. The Bond Buyer GO 20-Bond Municipal Bond Index yields increased from 3.68% on January 3, 2013, to 4.75% on January 2, 2014.
Article continues below advertisement
Severe winter weather, which has impacted almost all sectors of the economy, also played a role in the slump in new volumes. This is reflected in overall issuance levels, which were just $34.9 billion in January and February 2014, compared to $51.6 billion in the first two months of 2013. Plus, market sentiment was somber due to the downgrade of Puerto Rico debt to junk in February, 2014. Market rumors about the plan for settling creditor claims arising from Detroit's high profile bankruptcy in 2013 also did not help.
GO bond issuance in Q1 2014: $3.5 billion Puerto Rico GO issue dominates
General Obligation (or GO) bond issuance was $37.9 billion in Q1 2014, an increase of ~6% over Q1 2013. The largest offering during the first quarter was the $3.5 billion tax-exempt, General Obligation (or GO) bonds issued by the Commonwealth of Puerto Rico. The self-governing Commonwealth of Puerto Rico, which had its debt downgraded to junk in February, 2014, has earmarked the proceeds from the debt sale to finance its budget deficit and refinance its debt. The Puerto Rico issue carries a coupon of 8% and will mature in July, 2035. The issue which was priced at 93 cents to the dollar to yield ~8.73%, also set a record for a high-yield muni issue.
Another major issue, was the State of California's $1.79 billion GO issue in March. Without the two issues of Puerto Rico and California, March issuance would be down 23% on a year-on-year basis.
Some of the major ETFs with investments in investment-grade GO bonds include the State Street SPDR Barclays Municipal Bond ETF (TFI) and the iShares National AMT-Free Muni Bond ETF (MUB). TFI and MUB have posted total returns of 16.45% and 16.38%, respectively, over the past three years. This compares to a return of 49.80% for the S&P 500 Index (IVV) and 9.06% for the Vanguard Total Bond Market ETF (BND). However, it must be remembered that the S&P 500 Index (IVV) returned over 32% in 2013 alone. High-yield muni ETFs like the VanEck Vectors High Yield Municipal Index ETF (HYD) have posted total returns of 23.65% over the past three years.
To learn more about GO bonds, read A must-know guide to investing in general obligation bonds.
To know about the major trends in revenue bond debt sale in the first quarter of 2014, read Part 3 of this series.