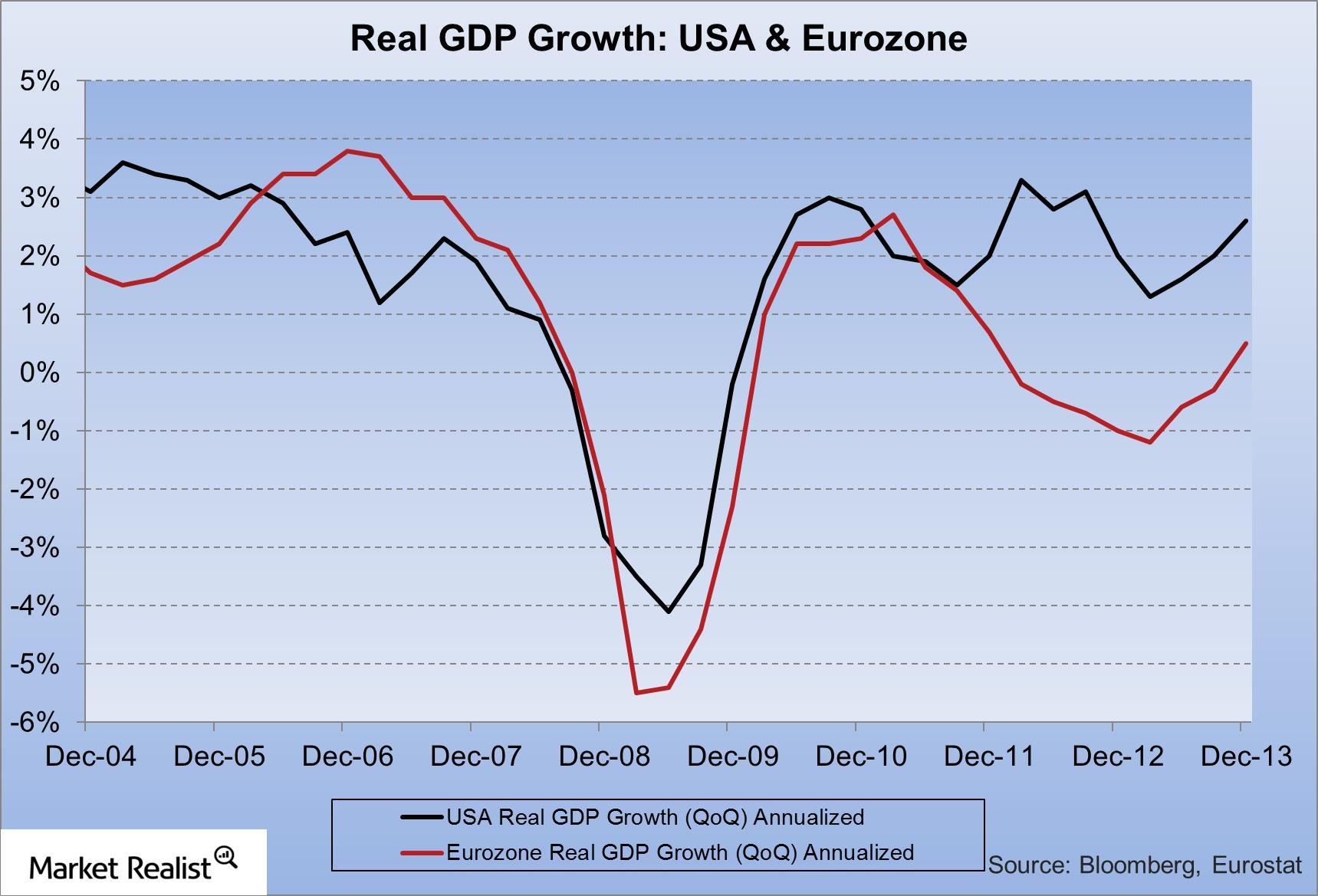 Why the market recovery in the US and Europe will support Baidu
By Marc Wiersum, MBA

Nov. 20 2020, Updated 11:41 a.m. ET
The U.S. and Europen Union are making good recovery
The below graph reflects on going trends in the Gross domestic Product (GDP) growth rates in the U.S. and European Union, the major destinations of Chinese exports. With slow economic growth in the U.S., and the European Union gross domestic product (GDP) finally hitting positive territory after six quarters of recession, rising labor costs in China have led to higher prices, as noted in the previous parts of this series. As a result of soft global growth and rising prices in China, China's GDP growth forecasts had been revised downward by the International Monetary Fund to 7.50% from 8.0%. The IMF has more recently raised China's 2014 growth expectations from 7.2% to 7.5%—a 0.3% upward revision. China's 2015 GDP growth rate is estimated to be 7.3%—a 0.2% upward revision.
Article continues below advertisement
Slow growth in the U.S. and European Union, as reflected in the below graph, have cooled the demand for Chinese exports, and pressured both sales figures and corporate cash flows. However, the past two years have seen improvements in growth. As a result, the IMF seems to be estimating China's growth to hit China's 7% plus growth target going forward. This should be supportive for Chinese equities later in this year, as Chinese equities have been in a sideways pattern since 2010. Google has seen a much stronger performance than Baiu since 2008, while 2014 has been a rough year for Yandex due to the Russian issues in Ukraine. (See Part 1 of this series for relative stock price performance.)
For a detailed comparative analysis on Google (GOOG) versus Yandex (YNDX) and Baidu (BIDU), read Market Realist's Evaluating Yandex versus other key search engines.
Cheap labor will not last forever
One study by Alix Partners in April, 2013, estimates that, should the Chinese yuan continue to appreciate at 5% per year, freight rates by 5% per year, and labor costs increase by "historical levels," then the manufacturing cost base of China will approximate U.S. levels by 2015. As noted in the previous articles, such historical estimates might be a little stretched given current economic developments, although the trend should be clear: if not in two years, perhaps within five years, China may see its "terms of trade" advantage of abundant and cheap labor slowly winding down.
Article continues below advertisement
Plus, if the advantage of a weak currency continues to wane, as the China Central Bank (PBOC) allows the yuan to continue to appreciate against the dollar and euro, China can face increased pricing pressure. However, it is possible that the yuan's appreciation can slow down. In fact, the yuan weakened from 6.05 versus the dollar this year to a current 6.23—just over 3%. The weakening yuan should help exports and support Chinese equities, although dramatic moves in the currency as the year progresses can become signs of instability and increased nervousness on the continued growth story. Baidu may get affected by such negative developments, although slow and modest weakening of the yuan can be just enough to take the edge off the softening economic data in China.
Export environment—weakening Japanese yen and Korean won
As noted in the Part 2 of this series, the Chinese yuan has appreciated rapidly against its regional competitors Japan and Korea; since 2008 in the case of Korea, and 2012 in the case of Japan. Should this trend continue, China will face increased export competition from Japan and Korea, while selling its products into the somewhat soft U.S. and European economies. These developments suggest that China's growth rates will likely be under pressure for some time, and that the age of cheap labor is on the wane. China's economy has grown significantly from a very low base over the past 20 years, while being pegged to a fairly weak U.S. dollar.
Article continues below advertisement
China has sold its exports into an increasingly consumerism-based economy in the U.S. since 1990. After the creation of the euro post-2000, China had also enjoyed strong markets in Europe—and a weakening yuan-to-euro. Things have not been so rosy since 2008, and should the current environment of slow growth continue in the U.S. and Europe, there is little doubt that China will have to rely increasingly on its own domestic consumption to support its historical economic growth rates. Consumption is just starting to pick up in China, and should the post-2012 consumption as a percentage of GDP continue on its recent trend, China should begin to see a more sustainable level of growth in its domestic economy.
Domestic consumption improving, but a long way to go
Japan was also in this position after the 1990 bubble burst, and had little success in stimulating domestic consumption in a deflationary environment. In contrast, nothing seems to stop the U.S. consumer. The Asian penchant for saving was a blessing during the early phase of economic development, requiring aggressive capital formation and investment. However, high savings rates can be a curse when exports, domestic economic growth, and interest rates decline, setting the stage for a deflationary spiral. This is known as the paradox of thrift.
Article continues below advertisement
Even too much investment can go too far. One hopes China can achieve post-2013 what Japan failed to achieve post-1990. Perhaps China will have greater success in fostering the culture of consumption over savings, and so, rely less on strong growth and consumption from both the U.S. and European Union. Such progress would support both Baidu and the continuation of the China growth story. However, near-term volatility in the currency warrants careful monitoring. An accelerating yuan depreciation could take the momentum out of Baidu, and other companies dependent upon yuan-based sales. On the other hand, an accelerating yuan appreciation due to the dollar peg would likely cool Chinese manufacturers more than Baidu, although systemic risk in China would likely rise.
Asia's equity outlook
The weakening yen and a relatively flat wage growth in Japan has supported Japanese markets, as reflected in Wisdom Tree Japan Hedged (DXJ) and the iShares MSCI Japan (EWJ) ETF's. An aggressive monetary policy in the U.S. has supported the S&P 500 as reflected in the State Street Global Advisors S&P 500 SDPR (SPY), State Street Global Advisors Dow Jones SPDR (DIA), and Blackrock iShares S&P 500 Index (IVV), which have been up nearly 18% over the past year. However, tapering is now in play, and higher rates in the five-year Treasury could cool U.S. valuations going forward. Given China's current financial challenges in the banking system, both the U.S. equity and the Abenomics-driven Japanese equity markets may continue to outpace China's iShares FTSE China 25 Index Fund (FXI) and Korea's iShares MSCI South Korea Capped Index Fund (EWY). However, if U.S. valuations continue to increase over the year, China's valuations should eventually become increasingly compelling. With FXI's key holding, banking flagship Bank of China, trading at 0.84 price to book and a 4.95 price to earnings ratio, one has to wonder how much lower Chinese banks and financials can go.
For an overview of the U.S. macroeconomic recovery, which can support China's export economy, read 2014 US macro outlook: The crack in the debt ceiling.
To see how the Fed's taper and rising rates in the U.S. can impact Chinese equities, read the next part of this series.