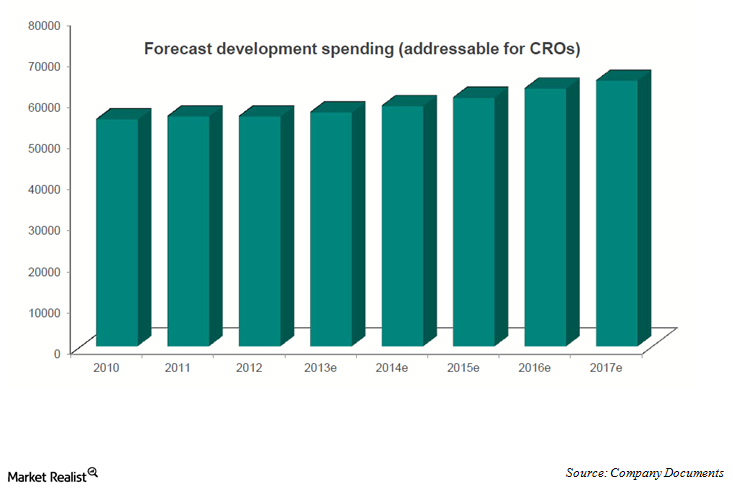 Market overview for CROs suggest healthy growth for ICON
By Samuel Madden, CFA

Nov. 20 2020, Updated 2:07 p.m. ET
Market Overview
Growth Drivers Appear Secular, Not Cyclical
In general, CRO revenue growth is driven by three market-wide factors.  First, as providers of clinical trials services, CROs are directly tied to R&D budgets among biopharmaceutical clients.  Overall R&D budgets have been growing in the low-single digit range.  Second, the percentage of clinical trials services performed in-house (i.e. by the customers themselves) vs. performed externally by CROs, generally referred to as the outsourcing penetration rate.  Most recent studies and sell side surveys suggest something in the 35-40% range, growing several hundred basis points annually.  Third, more of an unknown variable is the amount of market share CROs can aggregate from competitors.  The combination of these three factors should typically result in high-single-digit top line growth for publicly-traded CROs before considering company specific factors.
Article continues below advertisement
As noted, market share gains are often difficult to predict, but there's clear evidence that the largest CROs have aggregated business over the past several years.  Per company documents, the largest six CROs have added 500bps of share in the last three years.  As customers continue to require global reach and increasingly comprehensive service packages, this penetration rate should increase.
ICON has certainly won its fair share of business, posting strong bookings results over the past two years, with a trailing book to bill ratio (total new business wins minus cancellations divided by revenue in the period) of 1.22, suggesting healthy backlog growth.
Market Realist Take
The company said in its filing that it has expanded its business predominately through internal growth, together with a number of strategic acquisitions, to enhance its capabilities and expertise in certain areas of the clinical development process. In February of last year ICON acquired the Clinical Trial Services division of Cross Country Healthcare, Inc.  The division included U.S. resourcing providers, ClinForce and Assent Consulting, whose services include contract staffing, permanent placement and functional service provision (FSP). The division also included AKOS, a leading U.S. and EU provider of pharmacovigilance and drug safety services. ClinForce and Assent was combined with ICON's FSP division, DOCS, creating a leader in global resourcing and FSP, while AKOS hwas combined with the services offered by ICON's medical and safety services team.
Article continues below advertisement
ICON recently acquired Aptiv Solutions for a cash consideration of $143.5 million. Reston, Virginia-based Aptiv Solutions designs and executes adaptive clinical trials for pharmaceutical and biotech customers. Aptiv Solutions also owns Niphix, a full-service, oncology-focused CRO serving both Japanese and international customers and this will be combined with ICON's current operations in Tokyo and Osaka.
ICON peer Quintiles has made a number of acquisitions in the past few years to enhance its capabilities and offerings in certain areas. In September 2013, Quintiles acquired Novella for approximately $146.6 million to complement its clinical service offerings through its focus on emerging companies and by adding expertise in oncology and medical devices. Although Covence did not make any acquisitions in the recent past it said it expects acquisitions to enhance its existing services either qualitatively or geographically or to add new services that can be integrated with its existing services. Paraxel enhanced its product offerings in 2013 with the acquisitions of consulting outfit Heron, and regulatory software company Liquent in 2012. Charles River Labs acquired 75% of Vital River, a "premier commercial provider" of research models and related services in China last year.
According to Results Healthcare's report CROs and other outsourced pharmaceutical support services: M&A drivers and trends, the robust fundamental drivers fuelling CRO market growth and consolidation have, for a number of years, also attracted the attention of private equity investors and, more recently, the capital markets. This was reflected, for example, by the initial public offering (IPO) of Quintiles, the largest global CRO. While M&A continues to be driven primarily by strategic buyers looking to increase scale or add specialist capabilities, they currently do not have in-house to improve their overall service offering and it is often the private equity deals that make the headlines, frequently because of their sheer scale and the impact they have on the industry. The report added that two important secondary private equity transactions completed in 2013 that should substantially change the CRO landscape are KKR's purchase of PRA International and Research Pharmaceutical Services (RPS). The combined entity is expected, potentially, to follow Quintiles's 'buy, build and IPO' roadmap, according to Results Healthcare.