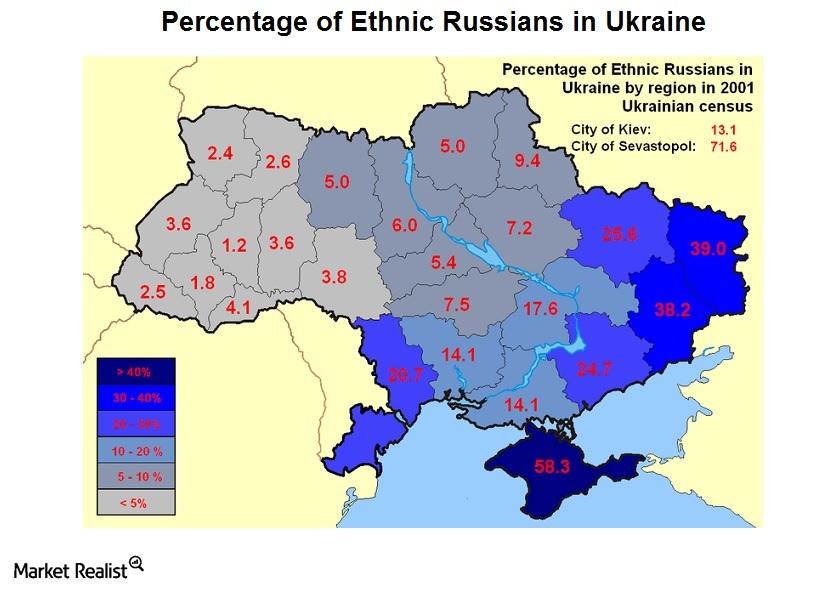 The Russia-Ukraine situation's impact on energy: Key takeaways
By Ingrid Pan

Nov. 20 2020, Updated 5:30 p.m. ET
A mounting crisis
The Ukraine and Russia have been engaged in an escalating crisis, with major consequences including:
The impeachment of former Ukrainian President Viktor Yanukovych, who had pro-Russian leanings
The Russian occupation of the formerly Ukrainian Crimea
Increasing violence in Eastern Ukraine, where pro-Russian demonstrators have engaged in conflict with Ukrainian troops
Russia has decried the new Ukrainian government and its actions in Eastern Ukraine, prompting the country to threaten to cut off natural gas supplies to the country. Russia also supplies many EU countries with a large proportion of their natural gas needs, much of which runs through pipelines in Ukraine. If Russia goes through with its threats, there's a possibility of a natural gas shortage in Europe causing volatility in energy markets. However, Europe could still receive significant natural gas through pipelines that don't run through Ukraine. Plus, alternatives such as coal or imported liquefied natural gas are available. 
Article continues below advertisement
Ultimately, Russia's threats could be positive for the U.S. energy industry in various ways. U.S. natural gas production is growing and U.S. natural gas prices are low. Europe would benefit from buying U.S. natural gas, which would help it to diversify its energy sources away from politically unstable countries, such as Russia. U.S. natural gas export infrastructure requires special permits and long lead times.
However, the current geopolitical climate could help in getting more U.S. policymakers on board for natural gas exports, as well as to get more European customers interested in contracted purchases of U.S. natural gas, as well as more companies interested in pursuing such projects. More U.S. gas exports creates more demand for U.S. natural gas, which supports prices and incentivizes greater production. This is positive for upstream producers of natural gas such as Range Resources (RRC) and Southwestern Energy (SWN) and many companies in the SPDR S&P Oil & Gas Exploration & Production (XOP), as well as the companies that provide infrastructure for natural gas processing and transportation such as Kinder Morgan Partners (KMP) and Williams Partners (WPZ).
Europe may also look within its borders for sources of hydrocarbons. While the EU has been more critical of fracking than the U.S., with countries such as France having instituted outright bans on the practice, a stronger threat of curtailed Russian supplies could cause policymakers to reconsider this position.
Russia's role as a major crude exporter has also caused oil traders to react to geopolitical events. The U.S. and EU could impose sanctions on the energy industry or energy officials in Russia, which could reduce oil exports. Other possible consequences include the disruption of oil export facilities in Russia (though most Russian oil doesn't flow through Ukrainian territory) or, from a long-term perspective, major oil companies could be less willing to develop hydrocarbon reserves in Russia. These outlooks are impossible for Market Realist to quantify. However, in any case, these possibilities are more favorable for the long side rather than short side of the oil trade. That is, no trader wants to be caught short oil prices in the event that something catastrophic happens between Russia and Ukraine.
For more coverage on Ukraine, see Why Ukraine leans toward Russia for natural gas instead of Europe. To learn more about releases that affect energy investments, see Market Realist's Energy & Power page.