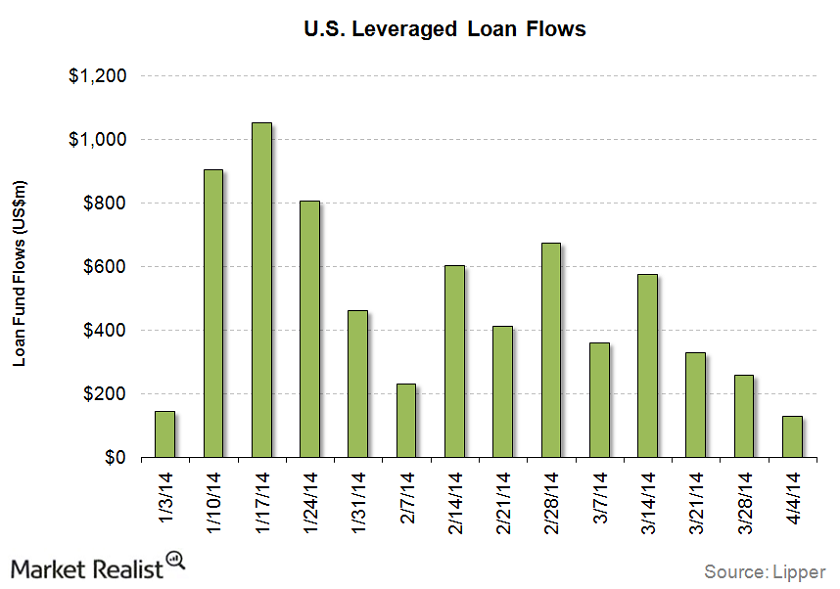 Leveraged loans maintained a 94th straight week of positive inflows
By Sandra Nathanson

Nov. 22 2019, Updated 5:52 a.m. ET
The positive flow continues
The U.S. leveraged loan market registered a straight 94th week of increase in net investors' cash flows according to Lipper, a division of Thomson Reuters. While the leveraged loan asset class kept its inflows alive, the pace continues to dwindle. The reason for the slow pace of inflows was mostly aligned to the shortage in the supply markets, which was slightly down by 6% to $16.4 billion.
Article continues below advertisement
The funds flow is a good gauge of what investors and fund managers think about the loan market. Certainly, an increase in the flows amplifies the liquidity in the market, as the demand for the loan increases. Leveraged loans are BB+ or below rated loans, which pay floating interest rates benchmarked to LIBOR[1. "LIBOR" stands for the "London Interbank Overnight Rate," and it's the benchmark interest rate for many adjustable-rate mortgages, business loans, and financial instruments traded on global financial markets. Currently, the three-month LIBOR is 0.24%]+125 basis point or 150 basis point. Usually, markets prefer leveraged loans over high yield bonds (JNK) and Treasuries (TLT) in an increasing interest rate environment to negate the effect of the interest rate hike, as leveraged loans adjust with changes in the market interest rates. However, when interest rates decline, investors can suffer due to low returns in the leveraged loan market.
As depicted in the chart above, the leveraged loan market saw an inflow of $127 million last week—$130 million down from the previous week. The year-to-date inflows totaled $6.9 billion—51% lower than last years' year-to-date inflows of $14.1 billion.
The S&P/LSTA U.S. Leveraged Loan 100 Index, which tracks the 100 largest loans, gained 2 basis points last week with 1 basis point rise in the U.S. ten-year Treasury yields at 2.74%.
Relevant ETFs
The major ETFs that track the S&P/LSTA U.S. Leveraged Loan 100 index are the PowerShares Exchange-Traded Fund Trust II (BKLN) and Pyxis/iBoxx Senior Loan (SNLN). Activity in the SNLN with top holding in Caesars Entertainment Corporation (CZR) was nil last week, while BKLN with top holding in H.J. Heinz Company (HNZ) posted an inflow of $3.3 million compared to a net outflow of $7.6 million in the previous week.
Article continues below advertisement
In terms of total assets and average trading volume, BKLN is a much larger ETF with $7.4 billion total assets and an average volume of $2.9 million. This compares to SNLN with nearly $151.2 million of assets and a relatively low trading volume. However, BKLN also comes with a higher expense ratio of 0.65% compared to SNLN's 0.55%.
Outlook
Since, the first announcement of tapering by the Fed in December 2013, the markets are expecting that interest rates may rise soon or later. To substantiate that, the Fed's current chairwoman Janet Yellen spoke on March 19, 2014, stating that a first rate hike may come in six-months after the Fed has finished the bond buying program, which is scheduled for its last scale back in October 2014 .
With the possibility of an interest rate hike in mind, many investors, who are perhaps comfortable assuming greater credit risk, prefer the floating-rate bonds to protect against rising interest rates. In fact, at the moment, the credit risk in leveraged loans is also relatively at low levels with 0.96% default rate from about 1.46% default rate at the beginning of 2011. Credit risk is the probability of the issuer to default in its payments. To know more about credit risks and their impact on your investments, read Why credit risk is an essential value driver of high yield bonds.