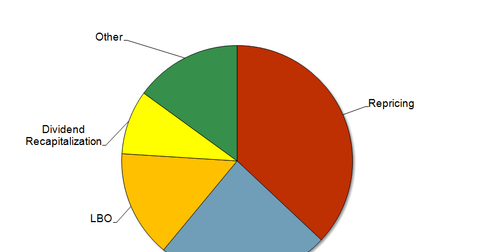 The leveraged buyouts were hot; refinancing deals saw withdrawals
By Sandra Nathanson

Updated
The leveraged loan market
A total of 18 issuers came to the market with an average ticket size of $911 million. This compares to the 29 deals that hit the leveraged loan (BKLN) market the previous week with an average ticket size of $603 million. Despite investors' concern on the aggressive deal pricing, a number of deals were oversubscribed particularly in the mergers and acquisition and LBO space, while some headwinds were noticed in the refinancing and dividend recapitalization space.
Article continues below advertisement
Among the major deals of the week was Catalina Marketing Corporation, which issued a $460 million, eight-year second-lien loan at LIBOR+675 basis point to yield 8.12% versus 8.43-8.7% yield at the original price talk. When deals are closed at lower yields than the initial talks, it reflects a strong demand for the issue, which allows bankers to tighten the pricing terms.
Another major deal came from Caesars Growth Properties Holdings, a part of Caesars Acquisition Company (CACQ), who expects to raise $1.3 billion first-lien financing. The final deal is currently under talks at 7.12% yield to maturity, which expects a good reception considering attractive yields.
Other than that, Avago Technologies Limited (AVGO) tapped the leveraged loan (SNLN) market to raise a $4.6 billion, seven-year loan for financing its $6.6 billion acquisition of LSI Corporation. The financing also includes a $500 million, five-year revolver. Issuer ratings have firmed at BB+/Ba2, and the term loan is rated BBB-/Ba1. At the current talk, the term loan would yield 4.24% to maturity.
Minerals Technologies, Inc. (MTX) issued roughly a $1.7 billion seven-year term loan to back the acquisition of AMCOL International.
Read the next part of the series to know more on why leveraged loan demand remains high for a straight 94th week in a row.