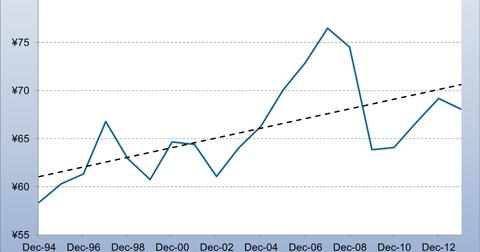 Japan's investment environment dependent upon government deficits
By Marc Wiersum, MBA

Updated
Japan's budget deficits decline from 9.2%of GDP in 2013 to 4.8% of GDP in 2014
The below graph reflects changes in non-residential investment in Japan. Unlike the housing sector, as noted in the prior graph in this series, non-residential investment does not appear to have been experiencing a long-term decline. However, note that unlike the private sector residential housing data in the prior article, the below graph captures government spending as well. This suggests that Japan's overall investment data is still dependent upon a significant level of government spending, and that Japan's manufacturing base has yet to make a large-scale investment in local production. However, as the Japanese yen continues to weaken, and exports should begin to grow, Japan should see better data in the future.
Tax-driven
Article continues below advertisement
In 2009, Japan's housing starts were at 788,410 units, and rose to 980,025 in 2013 as the consumption tax was slated to rise from 5% to 8%. Plus, housing prices in Tokyo rose 2.7% in 2013 over the prior year—the biggest rise seen since the survey by Recruit Sumai in 2001. While this level of growth could be tax driven, the ongoing economic policies can reinforce this trend in the future, as wages continue to grow.
Government-driven
As noted in a prior series, while private consumption growth has remained tepid in Japan, the government sector has stepped in with rounds of fiscal stimulus, and has managed to fill in for the lack of private sector demand. As noted earlier, investment in Japan had been weak, although as government spending grew post-2012, investment data has been trending up.
In other words, concerning investment and spending, pretty much everything other than government spending was declining until 2012. Despite some modest recovery from 2003-2008, based in part upon strong the U.S. and European economies, economic weakness had returned to Japan, even when it has caught a modest bounce since 2010-2012. Without the support of the government, the modest bounce in the data in this series may not have occurred post-2008. Abenomics' weak yen, high corporate profits, and wage growth are supporting the recent rise in housing starts and prices.
Outlook
Article continues below advertisement
Going forward, it will be important to see to what extent the private sector in Japan can once again assume the role of the primary provider of consumption and investment in Japan. As in the U.S. post 2008, the Japanese government also stepped in to keep the economy moving via large rounds of fiscal spending. In a typical business cycle, this "Keynesian approach" to managing the economy is normal and generally accepted as useful.
However, in the case of Japan, the government has remained in this role for many years, post-1990. China's ongoing growth as a competitor in global trade has likely been a bigger problem for Japan than the U.S., although even in the U.S., there remains the loss of various manufacturing jobs, as it transitions to an increasingly services-based economy. Should China's domestic price level continue to grow, it is likely that capital formation growth rates in China will also slow, and perhaps a more Japan- supportive equilibrium between China and Japan will emerge in terms of their cost base advantages are concerned.
Article continues below advertisement
Abenomics is a step in that direction, and the weakening yen's tendency to raise corporate profits could support additional rounds of Japan's fiscal and monetary pump priming. However, China still retains a very high level of capital formation, and Japan will have a long way to go in terms of creating a domestic economic system that can rival China and Korea on price and productivity as they pertain to a broader measure (lower end) of manufactured goods. However, some basic changes are taking place, and the exceptional performance of the Japanese equity markets versus Chinese and Korean equity markets since Prime Minister Abe's election last year deserve attention.
Japan's equity outlook
As 2014 progresses, investors may see a continued outperformance of Wisdom Tree Japan Hedged (DXJ) and the iShares MSCI Japan ETF (EWJ) versus China's iShares FTSE China 25 Index Fund (FXI) and Korea's iShares MSCI South Korea Capped Index Fund (EWY). For further clarification as to why DXJ may outperform both EWJ and the other Asian equity indices, read Why Japanese ETF's outperform Chinese and Korean ETF's on Abenomics. Plus, as Japan pursues unprecedented monetary expansion, and the U.S. Fed tapers its bond purchases, Japanese equities can also outperform broad U.S. equity indices, as reflected in the State Street Global Advisors S&P 500 SPDR (SPY), State Street Global Advisors Dow Jones Index SPDR (DIA), and Blackrock iShares S&P 500 Index (IVV).
For more on how the U.S. Fed's recent announcements could impact global equities, read Will the Fed take a bite out of Apple?