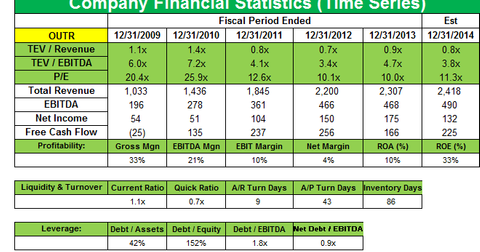 Barry Rosenstein's JANA Partners reduces its stake in Outerwall
By Samantha Nielson

Updated
JANA Partners and Outerwall
Barry Rosenstein's JANA Partners reduced its position in Outerwall (OUTR). A 13D filing earlier in March revealed that the position was reduced to 1,722,041 shares from the 3,722,041 shares disclosed in JANA's 4Q 13F. The shares amount to an 8.4% stake in Outerwall, which owns a network of movie and game rental kiosks as well as coin cashing machines.
Shares of Outerwall surged in October last year after JANA reported a 13.5% stake in the company. In a 13-D filing on October 4, JANA stated it intends to enter discussions with Outerwall's board and management regarding a review of strategic alternatives, including exploring a strategic transaction, selling, or discontinuing certain businesses, or pursuing a sale of the company. An unconfirmed Bloomberg report back then said Jana sought the sale, spinoff, or shutdown of Outerwall's Redbox Instant film-streaming joint venture with Verizon Wireless (VZ), which was launched last year and failed to present tough competition to Netflix (NFLX), Amazon (AMZN) Prime, and other streaming-video providers. JANA also wanted to discontinue the Rubi coffee-vending kiosks that debuted in 2012, the report added.
In the March filing, JANA said it's highly supportive of the recent steps taken by Outerwall's board and management, including the company's improved focus on capital allocation and managing costs and its enhanced commitment to returning capital to shareholders.
Article continues below advertisement
Formerly known as Coinstar, Outerwall is a leading provider of automated retail solutions that offers convenient products and services that benefit consumers and drive incremental retail traffic and revenue for retailers. Its core offerings in automated retail include its Redbox business, through which consumers can rent or purchase movies and video games from self-service kiosks, and its Coinstar business, through which consumers can convert their coin to cash or stored value products at self-service coin counting kiosks. Outerwall's New Ventures business focuses on identifying, evaluating, building or acquiring, and developing innovative self-service concepts in the marketplace.
The company's fourth quarter revenue missed estimates but was up 5.4%, to $593.7 million compared to $563.1 million for the fourth quarter of 2012. Core diluted earnings per share from continuing operations for the fourth quarter of 2013 beat estimates and were up to $1.68 from $1.01 per diluted share in the same quarter the year before. Redbox segment revenue increased 1.7%, to $496.4 million, while Coinstar segment revenue increased 8.4%, to $80.7 million. Redbox generated 192.0 million rentals in the quarter, up 2.2% year-over-year. The New Ventures segment reported revenue of $16.6 million in the fourth quarter, compared to $293,000 for the fourth quarter of 2012, with the increase primarily due to the acquisition of the ecoATM business completed in July 2013. Outerwall also announced a new president for Redbox and executive leadership transitions at Coinstar and ecoATM, kiosks that buy used phones and tablets.
Article continues below advertisement
Apart from mail delivery and online retailers like Netflix and Amazon, Outerwall's Redbox sees competition from other forms of movie content providers, including Apple's (AAPL) iTunes, Google's (GOOG) YouTube, and Hulu. Redbox competitors also include cable, satellite, and telecommunications providers, like Comcast (CMCSA) and DISH Network (DISH). Analysts speculated last year that DVD kiosk operator Redbox is expected to benefit from around $200 million to $300 million in additional annual revenue after DISH decided to shut down its video rental chain Blockbuster.
Outerwall said in December that it plans to discontinue its Rubi, Crisp Market, and Star Studio businesses. It also announced cost reduction initiatives that were expected to result in $22 million of annual cost savings beginning in the first quarter of 2014. The company also reduced its workforce by 251 positions, an 8.5% reduction.
For full-year 2013, Outerwall said it repurchased $195.0 million of its common stock, representing approximately 3.31 million shares at an average price of $58.98 per share, which represents a return to shareholders of more than 100% of free cash flow for the year. In January 2014, the company executed on an additional $50 million share repurchase under a 10b5-1 stock trading plan, which was completed by the end of the month. On January 30, 2014, Outerwall's board increased the share repurchase authorization by $500 million, bringing the total available for repurchases to approximately $650 million. In connection with this increased authorization, the board also authorized a tender offer for $350 million of Outerwall's common stock through a modified Dutch auction that was expected to launch on February 7, 2014.
To learn more about the latest hedge fund positions, see the Market Realist series Soros Fund Management's must-know March stake updates.