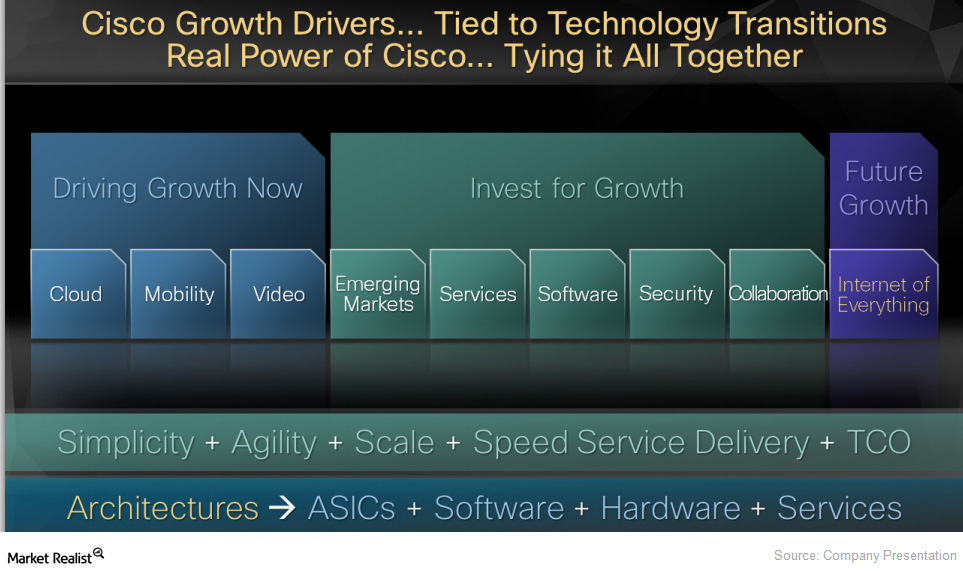 Why is "Internet of Everything" a future growth driver for Cisco?
By Samantha Nielson

Dec. 4 2020, Updated 10:53 a.m. ET
Internet of Everything
Cisco CEO John Chambers believes the Internet of Everything might be a $19 trillion opportunity. Cisco released a study that estimates the Internet of Everything (IoE) can generate $4.6 trillion in value for public sector organizations over the next decade. The company also said in its earnings release that it has allocated $100 million to invest in early-stage companies in order to drive the evolution of the IoE. The networking giant believes IoE "is expected to encompass every technology transition we are seeing in the market today." Chambers said on the earnings call, "We are managing the transitions in our portfolio today and building for the Internet of Everything for tomorrow."
Article continues below advertisement
The Internet of Everything is the networked connection of people, process, data and things, and the increased value that occurs as "everything" joins the network. Several technology transitions—including the Internet of Things, increased mobility, the emergence of cloud computing, and the growing importance of big data, among others—are combining to enable IoE. Chambers said that the IoE is the most talked about topic among CEOs, industry, and country leaders, and 2014 will be the inflection point for the Internet of Everything.
Cisco said in 2012, there were 8.7 billion connected objects globally, constituting 0.6% of the "things" in the world. In 2013, this number exceeded 10.0 billion. Driven by reducing price per connection and the consequent rapid growth in the number of machine-to-machine (M2M) connections, it expects the number of connected objects to reach 50 billion by 2020 (2.7% of things in the world). Cities globally have the potential to claim $1.9 trillion in value from IoE over the next decade, Cisco's study stated.
Article continues below advertisement
Last year, Cisco introduced the Cisco Network Convergence System (NCS), a network fabric family designed to serve as the foundation of a massively scalable, smarter and more adaptable Internet. The NCS's capabilities enable service providers to not only accommodate growing network traffic but also seize the opportunity created by trillions of programmable device-driven events generated by the Internet of Everything (IoE), the networked connection of people, data, processes and things. Cisco said several global service providers—including BSkyB (Sky), KDDI, and Telstra (TLSYY)—are deploying the Cisco NCS. The networking giant has also partnered with Rockwell Automation, Inc. (ROK), which is a provider of industrial automation power, control, and information solutions, for solutions for manufacturing and industrial companies. CRN reported that Cisco introduced a new IoE product line of industrialized switches, routers, and wireless access points at its partner summit recently.
Last month, Cisco announced plans to build the world's largest global InterCloud—a network of clouds—together with a set of partners. The Cisco global InterCloud is being architected for the Internet of Everything and will feature application programming interfaces APIs for rapid application development, will deliver a new enterprise-class portfolio of cloud IT services for businesses, service providers and resellers. Partners include Telstra, Allstream, Canopy, Atos, Ingram Micro (IM), and Logicalis. The networking behemoth said it expects to invest over $1 billion to build its expanded cloud business over the next two years. However, Wunderlich Securities's Matthew Robison noted, "Cisco reseller channels may help partners penetrate the B2B cloud service market, but in our view, it is an equipment rental effort and recognition of industry wallet share shifting to Amazon (AMZN) and other established cloud service providers that are not necessarily embracing the new Cisco architecture."
For more on the technology sector investments in the cloud, read the Market Realist series, The tech sector sees huge investments in cloud service business.
Peer updates in the IoT space
Article continues below advertisement
AT&T (T) and IBM (IBM) announced a new global alliance agreement to develop solutions that help support the "Internet of Things." The companies expect to combine its analytic platforms, cloud, and security technologies, with privacy in mind, to gain more insights on data collected from machines in a variety of industries. Freescale Semiconductor (FSL) recently said it worked with Oracle (ORCL) and ARM and developed the IoT gateway to focus on the creation of a secure, standardized, and open infrastructure model for the delivery of Internet of Things (IoT) services. The the IoT gateway is a flexible hardware platform to be equipped with multi-party software and engineered to support the secure delivery of IoT services to end-users in a home, business, or other locations; and so, supporting the rapid deployment of a vast array of innovative IoT services.
Gartner estimates that the IoT will include 26 billion units installed by 2020, and by that time, IoT product and service suppliers will generate incremental revenue exceeding $300 billion, mostly in services. Gartner estimates that enterprises will make extensive use of IoT technology, and there will be a wide range of products sold into various markets, such as advanced medical devices; factory automation sensors and applications in industrial robotics; sensor motes for increased agricultural yield; and automotive sensors and infrastructure integrity monitoring systems for diverse areas, such as road and railway transportation, water distribution, and electrical transmission.