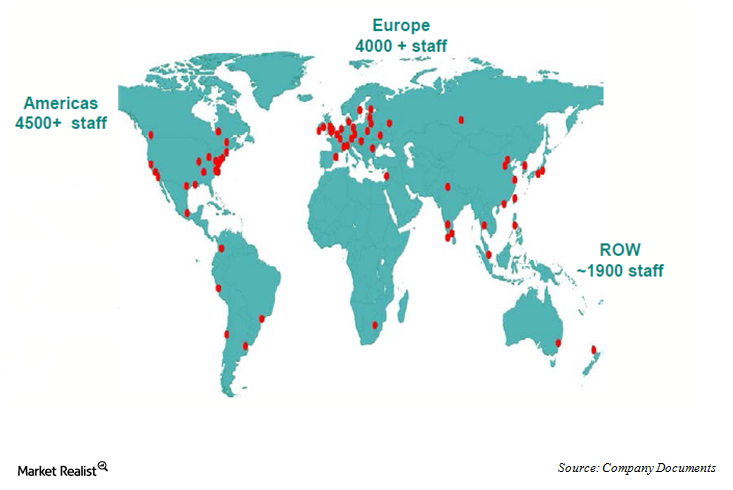 ICON could benefit from ongoing secular shift to outsourcing of clinical trials services
By Samuel Madden, CFA

Nov. 20 2020, Updated 1:34 p.m. ET
ICON plc (ICLR) is poised to benefit from an ongoing secular shift towards the outsourcing of clinical trials services. While this trend has already begun, it is likely only in the third or fourth inning, providing for several years of robust, predictable growth. In the more near-term, we believe that the Street is underestimating ICON's margin expansion potential, which could lead to several consensus "beats" in 2014. Our six-month price target of $60 implies 26% upside from current levels.
Article continues below advertisement
Contract Research Organizations – Solutions for Biopharma Customers
ICON plc is a contract research organization (CRO), providing outsourced development services on a global basis to the pharmaceutical, biotechnology, and medical device industries.  The company offers a range of clinical trials services it sells to pharma and biotech companies.  The basic value proposition of a CRO is that it can provide all the services a customer needs to walk a molecule through the clinical trials process more expeditiously and cost-effectively than a customer could do itself.  In many cases, using a CRO is the only available option given the extensive internal resources required to perform such work.  ICON specifically focuses on first-in-human (Phase I) through Phase IV and commercialization support.
Geographic Diversification
Headquartered in Ireland, the company has global reach, with 10,300 employees across 77 locations in 38 countries.  The company reported net revenues of ~$1.34 billion in 2013, of which 45.4% was attributed to Europe, including 20.4% in Ireland, 43.6% to U.S., and 11.0% to the rest of the world. Note that the operating income by geography is impacted by transfer pricing dynamics that permit ICON to recognize profitability at the parent organization (and consequently at a lower corporate tax rate).
Article continues below advertisement
Customer Concentration
ICON derives a significant portion of its service revenues from a core group of major clients. The company's five largest clients accounted for 53% of total net revenues, while the top 25 clients constituted 78% of total net revenues in 2013. Additionally, the largest client (Pfizer) (PFE) represented 26% of net revenues in 2013 compared with 18% of net revenues in 2012. Management has suggested in recent conference calls that it expects the dollar value of its smaller accounts to increase at a quicker pace than the larger accounts, which should moderate the current levels of customer concentration. We would note that management comments suggest that several of the older vintage of strategic partnerships have been renewed, reinforcing confidence in the stickiness of these relationships.
Market Realist Take
CROs derive substantially all of its revenues from the research and development expenditures of pharmaceutical, biotechnology and medical device companies. Based on investment analyst research and ICON's internal estimates, development expenditures outsourced by pharmaceutical and biotechnology companies worldwide in 2013 was approximately $24 billion.
A report last year by healthcare sector corporate finance and strategy specialist Results Healthcare titled CROs and other outsourced pharmaceutical support services: M&A drivers and trends said the CRO sector is seeing a recovery, driven by improved optimism across the biopharma industry, the sector's largest customer group, where many key CRO customers are now at the tail end of multi-year patent cliffs and are stepping up investments into their pipelines, particularly products in late-stage development. This is expected to drive modest growth in biopharma R&D expenditure in the foreseeable future, following negative
growth in four out of the past five years. In addition, biopharma companies are increasingly outsourcing R&D work to CROs,
mainly to access new capabilities, shift fixed to variable costs, and improve their global reach. Together, these factors are
expected to increase the share of outsourced services from the current 24-28% to as much as 35% by 2018, and more than
60% in the longer term. As such, the CRO market is expected to expand from an estimated $23-25 billion today to over $30 billion by 2018, reflecting a CAGR of 5-6%. This is fuelled primarily by rising demand for late-stage services – Phase II-IV, central laboratory and consulting services – which account for approximately three-quarters of the CRO market.
Article continues below advertisement
The CRO industry is highly fragmented, consisting of many small, limited-service providers and a limited number of medium-sized and large CROs with global operations. CROs generally compete on the basis of previous experience, the quality of contract research, the ability to organize and manage large-scale trials on a global basis including the ability to recruit suitable investigators and patients, the ability to manage large and complex medical databases, the ability to provide additional drug development consulting services, the ability to integrate and make available clinical and operational data  to improve the efficiency of contract research, medical and scientific expertise in specific therapeutic areas and price. Globalization is driving market share to global CROs while the trend toward CRO industry consolidation has resulted in heightened competition among the larger CROs for clients, skilled employees and acquisition candidates.
CRO competitors include Covance (CVD), Parexel (PRXL), Quintiles (Q), inVentiv Health , Charles River Labs (CRL), PRA and INC Research. ICON peer Quintiles generated $3.8 billion of service revenues in 2013. Its Product Development segment is the world's largest contract research organization, or CRO, as ranked by 2013 reported service revenues, and is focused primarily on Phase II-IV clinical trials and associated laboratory and analytical activities. Covance reported earnings per diluted share of $3.15 on net revenue of $2.4 billion in 2013, representing 10.2% growth year-over-year. The growth was driven by Late-Stage Development revenue, which grew 14.5% year-on-year to $395 million. This increase was led by 17% growth in central laboratories and 13% growth in clinical development. Parexel said its Clinical Research Services or CRS revenue increased by $43.3 million, or 13.5%, to $363.9 million for the three months ended December 31, 2013 from $320.6 million for the same period in 2012. Approximately 80% of the increase was attributable to growth in the Phase II-III/PACE business. The Phase II-III/PACE increases were due to the success of the company's strategic partnership relationships and growth from small and emerging companies, both of which have benefited its pipeline of work. Charles River Labs said it is the only large, global contract research organization (CRO) with a portfolio of products, services, and solutions that focuses almost exclusively on early-stage drug discovery and preclinical development.