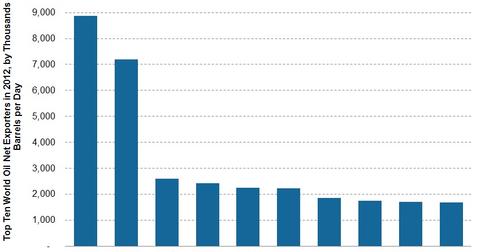 Harsher sanctions against Russia could target energy officials
By Ingrid Pan

Updated
Further sanctions?
As we discussed in the prior parts of this series, Russia's aggression towards Ukraine has caused the U.S. and other powers to enact harsher sanctions against the country. Earlier this year, the U.S. already enacted measures that froze assets and restricted travel for a list of Russian and Ukrainian officials, though these actions had little real economic effect. Russia largely shrugged the sanctions off and continued to show force in Eastern Ukraine through the support of pro-Russian protests—though Russian President Vladimir Putin denies involvement.
Article continues below advertisement
In this new round of proposed sanctions, one of the potential targets is Igor Sechin, who's the current president of Rosneft, a major national oil company run by the Russian state. The company produced ~4.2 million barrels of oil per day in 2013. For reference, Russia produced ~10.5 million barrels a day of oil in 2013, and world oil production was ~75.5 million barrels per day. Rosneft has significant ties to western economic interests. For example, British oil company BP (BP) owns a 19.75% stake in Rosneft and ExxonMobil (XOM) works with the company in various projects worldwide. This in itself may not immediately affect the Russian energy sector, though the effect of such sanctions may make Western oil companies less willing to work with Russian-affiliated entities in the long term. Note that XOM is a major component of several U.S. energy ETFs, including the Energy Select Sector SPDR (XLE), the Vanguard Energy ETF (VDE), and the iShares US Energy ETF (IYE).
For now, the U.S. and EU seem to be holding back on severe sanctions that might target entire sectors of Russia's economy, the most prominent being energy. It's not in the best interest of either Western powers or Russia to use energy as a bargaining chip for several reasons.
Russia has a major position in the global energy landscape, as one of the world's top exporters of crude oil. According to the U.S. Energy Information Administration, Russia exported 7.2 million barrels of oil per day, second only to Saudi Arabia's 8.9 million barrels per day. Plus, the country supplies roughly 30% of the EU's natural gas, much of which runs through pipelines in Ukraine. In the past, gas flow has been stopped through Ukraine due to pricing disputes, and Russia could threaten gas supplies again.
Despite Russia's control over major oil and gas resources, the consensus is that there's a low likelihood of the country cutting off energy exports as a means of exerting power over the long term. Oil and gas sales make up roughly half of Russia's national budget, with most gas exports headed for the EU.
Meanwhile, the EU and U.S. could threaten Russia with sanctions that might include a refusal to import Russia's energy supplies. However, the EU remains reliant on Russia for ~30% of its natural gas, and short-term alternative solutions to this are neither cheap nor easy. In short, Russia is just as reliant on the EU to buy its fuel as the EU is on Russia to supply the fuel.
Read on to the next part of this series to find out how these developments have affected the markets in the short term and what the long-term consequences may be for global energy policy.