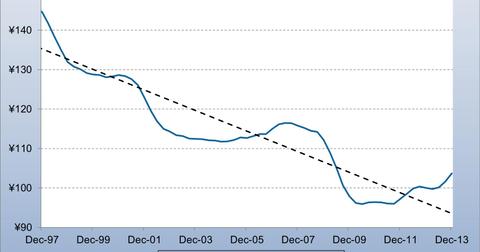 GM's nemesis returns: Japan restarts its investment activities
By Marc Wiersum, MBA

Updated
The hollowing out of Japan manufacturing slows down and may reverse
The below graph reflects the ongoing decline in fixed capital formation in Japan. Since Japan's bubble economy burst in 1990, investments had been in a long-term winding down phase. However, there has been a slight, although potentially ominous, bounce recently.
This article examines the trend in capital formation in Japan, and considers the future prospects for a sustainable turnaround in investment, as well as the broader Japanese economy. This recovery in investment in Japan would suggest that the weaker yen is supporting Japan's export base, and should the yen continue to weaken, we may see a fairly significant growth in Japan-based investment. The ongoing weakening of the yen is key to additional investment in manufacturing in Japan, although recent data is suggestive of increased activity in this area, as Japan-based production can enhance Japanese exporters' like Toyota Motors' (TM) ability to compete with the U.S.-based automakers like General Motors (GM).
For more detailed analysis of the overall Japanese economy, read Bank of Japan Tankan supports a 2014 equity rally in Japan.
What is gross fixed capital formation and why is it important?
Article continues below advertisement
Gross fixed capital formation measures the value of acquisitions of new or existing fixed assets (factories, machinery, buildings) by the business sector, government, and household less the disposal of fixed assets. This number reflects the extent to which the "new value added" in an economy is invested versus consumed. As noted in the first part of this Series, China has been involved in a massive build out of its manufacturing and industrial base since 1978.
The China-related hollowing out secular trend—is it finally reversing?
The dramatic growth in new, invested capital in China reflects a country entering a major phase of development. In contrast to China's new birth as a freer market economy stands Japan's decline as a mature economy. As the above graph reflects, Japan has had little need to build new factories or acquire new equipment at a rate in excess of historical rates. As shown in the fourth graph in this series, Japan seems to have hit its investment peak around 1990. By that time, Japan had finished building out the foundation of its post WWII manufacturing base.
Article continues below advertisement
Since then, Japan has maintained a very large manufacturing base and a significant gross domestic product (GDP). However, the rate at which old capital is being replaced by new capital investments continues to decline. As such, GDP growth has also stagnated in recent years, with current, real GDP levels pretty much unchanged versus 2005. As ongoing trade surpluses had forced Japan's currency to dramatically appreciate since the 1980's, Japan had slowly become a high cost production center, and has been replaced by China, Korea, and other regional economies as the region's low price manufacturing base. However, as noted earlier, the current economic policies in Japan could slow or reverse this trend in the future, which would contribute to the profitability and competitive power of Japan's exporters such as Toyota.
Japan's equity outlook
As 2014 progresses, investors may see a continued outperformance of Wisdom Tree Japan Hedged (DXJ) and the iShares MSCI Japan ETF (EWJ) versus China's iShares FTSE China 25 Index Fund (FXI) and Korea's iShares MSCI South Korea Capped Index Fund (EWY). For further clarification as to why DXJ may outperform both EWJ and the other Asian equity indices, read Why Japanese ETF's outperform Chinese and Korean ETF's on Abenomics. Plus, as Japan pursues unprecedented monetary expansion, and the U.S. Fed tapers its bond purchases, Japanese equities can also outperform broad U.S. equity indices, as reflected in the State Street Global Advisors S&P 500 SPDR (SPY), State Street Global Advisors Dow Jones Index SPDR (DIA), and Blackrock iShares S&P 500 Index (IVV).
For more on how the U.S. Fed's recent announcements could impact global equities, read Will the Fed take a bite out of Apple?