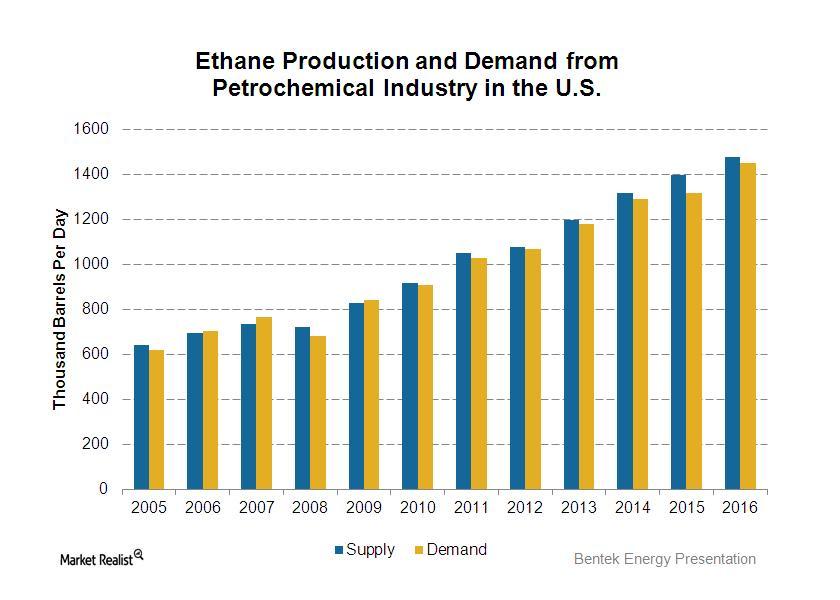 Ethane production: The prospects and possibilities in the market
By Alex Chamberlin

Nov. 20 2020, Updated 3:05 p.m. ET
The number of natural gas separation plants expected to rise
The chemical industry is a key enabler to various products in medical, transportation, construction, packaging, food processing, water distribution, and other industries. Within the chemical industry, ethylene, propylene, and methanol are expanding at a rapid pace driven by the North American shale oil and gas boom. Volumes from natural gas separation plants are expected to increase more than 40% over the next five years. By 2020, the global capacity of ethylene and is expected to reach 200 million metric tons a year.
Article continues below advertisement
One of the natural gas liquids, ethane has historically received significantly more advantageous pricing than dry natural gas. Ethane is the largest component of the natural gas liquids stream, and the increased wet gas production caused a large increase in ethane production. Ethane supply is not likely to decrease significantly in the near future. Many companies are continuing to drill wet gas formations as current economics are still profitable, despite depressed ethane prices. If ethane gets too cheap, it can become uneconomic to remove it from the raw natural gas stream, and the decision to leave ethane in the raw natural gas stream is called "ethane rejection." Cheap ethane can reduce the revenues for processors with commodity-sensitive contracts.
What needs to happen for ethane prices to recover is an increase in demand, which would come mostly from petrochemical facility expansions. Many companies have proposed projects that would make use of the ethane supply, however, the completion timeline of majority of these projects is several years into the future. This means that, in the near term, ethane prices are likely to remain depressed and close to natural gas prices.
Article continues below advertisement
John Dearborne, Williams Partners L.P.'s (WPZ) SVP of NGL & Petchem Services said in the conference call for 4Q 2013, "We saw the weakening prices in the first quarter but it's our expectation they'll went up again into the second quarter and that's – and then back to what we would consider normal for the year in the later part of the year. And so, I think that's the way we see this year playing out. If we look at ethane I think in the short term, ethane is facing some operational difficulties in the Gulf coast". On the outlook of ethane price, he said, "I think that we're going to see the ethane prices drop back to what would be a more normal level in the $0.30 per gallon."
Ethane prices traditionally traded directionally with crude oil. However, mainly due to a recent supply surge in the commodity, ethane prices have collapsed and now maintain a closer relationship to natural gas. The supply of ethane is not likely to abate soon, and for ethane prices to recover (and for the commodity to revert back to tracking crude), an increase in demand is needed. The construction of new petrochemical facilities is being planned which can help to absorb this excess ethane supply, however, most of the capacity is not likely to come for several years, and until then the price of ethane is likely to remain depressed.
Ethane prices have an effect on various energy names. For upstream energy producers such as Chesapeake Energy (CHK) and Range Resources (RRC), lower ethane prices can negatively affect revenues. For midstream natural gas processors, such as Williams Partners (WPZ) and Targa Resources (NGLS), lower ethane prices can have a negative effect on revenues due to lower frac spreads (read Why lower frac spreads could weigh on some MLP names' earnings for further details). WPZ, NGLS, and other natural gas processing MLPs are components of the Alerian MLP ETF (AMLP). Low ethane prices have also helped the U.S. petrochemical companies over the past few years, and have spurred them to increase investment to take advantage of continued low ethane prices.