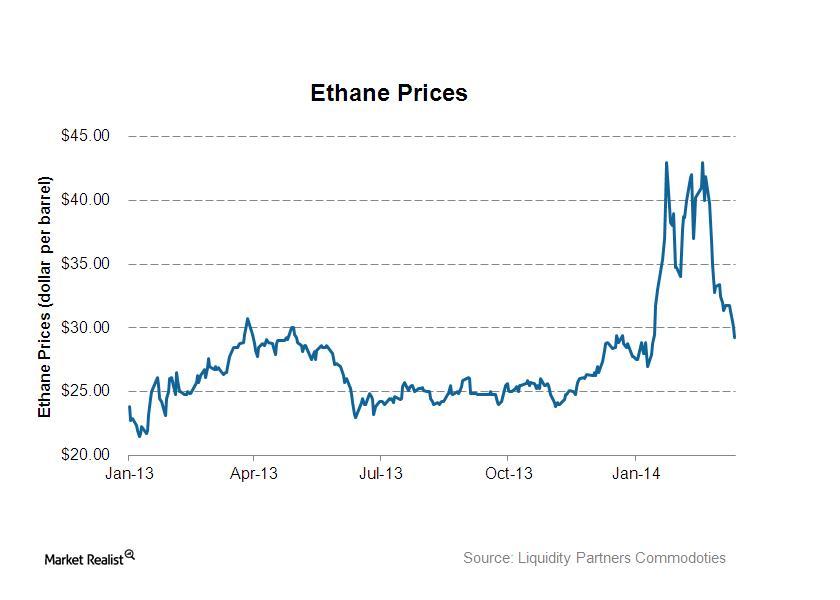 What is ethane and why is it important for energy companies?
Ethane and its importance
Ethane is a hydrocarbon with a molecular structure C2H6, and belongs to the group of natural gas liquids (or NGLs). NGLs include ethane, propane (C4H8), n-butane (C4H10), iso-butane (C4H10), and natural gasoline (C5 and C6 molecules). Natural gas processors separate the raw gas stream into these various components. Ethane has been produced in increasing quantity in the U.S. over the past few years.
Article continues below advertisement
After being extracted in the field, mixed natural gas liquids ("NGLs") are transported to fractionation facilities where the mixed NGLs are separated into discrete NGL products: ethane, propane, normal butane, iso-butane, and natural gasoline. The primary usage of ethane is as petrochemical feedstock for ethylene production.
Companies in the natural gas processing space (many of which are master limited partnerships) keep an eye on the fractionation or "frac" spread, which is a measure in the difference between natural gas liquids prices and natural gas prices and a rough measure of gas processing economics. Frac spreads have fallen from highs reached in January 2014, which have negatively affected the earnings of some natural gas processors such as Williams Partners (WPZ), Targa Natural Resources (NGLS), Regency Energy (RGP), and DCP Midstream (DPM), which are all components of the Alerian MLP ETF (AMLP).
In this series, we'll discuss how ethane is important across the energy chain—from upstream and midstream to downstream energy companies. We'll also discuss some of the factors that have caused ethane rejection, and what the major supply and demand factors are for ethane.