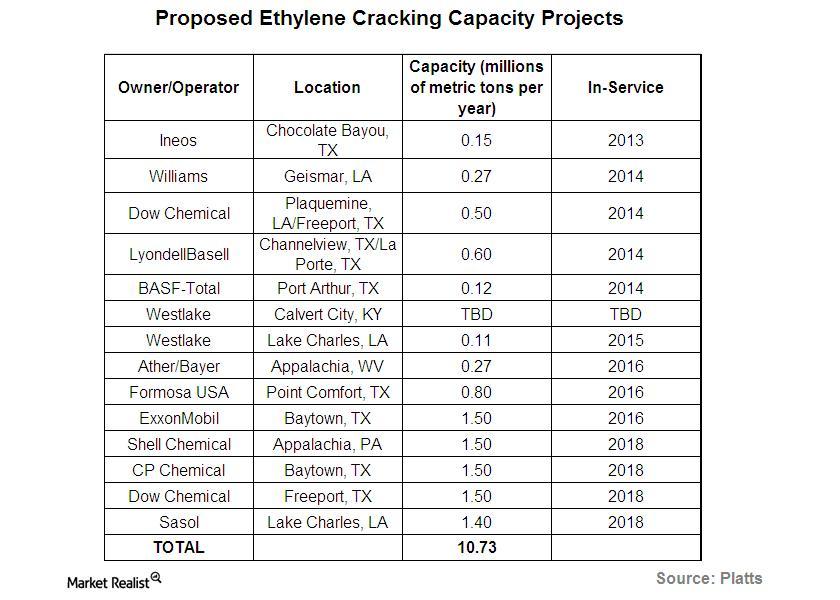 Ethane demand: A must-know overview of the current market trends
Production of natural gas and NGLs
As a result of significant advances in non-conventional drilling and production technology, North American reserves and production of hydrocarbons (such as natural gas and natural gas liquids, such as ethane) from shale developments have increased substantially. However, a lack of infrastructure to export natural gas and ethane has contributed to an oversupply of these energy commodities in recent years, in general.
Article continues below advertisement
While ethane supply grew, mostly from increased natural gas drilling with a significant natural gas liquids component, the demand for ethane could not keep pace, so the ethane prices dropped. Note that ethane is used mostly by the petrochemical sector for the production of ethylene, which is a basic component of plastics and many other chemical products. As ethane prices dropped over the past few years, U.S. petrochemical companies have tried to use as much of the commodity as possible as a feedstock, and many of these companies (for example, LyondellBasell Industries and Dow Chemical Company) have announced plans to construct new petchem facilities on the Gulf Coast (a major hub for natural gas liquids) to take advantage of the cheap ethane in the U.S. However, the completion date of these projects is several years off, and in the meantime, much existing ability for the petchem sector in the U.S. to process ethane is saturated.
Ethane is set to find solid demand from the chemical producers over the long term. The chemical producers in the U.S. have initiated plans to invest ~$20 billion in new chemical assets and infrastructure. According to ICIS, the U.S. chemical industry (excluding pharmaceuticals) will grow at a moderate pace of about 3.2%, reaching total revenue of $870 billion in 2014. The U.S. chemicals industry growth is supported by increasing demand from several key end-use markets such as appliances, computers and electronics, plastic and rubber products.. The shale gas boom is a main growth driver, with recoverable U.S. reserves estimated at 20 trillion cubic meters. Ethane produced from shale gas is surpassing naphtha (its liquid rival) as the most important chemical raw material, both as a source of energy and as a feedstock of ethylene, particularly for the plastics industry.
Article continues below advertisement
The other major demand driver for chemical product has been the emerging economies such as Brazil, India, Russia, and South Africa, commonly known as BRIC. The higher growth of domestic production and consumption of these economies has enabled countries like the U.S. to export petrochemical feedstock to meet their demands.
Some of the projects of two major chemical companies that use ethane and ethylene heavily in their production process are discussed below. Dow Chemical, a major manufacturer and supplier of chemical products, has announced a number of investments in the U.S. Gulf Coast to take advantage of increasing supplies of low-cost natural gas and natural gas liquids (or NGLs) from shale gas. As a result of these investments, the company's exposure to purchased ethylene and propylene is expected to decline, offset by increased exposure to ethane and propane feedstocks. The company also leverages the benefit of positive shale gas dynamics. In 2013, the company restarted its St. Charles ethylene production facility. A second project in Louisiana, which is aimed to enhance ethane flexibility at a second cracker, is expected to become fully operational in 2015. In 2014, Dow expects to begin construction on its new ethylene facility in Freeport, Texas which is expected to come up in 2017.
LyondellBasell Industries (LYB), another major manufacturer of chemicals and polymers, has multiple manufacturing assets that are well-positioned along the U.S. Gulf Coast and in the Midwest to take advantage of expanding shale gas production and associated higher ethane production. Almost 90% of LYB's U.S. ethylene production was sourced from natural gas liquids (or NGLs) in 2013. The company has plans to add another 1.85 billion pounds of ethylene production capacity at three Texas olefins plants. Overall, the company had an annual capacity of producing 9.9 billion pounds of ethylene in the U.S by end of 2013. Most of the ethylene and propylene production of LYB is situated at Channelview, Corpus Christi and La Porte, Texas facilities. The company has a production capacity of 800 million pounds of Ethylene Oxide, 650 million pounds of Ethylene Glycol, 220 million pounds of Ethylene Glycol Ethers, and 50 million gallons of Ethanol.
Ethane exports possibilities
Article continues below advertisement
Exporting ethane requires a significant amount of infrastructure, and it's more difficult to export ethane than heavier hydrocarbons such as propane and butane, for which significant export facilities are currently being built to ship these products overseas. Currently, most U.S. ethane exports are limited to volumes that are exported by pipeline to Canada.
In a recent presentation, Enterprise Products Partners (EPD) stated that it continues to receive interest from petrochemical companies outside of North America regarding potential long-term ethane export arrangements using marine facilities on the Gulf Coast. Management commented that many northwest European petrochemical companies currently use naphtha as a base for producing chemicals, but the U.S.-produced ethane is a much cheaper alternative. EPD feels that the current oversupply of ethane can be profitably exported to the markets abroad for petrochemical feedstock. Plus, ethane could also be used for power generation as an alternative to LNGs. Enterprise Products Partners notes in its 10-K, "As a result of the continuing abundant supply situation for ethane and its cost advantage relative to other feedstocks, we continue to receive interest from petrochemical companies outside of North America regarding potential long-term ethane export arrangements using marine facilities on the Gulf Coast."
Low ethane prices are helping margins of the U.S. petchem companies making them competitive internationally. Petchem companies abroad are using a much more expensive feedstock. Ethane exports could make petchem assets abroad more competitive by lowering cost of production.
Frac spreads have fallen from highs reached in January 2014, which have negatively affected the earnings of some natural gas processors such as Williams Partners (WPZ), Targa Natural Resources (NGLS), Regency Energy (RGP), and DCP Midstream (DPM), which are all components of the Alerian MLP ETF (AMLP).