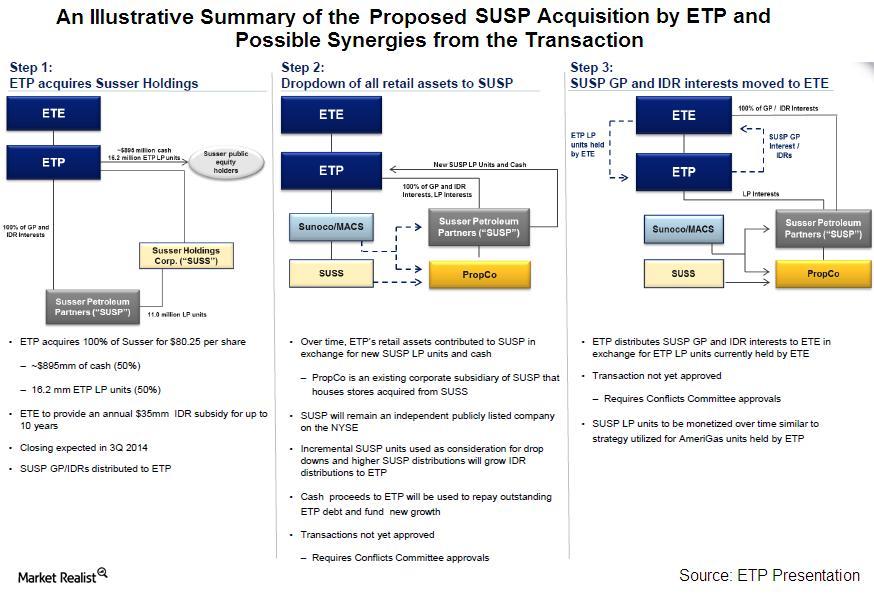 Energy Transfer Partners could acquire Susser for $1.8 billion
By Alex Chamberlin

Nov. 22 2019, Updated 6:23 a.m. ET
A key acquisition
On March 28, 2014, Energy Transfer Partners LP (ETP) announced that it entered into a definitive merger agreement to acquire 100% of Susser Holdings Corporation (SUSS), a total consideration of approximately $1.8 billion. The deal will be funded partly with ETP common units (50%) and partly with cash (50%). The deal, expected to close in the third quarter of 2014, has been approved by the boards of directors for ETP and SUSS. Through the acquisition, ETP will own the general partner (or GP) interest and the incentive distribution rights (or IDRs) in Susser Petroleum Partners LP (SUSP), approximately 50.2% of SUSP's outstanding units, and SUSS' existing retail operations. Susser Petroleum Partners LP is a subsidiary of Susser Holdings Corporation.
Investors may note that master limited partnerships (or MLPs) are managed by the general partner (or GP), which often has a 2% economic stake in the enterprise (the limited partner, or LP, unitholders have the other 98%). The board of directors also sits at the GP level.
Article continues below advertisement
General partners sometimes have a special right to incremental distributions, dubbed "incentive distribution rights" (or IDRs). IDRs are an incentive plan to give general partners in a limited partnership an increasing share of the distributable cash flow the company generates. As per-unit distribution increases to limited partners, per-unit distribution to the GP also increases, but at a higher rate.
Susser Holdings is one of the largest non-refiner suppliers of motor fuel in Texas, with 1.6 billion gallons sold in 2013. Susser is expected to complement ETP's assets that are operated by Sunoco (ETP acquired Sunoco in 2012). Through an investment in Sunoco Logistics, ETP operates a business of gathering, purchasing, marketing, and selling crude oil primarily in the mid-continent United States, along with owning and operating approximately 2,500 miles of refined products pipelines. The synergy opportunity between Sunoco and Susser are expected to add ~$70 million annually to the new company from the fuel and merchandising business. The new company would also benefit from economies of scale. The benefits of synergy are expected to be realized within six to twelve months post-closing, and additional savings may also accrue from the future consolidation of the systems and processes if the transaction materializes.
Article continues below advertisement
In exchange for SUSP's 50.2% holdings, SUSS shareholder will have an option to receive either $80.25 in cash or 1.4506 ETP common units, or a combination of both, for each share held in SUSS. Pursuant to the transaction, SUSP will retain its corporate existence and remain a separate publicly traded MLP. Subsequently, SUSP is expected to operate the entire retail business through a series of drop-downs of the existing ETP and SUSS retail businesses into SUSP. Following the transaction, the entity will refinance a $300 million credit facility of SUSS. Energy Transfers Equity, which owns ETP, would provide an annual GP subsidy of $35 million if the GP units or IDRs held by ETP of SUSP are exchanged for ETP common units held by ETP. In other words, for additional acquisition of the SUSP's GP units, ETP will pay an additional $35 million annually to SUSP unitholders for ten years. As ETP is an MLP, the units of ETP owned by SUSS shareholders will receive tax-deferred treatment, which is attractive to long-term investors.
Jamie Welch, the group CFO of ETE, described the proposed merger in the conference call: "They're tangible in that they're commercial and operational. What we've done is taken SUSS's well-regarded brand and merchandising model and overlay that with, obviously, the Sunoco skill set on the field side. It creates significant synergies with minimal upfront investment. It's the ability for us to leverage the iconic Sunoco brand, while also continuing to geographically expand the overall Stripes brand. And it's likely to offer significant additional business opportunity to the creation of a best-in-class retail platform."
Energy Transfer Partners LP (ETP) and Susser Petroleum Partners LP (SUSP) are master limited partnerships operating in the midstream energy space in the wholesale and retail businesses. Other major companies operating in the same sector include Ferrellgas Partners LP (FGP) and Kinder Morgan Partners LP (KMP), which are also components of the Alerian MLP ETF (AMLP), Global X Funds MLP ETF (MLPA), or Yorkville High Income MLP ETF (YMLP).