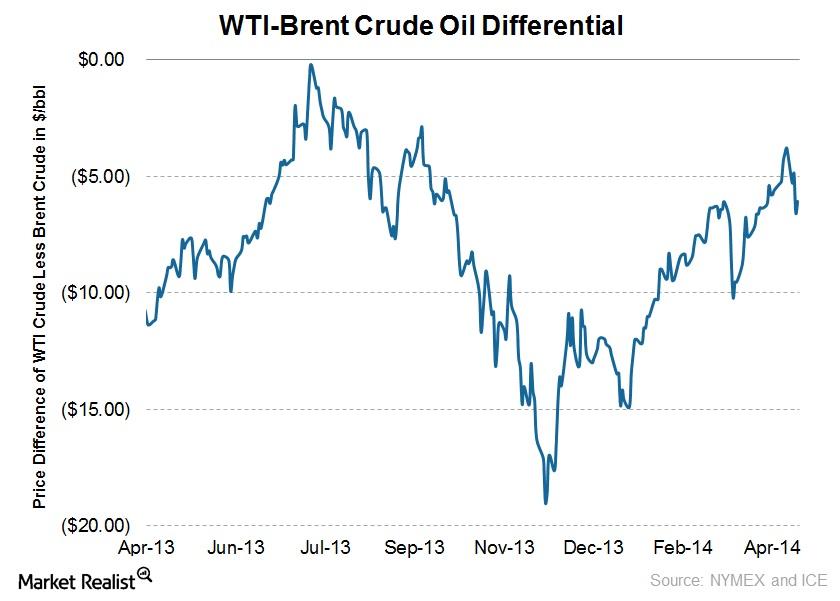 Must-know effects of the Ukraine crisis on your oil investments
By Ingrid Pan

Dec. 4 2020, Updated 10:53 a.m. ET
Effects on oil markets
Note that Russia is a major exporter of oil, with nearly half of its production sold to other countries. The immediate effect of the current crisis between Russia and Ukraine is that it has likely provided some support to oil prices and caused some volatility in oil prices.
Because of the increased tension between Russia and Ukraine, which increases the risk of an event that could halt Russia's oil exports, traders in the oil market may be less likely to take a short position or be bearish on oil. Though many industry experts don't believe there's a high near-term threat of this, as most Russian oil doesn't flow through Ukraine, there's still a higher risk of some major geopolitical event whose effects are difficult to quantify and predict. In lay terms, no trader wants to short the oil market to come in the next morning and find out that Vladimir Putin has taken one too many hits off the crazed egomaniac pipe and decided to halt all Russian oil production or, arguably more likely, that escalating tensions have caused major powers to enact sanctions targeting Russia's energy sector.
Article continues below advertisement
Furthermore, the geopolitical situation in Eastern Europe may cause some volatility, as some speculators may trade in reaction to new intel from the area. For instance, news of heightening Russian presence in Eastern Ukraine could cause a knee-jerk spike in oil prices. News of a détente could cause selling.
Though I don't recommend that most individual investors make bets on geopolitical events, if a theoretical investor wanted to place a wager on oil with the thought that Russia might become increasingly aggressive, they might go long crude oil and short WTI crude oil. Brent is the de facto international benchmark for oil prices, while WTI acts as a benchmark for U.S. prices. An event that affects Russia's crude prices should theoretically affect Brent crude more, as WTI reacts more to U.S.-specific supply and demand dynamics and U.S. takeaway capacity from major inland oilfields. A trade like long Brent and short WTI hedges away some exposure to other factors that could move oil prices such as a slowdown in the global economy (which should dampen oil prices all around). However, it does expose investors to the risk that the spread between the two could narrow due to reasons such as better takeaway capacity from Cushing (the crude oil hub in Oklahoma where WTI is priced). Brent crude oil is investable through an ETF such as the United States Brent Oil Fund (BNO) and WTI is investable through an ETF such as the United States Oil Fund LP (USO). Another way to go long would be through buying calls on Brent crude futures or the Brent crude ETF (though, for various reasons, I wouldn't recommend most individual investors do this). By buying calls, you get exposure to upside movements in Brent crude prices, limit your downside to the cost of the option, and also get upside to heightened volatility in crude prices.
Plus, some refiners see upside from a wider spread. Using weekly data points from the beginning of 2013 to present, various U.S. refiners showed positive correlations with the Brent-WTI spread, including HollyFrontier (r = 0.4), Tesoro (r = 0.3), Western Refining (r = 0.3), and Valero (r = 0.3). However, betting on these names means taking on company-specific risk as well as gaining exposure to other factors affecting the refinery industry, such as gasoline and diesel prices.
To read about what effect the crisis might have for certain natural gas markets, continue to the next part of this series.