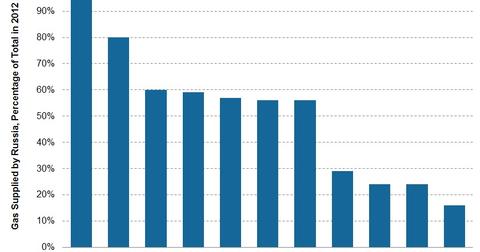 Will the Ukraine crisis affect your natural gas investments?
By Ingrid Pan

Updated
Effects on natural gas markets
As we discussed in a prior part of this series, Russia is a major exporter of natural gas to the EU. Much of this gas flows through pipelines in Ukraine. Earlier in April, Russian President Vladimir Putin sent a letter to officials of various European nations warning that Russia could curtail natural gas supplies to Ukraine. The Russian state-owned natural gas company, Gazprom, announced recently that it would raise gas prices for Ukraine by 81% an account of $2.2 billion that remains unpaid from the country to the gas company. Putin asserted that if Ukraine doesn't pay, Russia could take measures to stop supplying gas to its neighbor. Gazprom has curtailed natural gas supplies to Ukraine before.
Article continues below advertisement
If Russia were to do this, it could affect Europe's energy markets in a few ways. Firstly, Ukraine could receive at least a portion of its natural gas needs from other countries such as Slovakia, Poland, and Hungary after certain technical work. Plus, while Russia stopping the flow of natural gas through Ukraine could affect supply to the rest of Europe, there are still some supply routes through other countries. If this isn't enough to sufficiently supply the EU with its needs, there are alternative fuels that could be used in some instances. For the power generation sector, there's some capacity to use coal rather than natural gas. The EU could also import more liquefied natural gas from overseas. However, if Russia does curtail natural gas supplies through Ukraine, it's still likely to cause European natural gas prices to increase or experience volatility.
One possible consequence of this is that EU countries may become more serious about finding alternatives to Russia's natural gas and less wary of hydraulic fracturing, which has been a more controversial topic in Europe than in the U.S. France and Bulgaria, for instance, have had an ongoing ban on fracking but could rethink policy if energy needs become truly dire. Poland, which borders Russia and receives a substantial portion of its natural gas from its neighbor, proposed tax breaks for the shale industry just a few weeks ago, at least in part due to Russia's stronger threats. The past pace of shale development in Poland has been slower than anticipated and companies such as Talisman Energy (TLM) and Marathon Oil (MRO) began projects but halted them due to concerns over regulatory matters and taxes. Recently, San Leon Energy (SLGYF), a Dublin-based small cap energy firm backed by BlackRock and George Soros, announced a successful natural gas well in Poland. Marathon is part of the Energy Select Sector SPDR (XLE) and the Vanguard Energy ETF (VDE).