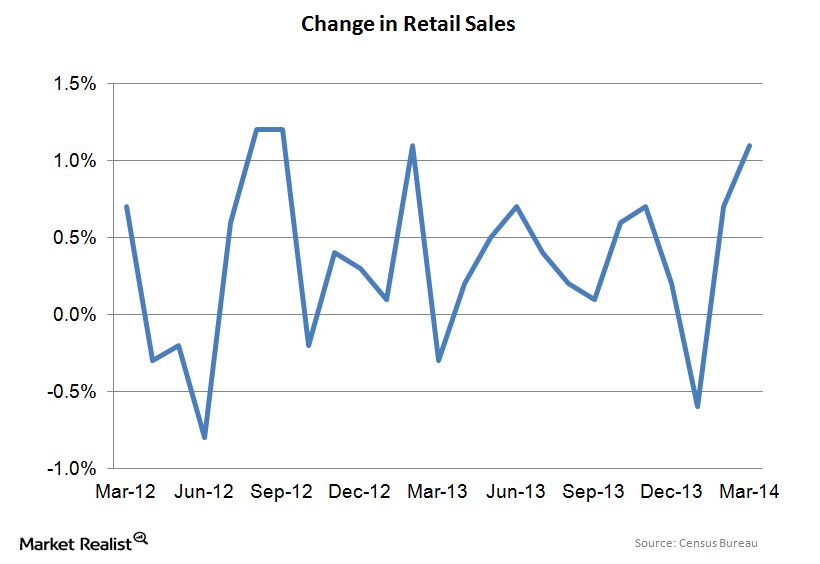 Why a drop in retail sales doesn't mean a drop in FFO for REITs
By Brent Nyitray, CFA, MBA

Apr. 30 2014, Published 5:29 p.m. ET
Should REIT investors fear a drop in retail sales?
General Growth CEO Sandeep Mathrani discussed the state of retail sales during the company's recent conference call and made some key observations. First, he had been predicting that retail sales would recover strongly in 2013 and then, be moderate in 2014. He characterized retail sales as healthy and noted that retail sales are up 22% since the end of 2007 and are up 39% from the trough in 2009.
Article continues below advertisement
Some of the slowdown we've seen in retail sales could be attributed to a few things. First of all, autos and other durables increased this year, which may have drawn consumption from other discretionary spending. Since the average age of a car on the road is at a record high of about 11.5 years, consumers are finding it makes more sense to buy a new car rather than keep fixing the old one. Second, taxes increased for everyone at the beginning of the year (and particularly on high-income earners, who were hit by the payroll tax break expiration and all the new Obamacare surtaxes). That said, the company views the sales we saw in early 2013 as a bit of catch-up, and sales should moderate going forward, as they'll generally move with GDP growth.
It's important to recognize that while shopping center REITs are affected by retail sales, the sales of companies in their own portfolio can be higher or lower. For example, retail sales increased 2.2% last year, but sales at General Growth's portfolio of stores increased 3.6%. Shopping centers require more than simply stores to draw in the consumer, and restaurants or other entertainment options are an important draw.
Location is also a key driver of occupancy rates, and General Growth (GGP) has malls in attractive locations across the country. Last year, their occupancy rate was 96.4%, versus 94.9% the year before. GGP expects new leases to earn about 8% to 10% more than expiring leases. Location is one of the things that separates the different retail REITs like Simon Property Group (SPG), Kimco Realty (KIM), and Realty Income Fund (O). Investors who would prefer to invest in the sector as a whole should look at the Vanguard REIT ETF (VNQ).