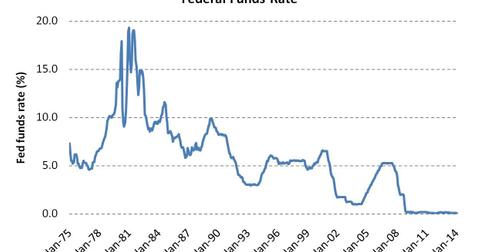 Why the Dow Jones industrial average rose after Yellen's speech
By Surbhi Jain

Updated
The Janet Yellen speech
Investor concerns rose two weeks ago, when the U.S. Federal Reserve Chair Janet Yellen suggested that the Fed may start raising short-term rates six months after it halts its bond purchases in the press conference pursuant to the Federal Open Market Committee (or FOMC) meeting. A short-term rate increase would elevate borrowing costs and could hurt stock prices.
But on Monday, March 31, Yellen indicated that the Fed still thinks rates should remain low to stimulate borrowing, spending, and economic growth. "I think this extraordinary commitment is still needed and will be for some time, and I believe that view is widely held by my fellow policymakers at the Fed," Yellen said, while addressing her audience at a community reinvestment conference in Chicago.
Article continues below advertisement
Subsequently, the stock markets rose as investor concerns about an earlier-than-expected increase in short-term interest rates eased. Low rates tend to lead some investors to shift money into stocks and raising stock prices. The Dow Jones industrial average (DJI) which includes companies such as Microsoft Corporation (MSFT) and Johnson & Johnson (JNJ) closed up about 134 points to 16,559.41.
Bond prices dropped due to spike in yields. Prices of popular bond market funds like the iShares iBoxx $ High Yield Corporate Bond ETF (HYG) and the iShares Core Total US Bond Market ETF (AGG) took a dip.
Other key releases
There were also few other important economic indicator releases that affected investor sentiment.
The Dallas Fed manufacturing survey conducted by the Dallas Federal Reserve was issued on Monday, March 31.
The motor vehicles sales survey conducted by auto manufacturers and Autodata Corporation came out on Tuesday, April 1.
The ICSC-Goldman store sales survey conducted by the International Council of Shopping Centers (or ICSC) and Goldman Sachs (GS) was issued on Tuesday, April 1.
The Redbook Research, Inc. came out with their weekly report on Tuesday, April 1 indicating consumer spending.
Construction spending figures were issued by the Census Bureau, U.S. Department of Commerce on Tuesday, April 1.
The Gallup Economic Confidence Index reported monthly by Gallup, also came out on Tuesday, April 1.
This series will explain all these releases and provide investors with a direction in case of changes in these economic indicators. Let's start with understanding how Janet Yellen managed to ease investor concerns in her speech on Monday.